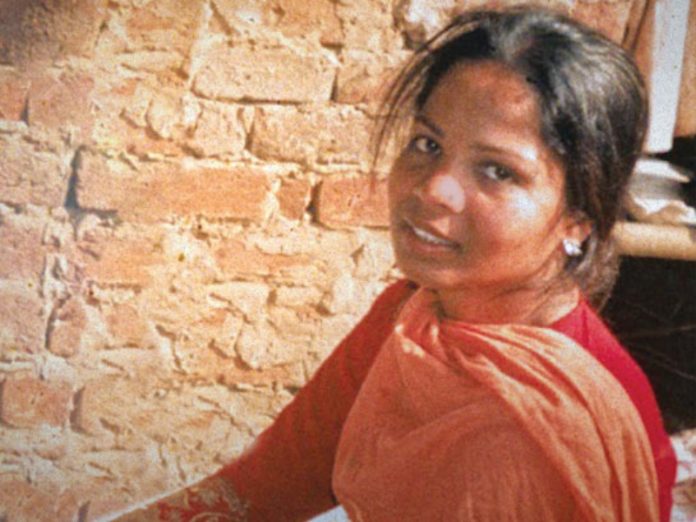 02/14/2020 Washington D.C. (International Christian Concern) – Asia Bibi, a Christian woman, spent eight years on death row in Pakistan simply because of an argu­ment with Muslim coworkers! Charged with blasphemy, her case garnered mas­sive international attention. Letters flooded in from supporters, including US members of Congress. World leaders like Pope Benedict made statements of support for her. Even the European Union leveraged economic pressure in her support. Asia's name became synonymous with the abuse of blasphemy laws in Pakistan.
On May 5, 2019, she was finally set free. Her safe departure to Canada came more than six months after the Pakistan Supreme Court announced its decision to acquit her. This brought to a close nearly 10 years of interna­tional advocacy on Asia's behalf against the abuse of Pakistan's notorious blasphemy laws.
The world celebrated Asia's release as a huge victory against Pakistan's mistreatment of its Christians. But, as Asia was reunited with her family, others like her stayed locked behind bars.
Since 1987, at least 219 Christians have been accused of committing blasphemy in Pakistan. 219 Asia Bibis.
Most of them have suffered in anonymity and are unknown by the international community. They have not received the advocacy that was so critical in securing Asia's release. Instead, these victims continue to suffer in Pakistan's prison system, with little hope for justice.
Among those victims is Imran Ghafur Masih.
He is one of 22 "unknown" Christian vic­tims of blasphemy laws in Pakistan that ICC has profiled.
On July 1, 2009, Imran Masih was cleaning out his family's bookshop in Hajweri town, located near Faisalabad. He was about to burn the trash he had collected, which included some old books, when he came across a text­book with Arabic writing. Concerned the book contained religious writings, Imran consulted Hajji Liaquat Ali, his Muslim neighbor.
Ali told Imran to burn the book, so he threw it into the fire and walked away. When the book was partially burned, Ali returned and pulled it out of the fire. He then used it to falsely accuse Imran of burning a Quran.
According to Imran's family, Ali want­ed the storefront that was leased to the Christian family's bookshop to expand his business, located next door. He told other local Muslims that a Christian had burned the Quran and should be killed. News of the incident quickly spread to local mosques.
A mob of approximately 400 enraged Muslims gathered at Imran's home and beat Imran, his brother, and his father. They doused the family with paraffin in an attempt to burn them alive.
Local police intervened, arrested Imran, and took him to the police station. A thousand Muslims gathered outside of the police sta­tion and demanded that the police hand Imran over to them. The mob chanted, "Hang him who disgraces the Holy Quran… Christians are dogs; Imran is a dog." Police registered a blasphemy case against Imran and distributed copies of the charges to the mob.
As a result of the accusation, Imran's family has been forced to flee to Islamabad. Ali and his supporters claimed they would not allow the family to live in the neighborhood or run their business.
On January 11, 2010, the Sessions Court of Faisalabad sentenced Imran to life in prison under Sections 295-A and 295-B of Pakistan's Penal Code. He was accused of blasphemy only a few weeks after Asia in 2009. His conviction and life sentence were announced almost 10 months before Asia was sentenced to death.
Despite this proximity to Asia's case, Imran's situation has changed very little in almost 10 years. Imran's case was appealed to the Lahore High Court, but only one hearing was held–in September 2015. Since then, the case has been repeatedly delayed. Imran sits behind bars in prison, alone and separated from his family.
Cases like Imran's remind us that we must look beyond the victory of Asia Bibi's release.
Yes, Asia's release is a victory. However, it must be seen for what it is: a positive mile­stone on a longer road to justice. As ICC's research has shown, there are at least 22 more Asia Bibis in need of support right now.
Critical to helping along a fitful and lengthy legal process was the overwhelming and spe­cific international support Asia received. It was this support that led to her acquittal and release, and it is this same support that Christians like Imran desperately need.
As we expand our profiles of victims like Imran, we are calling on the international community to join us in this effort to provide targeted support to these victims. But we are also calling on you. Through our letter-writing campaign, you can make a difference by writ­ing to the Pakistani Justice Department on Imran's behalf.