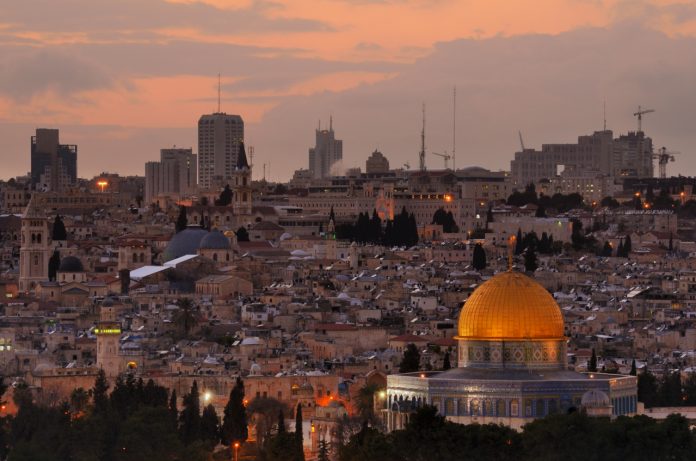 At an International Conference on "The Question of Jerusalem" held in Geneva on 27-28 June, World Council of Churches (WCC) delivered a message portraying Jerusalem as a city of love, peace, and hope. "It is a city whose pain is deeply rooted in its glory, in its identity, in its historic, cultural, and religious heritage," reads the message.
Carla Khijoyan, WCC programme executive for the Middle East delivered a message at the conference on behalf of the WCC general secretary Rev. Dr Olav Fykse Tveit.
The theme of the conference was "Preserving the cultural and religious character of Jerusalem." It was convened by the Committee on the Exercise of the Inalienable Rights of the Palestinian People with support of the Organization of Islamic Cooperation.
The link between religious constructions of identity and the idea of the Holy Land has been frequently studied and explored, the message continued. "More than a theoretical framework, this link is contextualized within the diverse religious communities in Jerusalem and the surrounding area," stated the message.
"Their self-understandings of their religious and cultural identities, and their concepts of the holiness of the land, exhibit a reciprocal relationship."
Jerusalem's multiple facets
The gates of Jerusalem must remain open to the world beyond politics, conflicts, and divisions, Tveit urged in the message. "Its soul cannot be locked in a definition, in legislation, or in a text," he wrote. "The spirit of Jerusalem will inhabit each and every human who offers love and reverence to her."
The WCC shares a profound and abiding love of and concern for Jerusalem and for the peoples living there, Tveit said in the message. "The future of Jerusalem must be a shared one," he said. "It cannot be the exclusive possession of one faith over against the others, or of one people over against the others."
Jerusalem is, and must continue to be, a city of three religions and two peoples, Tveit reiterated.
"The unique status of Jerusalem, its unique identity and history, must be reflected in a concrete international pact that ensures that it remains a city for two peoples and three religions," he concluded in the message. "Jerusalem, symbol of the spiritual core of three religions, must become a city of peaceful coexistence, open to the world, embracing humanity and elevating human dignity, as an example of the love of God for all."
WCC, oikoumene.org