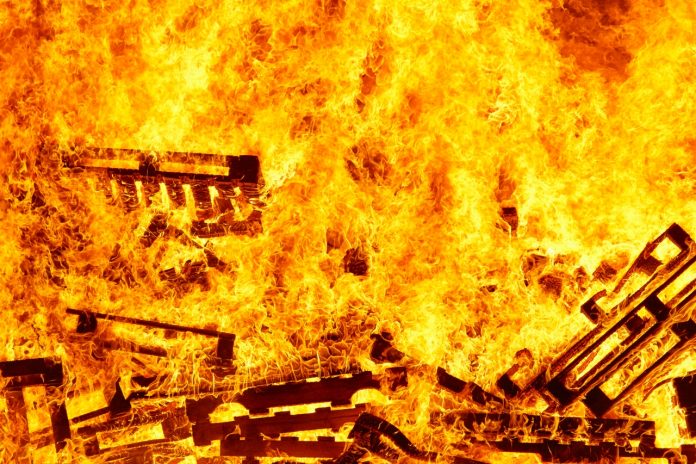 10/17/2021 Myanmar (International Christian Concern) – In a "clearance operation" aimed at eliminating the opposition in Chin state, the Burmese Army (Tatmadaw) set an entire village on fire—including a Baptist church and a dozen other buildings— before arresting several civilians.
The fighting between the Tatmadaw and Chinland Defense Forces (CDF) has intensified since August. As a Christian stronghold, Chin state has resisted the Tatmadaw for its discriminatory stance against ethnic minorities and Christianity since the February coup. For this, the junta reinforced its offensive by transporting heavy weaponry and deploying troops to Chin state.
On October 13, while the fighting intensified across the main highway between Hakha city and Falam town in the north, a military convoy, with more than 80 trucks, have arrived in Mindat town – the southern town of Chin State.
The Tatmadaw convoy was attacked about three miles outside of Falam by the CDF militia, sources told Radio Free Asia's Myanmar Service. In response, the military junta arrested four civilians, including a 13-year-old minor at Hniarlawn village.
The soldiers set up camp in Rialti village after the clash, not far from where the convoy was attacked, and began setting buildings ablaze. The Chindwin News also reports that the soldiers were seen looting the properties and killing animals such as pigs, goats, and hens.
A religious leader from the Rialti Village Baptist Church, who spoke to RFA on condition of anonymity out of fear of reprisal, said that the military initially burned eight homes around 3:00 p.m. on Wednesday, before continuing to set buildings on fire Thursday morning.
"This morning, it was the church and our warehouse—those two were set on fire earlier this morning and at about 9:00 a.m., the remaining three houses," he said.
"All were gone in a short while. The whole village, including the church, was set on fire. Eight houses were torched yesterday. In all, 13 buildings, including the church, were destroyed."
Salai Za Op Lin, deputy executive director of the India-based Chin Human Rights Organization, confirmed to RFA that the military had burned down the Baptist church and other buildings in Rialti village and called the act a "war crime," for the Tatmadaw has deliberately violated religious freedom targeting the Chin Christian communities.
According to UCA News, civilians from ethnic regions, including predominantly Christian areas in Kayah, Chin, Kachin, and Karen states, have borne the brunt of the renewed conflict where people have long faced oppression and persecution under iron-fisted military rule for more than five decades.