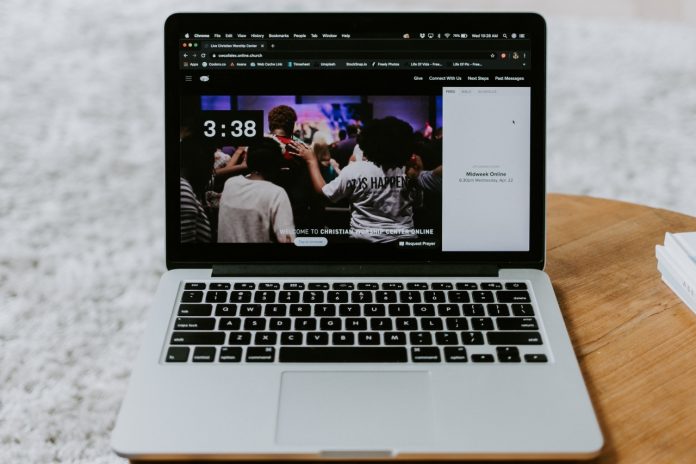 I don't know if there's anything quite as nerve-racking as launching a website. You've put a ton of work into the website, and you hope that everything works. Of course, "hoping" that everything works isn't really a great way to launch a website.
However, you can do more than just "hope" everything goes well. You can use a website launch checklist to make sure you got everything covered. Using a website launch checklist, you'll be reminded to check for bad links, design flaws, and basic elements like images.
If you're looking to launch a website or do a checkup on your website to make sure it's up to date, I've compiled The Definitive Checklist for Launching Your Church Website below to help you get started.
Website Launch Checklist
1. Function
Check Browsers and Devices – Check your website to see if it's compatible with the major browsers (Chrome, IE, Firefox, Safari) by using a service like Browser Shots. This will give you a snapshot of what your website looks like on various browsers.
Also, check your website on various mobile devices. The main devices I would check are the iPhone 5s, iPhone 6, iPad, iPad mini and the latest version of the Samsung Galaxy. These devices should have you covered to make sure that your website is good with most mobile devices.
Typography – A lot of websites now use custom fonts from services like Typekit. While I like these types of services, they don't always work with all browsers. Check to see if the fonts are readable on all devices and browsers.
URLs – You need to check all of your internal links on your website to ensure that they work. You also need to ensure that any redirects that you have properly redirect old links to the new pages.
If you are concerned about having bad links on your new website, you can use Google Webmaster to detect bad links, and then go back and fix them.
404 Page – You need to check the page that people will get when they click on a bad link or when they can't find what they're looking for. Make sure the page clearly states that the information is not on the website. If you want an example of a really fun 404 page, check out this 404 page from NewSpring.
Google Analytics – Make sure that your site is connected to Google Analytics. Google Analytics is essential to tracking the success of your site. It will provide the numbers you need to measure success and determine how your website is performing.
Google Webmaster – Google Webmaster gives the opportunity to see how Google sees your website. Using Google Webmaster, you can submit sitemaps, see how you rank on keyword searches, and find out if you have any bad links.
Sitemap – Your website needs to have a sitemap so Google can detect how your website is structured. If you're using WordPress, there are plenty of plugins to produce sitemaps for you.
Code Validation – Check your website code using W3C Markup Validation. This will reveal if there are errors in your site code or if you've forgotten any other items like adding alt text to your images.
Website Search – If you've included the ability to search on your website, make sure that the search is returning the correct results. If you're using Google's Site Search, you can even manipulate the results to show high-priority items.
Third-Party User Testing – Don't assume that your website is easy to navigate without bringing in a third party to test the navigation. Bring in people from the outside (church members) who were not a part of the website's creation. Give them a series of basic tasks to complete and see if they can complete them. If they can't, then you've got work to do.
2. Content
Spelling and Grammar – Have a third party walk through your content to check for spelling and grammar errors. Trust me on this, as someone who blogs 52 weeks a year, you're going to make mistakes.
SEO – Check your website's SEO to make sure that your website will be recognized by Google for the right reasons. Check for simple elements, like having your street address and phone number listed. Also, make sure your church name and city name are mentioned in various places throughout your website. Plus you need to check the meta description to make sure that's correct.
Social Media Links – If you've placed social media icons on your website, make sure that those icons point to the right social media accounts. Also, make sure that those social media accounts that you're pointing to are active. If not, then this may be time to let go of those accounts.
External Links – A new website launch is a good time to make sure that you are listed on other significant places on the web. Check to see if you can be listed on your city's chamber of commerce website, your church denomination's local website, review websites like Yelp, and Google Maps.
Images – Make sure that you're using images that you have rights to. If you're not sure, here's a list of places to get free photos. If you're using photos that you have rights to, then make sure you're not using images that are too large. I like to keep images under 100kb.
Copyrights and Policies – On your website's footer make sure you clearly state copyright and links to any website policies.
Forms Tested – If your website has any forms that collect information, make sure that the workflow works as it should. If you're collecting email addresses or allowing people to contact you through the website, make sure the information ends up in the right place.
Call to Action – Make sure your website has a clear call to action. When a visitor comes to your website, what do you want them to do? Are you asking them to do it? If not, make sure you go back and determine what you want your visitors to do.
3. Workflows
Training – If you have multiple people adding content to the website, make sure that all of the roles are defined and everyone is trained on how to use the website. This needs to be done before the website is launched.
Content Calendar – If your website has a place for ongoing content (articles, blog, etc.), you need to have a content calendar set up so you know when content is going out and that there's a consistent flow.
Security – Make sure that all website contributors are using unique passwords. These passwords need to be different than computer logins or email passwords. Consider using a tool like LastPass for Enterprise.
Updating – Determine how you're going to keep your website up to date. If you're using WordPress, who's going to make sure you're using the latest version? If you've used a third-party company, then ask them for the process for keeping it updated.
Support – If your website goes down, who takes care of it? Clearly outline the process for what happens when your website goes down.
Feedback – How will your users let you know what they think of your website? Provide key feedback points so users can let you know if something is wrong or confusing.
Documentation – Document all of your processes so that if someone has to replace you, they can easily understand how the website is constructed, updated, and maintained.
Monitoring – You'll need to ensure that your website is being monitored so you'll be notified if it goes down. For us, we use Uptime Robot to notify us if our website goes down.
Backups – Regularly backup your website. If you're using WordPress consider a service like VaultPress to backup your website on a daily, weekly, or monthly basis.
4. Marketing
Timeline for launch – Determine a clear launch date that you can communicate to your church and staff. This part is daunting, because once the launch date is out there, then you'll have to make sure you hit that date.
How to Announce – How are you going to let your church know about the new website? Have a clear marketing plan in place with how you're going to communicate to everyone about the new website. This should include print and social media.
This article was originally published at ChurchAnswers.com on June 18, 2021.