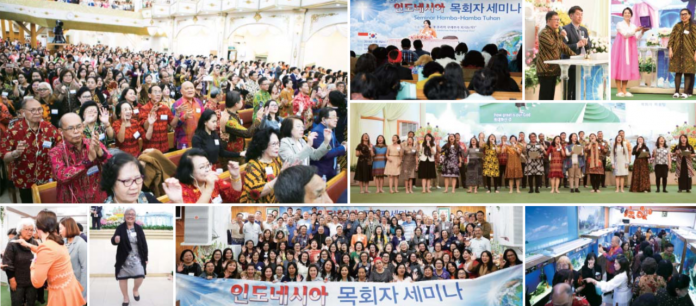 120 Indonesian pastors visited Manmin Central Church in South Korea from May 4 to 5 to see Manmin's ministry in person, and gave thanks and glory to God. 
They had the pastors' seminar on May 4th. The Crystal Singers, Korean Traditional Dance Team, and Power Worship Dance Team sang in Indonesian language and danced. Then there was a video presentation of the Ministry of Power, TV and book ministry. 
The speaker Pastor Soojin Lee said the secret of the church's growth is power of God, fervent prayers, and word of life, and then went on to explain about why Jesus Christ is the only Savior. After the message, pastor Martha Dendeng of Cileungsi was healed of chronic knee arthritis through the prayer with the handkerchief (Acts 19:11-12). 
Pastors attended the Sunday morning and evening service on May 5th. More than 30 of them sang a special song in their traditional costume, which gave joy and grace to the church members. Pastor Adrian Saroinsong (Bethlehem Church) said in his greeting message "I feel like I am in heaven. I am so happy and thankful that I could visit such a good church." 
Ministers also saw the Muan Sweet Water Aquarium, visited GCN TV, and attended the Daniel Prayer Meeting. 
Manmin Central Church, manmin.org