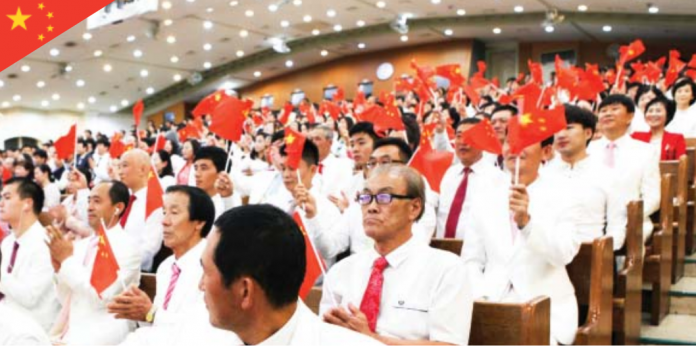 Christians who moved from China to South Korea told how the ministry of the Manmin Church helped them regain joy and get rid of loneliness.
Apart from 32 parishes for local people, Manmin Central Church has an Overseas Parish and a Chinese Parish for people who moved to Korea from other countries. Chinese Parish (Parish Pastor Geumran Hwang) consists of two sub-parishes: one is for Korean-Chinese and the other is for Chinese living in Korea. The parish experienced great revival in 2018, and approximately 110 newcomers registered.
Deaconess Manchang Lee, 43, said, "I suffered from evil spirits until eight years ago. I went to shamans, but it didn't help at all and I just wasted money. I went to a few churches too but nothing improved. However, after I attended Manmin Central Church and received Dr. Jaerock Lee's prayer, I was healed! My husband was also healed of asthma, and my mother-in-law, who had lived on painkillers due to severe pain caused by a herniated lumbar disc, was completely healed!" Deaconess Lee has shared the great grace she received with other people every day and guided new members to church almost every week, which has served as a spiritual stimulus to other church members.
Deaconess Sungok Kim, 67, was guided to Manmin while looking for a church that could satisfy her spiritual thirst. She confessed, "When I first came to this church, Senior Pastor's message was sweet like honey and it was like sweet rain that ends drought. I was overjoyed. Moreover, I was healed of anemia, and diseases of my kidney, heart, and stomach by his prayer. My elder sister was healed of aftereffects of an accident, and my niece-in-law of depression. My younger sister came back to life by his prayer when she was at a critical moment due to a heart attack."
Many of the parish members found true happiness in Manmin while they were exhausted living away from home.
Deaconess Fu Yan Jie, 37, moved to Korea after she got married to her husband. She felt lonely and had a hard time since everything was strange and because of a language barrier. But she gained happiness after she felt the presence of God in Manmin and met the shepherd. She said, "When I first came to the church, it felt like being in my mother's house. Pastors and other members served me with love, and I could learn Korean through the interpretation service." As she delivered her happiness to others, she guided nine new members to church this year.
The Leaders' Love and Devotion Fill Their Hearts with Happiness
In addition to the experiences of God, the pastors' earnest love and the leaders' devotion have led to the revival of the parish. The leaders have been dedicated to taking care of newcomers and other members to repay the grace and love of the Lord.
In particular, cell leaders lead cell services, spread the gospel, and visit members on Saturdays. They have also tried their best to make their members happy on Sundays.
They have a Men's Band and Chorus Team and they also have a Women's Chorus Team and a Dance Team. They led praise and gave special praises in their parish events. Their Service Management Group welcomes the members in front of the meeting venues, the Event Administration Group decorates the venue, and the Volunteers' Group makes noodles for them. The Group for Newcomers guides newcomers to services and leads them to the church's Newcomers' Seminar. They also have a great time praising and dancing in unity during birthday parties every month.
The members who have experienced the power of God and have felt touched by the leaders' love and devotion guide their family, friends, and acquaintances to church. As God is so pleased by them, He has poured down the fruit of revival on the Chinese Parish.
Manmin Central Church, manmin.org