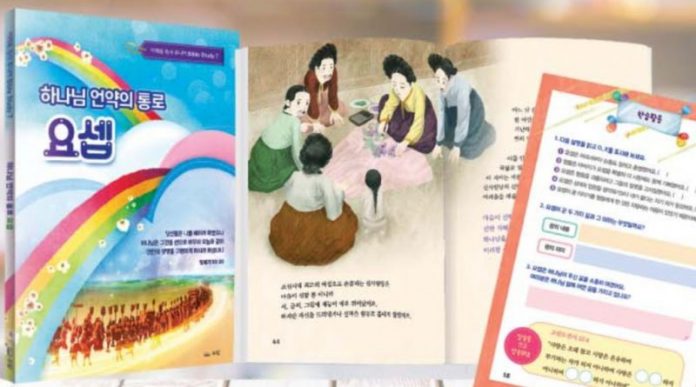 This year was published the 112th book of the senior pastor of the famous Korean church Manmin Jaerock Lee.
A new book for Bible studies «Joseph, the Passage to God's Covenant» introduces children to the life of Joseph.
«It is important for children to have a role model to follow in their faith.
A new Bible study book to present a good role model to them. It is Dr. Jaerock Lee's seventh book in the junior Bible study series titled Joseph, the Passage to God's Covenant,» – according to the publisher.
This book depicts the life journey of Joseph: from the time when he seemed to hit rock bottom when sold as a slave to Egypt at the age of 17 until he became the second ruler to the Pharaoh over Egypt and built the foundation of Israel to become a great nation.
It consists of 16 chapters. Every chapter starts with an instructive story and illustrations that attract children's interest. It is followed by main text and ends with 'activity' parts that help children review the main text and think further about how to apply it to their life.
In addition, varied material is included such as the family tree of Jacob, the father of Israel, and his son Joseph. It illustrates Joseph's route from place to place for the purpose of helping understand the historical background. Since Joseph believed the good will of God in such great hardships, he prospered and gained recognition from others as a great leader everywhere he went. It is expected that by following the footsteps of Joseph children understand the plan of God that is higher and greater than men's and the love of God who wants to give only good things to them.
Jaerock Lee has written 112 books in total including The Message of the Cross that explains God's love and the providence of salvation, Heaven, Hell, and Spirit, Soul & Body. Many of the books have been translated into 61 languages, and now there are 486 versions of the books in multiple languages. There are also 522 editions in 58 languages in total available in the electronic format.
Urim Books has published more than 400 Christian titles in 75 languages, including English, French, Japanese, Chinese, Arabic, and Hebrew.
The publishing house constantly takes part at international book exhibitions, presenting Christian products in different languages.
Manmin Central Church, manminnews.com