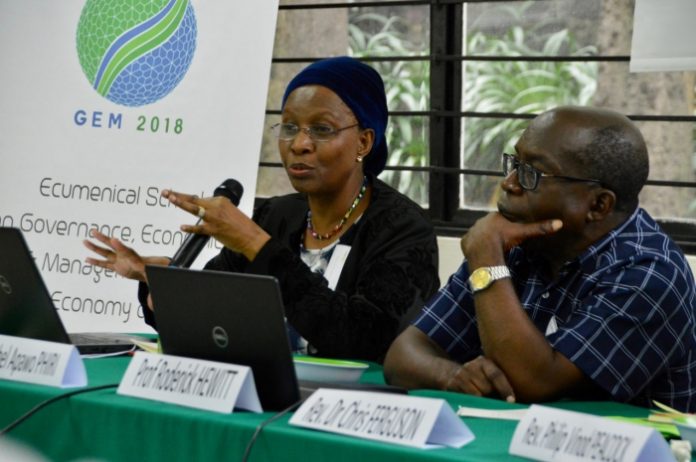 A 10-day program on global economics with participation of church leaders and young activists from diverse backgrounds was opened 19 August in Mexico City.
The Ecumenical School on Governance, Economics and Management (GEM) for an Economy of Life started with a strong musical message of the song "Bring your own chair", calling everyone and not just the powerful sitting at the G20 roundtable to bring their own chair and make their voices heard when it comes to global economic policymaking.
The GEM School is a joint initiative of the World Council of Churches (WCC), World Communion of Reformed Churches (WCRC), and the Council for World Mission (CWM).
It aims to develop economic literacy within churches by equipping current and future leaders with a better understanding of churches' engagement in mission and witness for economic justice.
"In our unity, we are sending an unambiguous message that we need a New International Financial and Economic Architecture (NIFEA) grounded in prophetic gospel values of our shared humanity where emphasis is on a life of dignity for all and for the protection of the earth," said Prof. Dr Isabel Apawo Phiri, WCC deputy general secretary.
The NIFEA initiative responds to recommendations formulated for the WCC, WCRC, CWM and the Lutheran World Federation in the São Paulo Statement: "International Financial transformation for an Economy of Life" and in the document "Economy of Life for All Now: An Ecumenical Action Plan for a New International Financial and Economic Architecture".
Rev. Dr Chris Ferguson, WCRC general secretary, addressed the participants on the joint struggle of WCC and WCRC questioning racism and injustice. "Economic and ecological injustice is a faith imperative and it is inseparable from the belief in God. Concentration of power in the hands of the few is theologically incorrect", he said.
For Prof. Roderick Hewitt, of the CWM, "we need to put Jesus at the center of economic justice and to do this is to displace the market system with an economy that is directed towards the needs of people", he said.
The GEM School is assisted by an international group of economists and theologians who help to identify, relativize, contextualize and criticize the normative fundamentals and methodologies of economics, combining theological and economic dimensions.
World Council of Churches, oikoumene.org