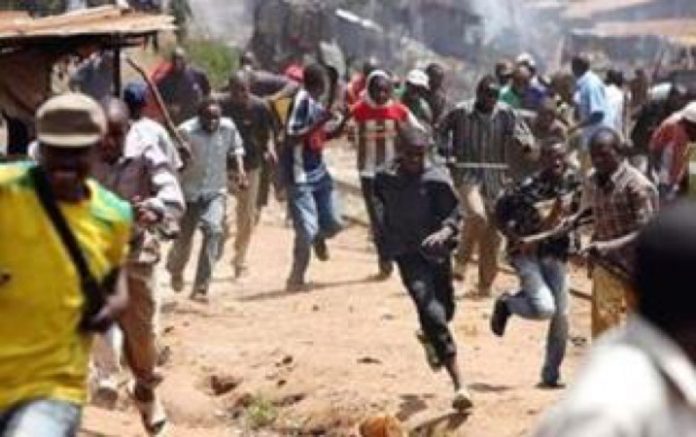 By Michael Ireland, Chief Correspondent, ASSIST News Service (www.assistnews.net)
JOS, NIGERIA (ANS – June 29, 2018) – Muslim Fulani herdsmen with machetes and firearms slaughtered more than 200 people in 10 predominantly Christian communities near Jos, Nigeria on Saturday and Sunday (June 23-24) in what a cattlemen's spokesman admitted was likely retaliation for stealing cows.
Morning Star News (www.morningstarnews.org) reports Police in Jos said only 86 people had been killed in the predominantly Christian areas, but area residents and morgue sources informed the news agency of many more corpses.
Dogo Nvou of Nghar, Gashish District in the Barkin Ladi area, said Fulanis killed more than 70 people in his village alone.
"My uncle, his wife and many relations [were] killed," he said in a text message. "Over 70 people in my village have been killed. It is only the Lord that can comfort us all."
The weekend (June 23-24) attacks took place in the predominantly Christian villages of Xland, Gindin Akwati, Ruku, Nghar, Kura Falls, Kakuruk, Rakok, Kok, and Razat, sources said. The villages are in the two districts of Gashish and Ropp in the Barkin Ladi Local Government Area (LGA).
"In Nghar village alone, about 70 corpses of Christians were recovered and the entire village has been burnt down by the Fulani herdsmen," area resident Thomas Chuwang, 45, told Morning Star News by phone on Monday (June 25), adding that the victims there were members of the Church of Christ in Nations (COCIN).
A Morning Star News visit to the morgues at the Jos University Teaching Hospital and the Plateau State Specialist Hospital, Jos, showed that 216 corpses from the weekend attacks had been taken there, according to sources who requested anonymity.
Plateau Gov. Simon Lalong reportedly said the attacks killed more than 200 people and displaced thousands of others who lost houses and crops.
"The gory pictures of the killing of innocent citizens, women and children continue to torment our hearts, and it sends the serious message that something drastic needs to be done comprehensively, to nip once and for all the ugly menace of attacks that has come to be associated with suspected militia herdsmen," Lalong said.
"These reoccurring attacks have regrettably opened up space for all manners of criminality by criminal elements and conflict merchants, who engage daily in cattle rustling, theft, banditry, gun running and other forms of crimes amongst our citizens."
In Xland and Gindin Akwati villages, the herdsmen killed about 60 Christians, area resident John Isa told Morning Star News by phone.
In Kakuruk village, the herdsmen burned down the COCIN worship building, including the pastor's house, said area resident Christiana Audu, 35.
"The church building, pastor's house and many other houses were destroyed by the herdsmen as they set fire on houses," Audu said in a text message to Morning Star News. "I saw one corpse as I was escaping. More than 200 of us have escaped to the military base near our village."
Istifanus Gyang, a member of Nigeria's National Assembly, on Monday (June 25) issued a statement in Jos decrying the attacks, which took place in the areas he represents in Plateau state, describing it as "…painful holocaust, ethnic cleansing and genocidal killing of my people under the watch of a government that has abdicated its primary constitutional responsibility of safeguarding lives of law-abiding citizens."
The state government has imposed a dusk-to-dawn curfew in parts of the state.
Herdsmen's Admission
The chairman the north-central chapter of Miyetti Allah Cattle Breeders Association of Nigeria (MACBAN), Danladi Ciroma, on Monday (June 25) condemned the attacks but said they were most likely "retaliatory."
"As much as I don't support the killing of human beings, the truth must be told that those who carried out the attacks must be on revenge mission," he said.
"Fulani herdsmen have lost about 300 cows in the last few weeks – 94 cows were rustled by armed Berom youths in Fan village, another 36 cows were killed by Berom youths. In addition to that, 174 cattle were rustled."
Morning Star News said area Christians question how villagers untrained to handle cattle could have "rustled" the high number of cows that Ciroma claims, especially with military check-points mounted throughout the state that would make it difficult to move such a quantity of livestock.
The agency said in the past eight years, more than 50 Christian villages in the Barkin Ladi and Riyom areas have been sacked and taken over by the herdsmen, according to local Christian community leaders.
With the cattle breeder spokesman's admission that Fulani herdsmen likely carried out the attacks, the National Human Rights Commission (NHRC), Christian Association of Nigeria (CAN) and human rights advocates demanded the arrest and prosecution of the assailants, the news agency reported.
"Lives of domestic animals are more valuable than human lives in my country," human rights advocate Agbo Madaki reportedly said.
"If any group is taking responsibility and government fails to do anything, it would appear that the killers enjoy some measures of protection from the government of the day. It behooves the government as the custodian of security in Nigeria to arrest the perpetrators of this dastardly act, so that those who have been killed can rest in peace."
The news agency went on to report Nigerian President Muhammadu Buhari condemned the killings, but human rights advocate Femi Falana reportedly said the failure of his government to arrest the assailants "will attract an institution of a case against the federal and state governments for condoning crimes against humanity and genocide."
 "If Your Excellency does not take appropriate action to stop the killings in Plateau, we shall not hesitate to report the authorities of the federal government and the Plateau state government to the Special Prosecutor of the International Criminal Court for condoning crimes against humanity and genocide," he said.
In a press statement, CAN leaders called on the government to immediately arrest and prosecute the killers.
"We noted that the affected communities are yet to come out with the exact figure of the death toll, but we are alarmed that no fewer than 86 lives, as confirmed by the police, have been lost, including defenseless women and children," they said.
"Of what relevance is the intelligence gathering by the Department of State Services (DSS) and other security agencies? If communities can be attacked and hundreds slaughtered without security organizations providing rescue efforts, then, it becomes obvious that the Nigeria's security system has been compromised."
Buhari met with state officials, security leaders and traditional leaders on Tuesday (June 26) and later said he would not relent in his responsibility to protect the lives of Nigerians.
Prior Killing
Three days before the weekend attack, herdsmen killed a Christian family of four in Kai village, also in Barkin Ladi LGA.
Reports from the area indicate the COCIN church members were attacked in their home on June 20 at about 8 p.m. Police spokesman Mathias Terna Tyopev issued a press statement on Thursday (June 21) identifying the victims as Dauda Mahan, 54; Mangai Agwom, 46; Christian Mangai, 15; and John Mangai, 10.
The Rev. Benjamin Kwashi, Anglican archbishop of Jos Archdiocese, commented on the attacks in a Facebook post.
"When leadership at any level, including religious, turns its back on the sufferings of orphans, the poor and widows, its next and only option is embrace of wickedness, unexplainable greed and shameless display of God forbidden evil," he wrote. "The poor are dying defenselessly, BUT their blood is crying in the land…Judgment is coming."
Christians make up 51.3 percent of Nigeria's population, while Muslims living primarily in the north and middle belt account for 45 percent.
Nigeria ranked 14th on Open Doors' 2018 World Watch List of countries where Christians suffer the most persecution.