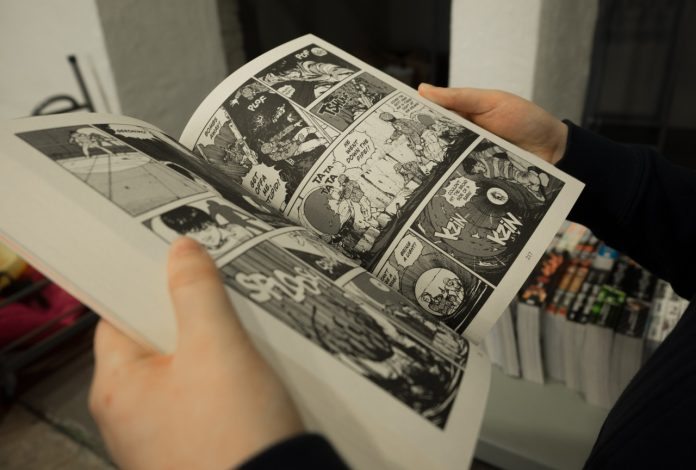 Carlo Acutis slid his books into his backpack when he heard the parish priest knocking at the door. The hoodie-clad teenager had just finished teaching his first catechism class by himself.
"Father Antonio, I … I don't know what to do!" Carlo asked for advice. "These kids don't love the Mass like I do! How do I help them understand the beauty of the Mass?"
Placing his hand on Carlo's shoulder, the priest pointed him to a picture of a church hanging on the wall. It was San Francesco in Lanciano, Italy.
"Inside it is a Eucharistic miracle that reminds me why every Mass is a miracle, even when it may seem boring," the priest explained, referring to a miracle where the Eucharistic host visibly transformed into flesh and blood at Mass.
So begins "Digital Disciple: Carlo Acutis and the Eucharist" — a new comic book that tells the story of Blessed Carlo Acutis, a young millennial who used his knowledge of computers and technology to document the world's Eucharistic miracles online and draw people closer to God.
"Meet Carlo, an Italian fifteen-year-old computer geek who loved superheroes and video games, but most of all, the Holy Eucharist," the book's description reads.
Inspired by that love, Carlo completed a Eucharistic miracle display and website before he died in 2006 from leukemia. He was 15.
The comic book rewinds time to tell the story of a seemingly ordinary teenager with an extraordinary devotion to God. Published by Voyage Comics and the Augustine Institute, the book's pages burst with color and movement, inviting readers to walk with Carlo. You can purchase the book here for $6.99.
"[I] simply put myself into Carlo's shoes and wrote the comic book through his eyes," Philip Kosloski, the writer of the new book, told CNA.
The 36-year-old, who currently lives in Wisconsin Rapids, Wisconsin, revealed his inspiration for the project.
"When I first heard of him a few years ago, I was fascinated by him and his life," Kosloski said of Carlo. "He had a deep devotion to the Eucharist as a teenager and was blown away by Eucharistic miracles."
Carlo had also impacted his life on a more personal level.
"I had a similar experience as a teenager when I learned about Eucharistic miracles and I saw the panels he created that were touring the United States several years ago, though at the time I didn't know they were by him," he said.
In 2018, Kosloski founded Voyage Comics & Publishing with the mission to create exceptional entertainment, informed by Catholic values, that inspires people to live a heroic life. To prepare for his latest project, Kosloski said that he read every book he could find — and even contacted the Acutis' secretary in Italy.
"The family had a chance to look over the script and they gave the 'green light,'" he said.
The comic book depicts Carlo as a relatable teenager: a video game enthusiast, a caretaker of animals and the environment, a soccer player, and an admirer of superheroes. But he also stands out as someone who defends classmates with disabilities against bullies, helps the homeless and the poor, attends daily Mass, and lives by the motto "The Eucharist is my highway to heaven."
In other words, a superhero worthy of a comic book.
Available for shipping in November, the book took roughly four to five months to produce. Kosloski said he had the help of experienced artists, such as Jay David Ramos.
He called Ramos, the book's colorist, "a rising star at Marvel Comics."
"He is a devout Catholic, originally from the Philippines, who is living in California and is a full-time comic book artist," Kosloski said. "He has been part of the Voyage Comics team for the past few years and is always eager to color the lives of 'superhero' saints, taking a break from his normal work."
Kosloski's favorite scene in the book, he said, is a section that focuses on Acutis' experience playing video games.
"It is based off a real event in his life where he saw his friends get overly frustrated with video games," he said. "He learned that video games need to be moderated and [that] was part of the reason why he limited himself to one hour of video games a week."
For his part, Kosloski hoped that the book would speak to both Catholic and non-Catholic readers.
"I hope Catholics will see an enthusiastic teenager in the pursuit of the truth," he said. "He found the truth behind the Eucharist and couldn't contain his excitement at what he found. He had to spread his love, hoping the entire world would come to see the Real Presence of Jesus in the Eucharist."
"For non-Catholics, I hope they see a teenager on fire with Christ's love," he added. "He not only shared his love of the Eucharist but also served the poor and cared for what Pope Francis would call our, 'common home.'"
He concluded: "His life shows that God can work through anyone, no matter their age."