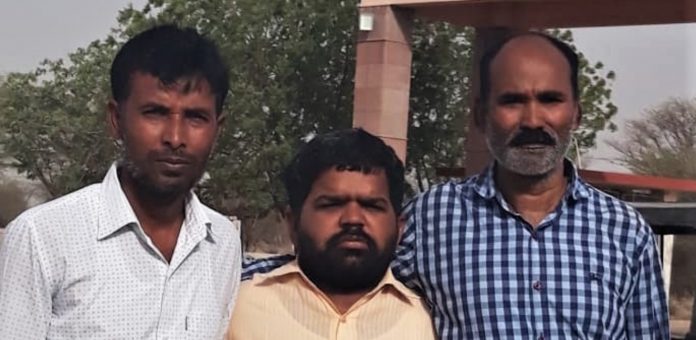 NEW DELHI (Morning Star News) – When evangelists in India were accused of fraudulent conversion in a village at a time when they were hundreds of miles from it, they knew powers beyond their control were at play.
Pastor Kasiram Meghwal, 46, was leading his church in Choru, Rajasthan, 410 miles from the village near Khajuwala where he was accused of trying to fraudulently convert people on May 20, his attorney said.
Evangelist Sahiram Nayak, 34, lives 136 miles from Khajuwala in Sri Ganganagar and was attending his church in Rai Singh Nagar at the time, the lawyer said. A third accused Christian, 32-year-old pastor Vijender Singh, was leading Sunday service at his church in a different area of Khajuwala at the time of the alleged fraudulent conversion attempt at Hindus' homes, according to the attorney.
The three Christians came together in the Khajuwala area on May 22 to proclaim Christ to villagers, but the First Action Report (FIR) filed by area resident Rameshwar Lal alleges that on May 20 they offered him 100,000 rupees (US$1,450) and 50,000 rupees (US$730) to another area Hindu to convert, attorney Subodh Mathews told Morning Star News.
Having obtained bail for a previous false charge, the three Christians were devastated to be jailed again on May 24 under a statute against "outraging religious feelings." Their plea for bail was denied.
"We wept before the Lord, but we never abandoned our faith," Pastor Singh told Morning Star News. "We met many people inside the prison, including a few people who told us that they were in the habit of committing murders for money, and that they related to some extremist religious groups as well. They told us that they would have gladly killed us, had they seen us outside."
Undaunted, the Christians told the convicts about Christ and held a Sunday worship service inside the prison on May 27, he said.
"We got the opportunity to share inside the jail to murderers," he said.
With much difficulty they were able to obtain bail on May 29 and were released.
Entrapped
On May 22 they distributed Christian literature and New Testaments among families of village 16 BD and then went to the home of Kaku Singh in village 14 BD, near Khajuwala in Bikaner District, Rajasthan, Pastor Singh told Morning Star News. After inviting them in, Kaku Singh told them that his wife was suffering from cancer, he said.
"We shared the gospel with him and prayed for his wife and decided to leave," but Kaku Singh insisted on offering them tea, Pastor Singh said. While the three evangelists were waiting, Rameshwar Lal called them out of the house on the pretext of asking questions about the literature they had given him earlier, the pastor said.
When they stepped out of the house, a man named Darshan Singh suddenly attacked them, he said.
"He caught me from my collar, slapped me and pushed me down," Pastor Singh said. "He started to verbally abuse us using filthy language. They punched Sahiram too."
Soon a mob of about 80 people surrounded them, carrying wooden sticks with intent to attack the Christians, he said.
Though Kaku Singh would file the first case against them, he objected to the mob dragging the three Christians towards the main road with the intention of killing them, the pastor said. He said that as the mob shouted, "We will kill you today," Kaku Singh called police to keep them from being killed.
Police soon arrived and took the Christians into protective custody, or otherwise they would have been killed, Pastor Singh said. The three Christians were arrested under Section 151 of the Code of Criminal Procedure, "Arrest to prevent the commission of cognizable offenses."
A police officer told the Christians that he immediately rushed to the site because he was aware of how Christians are being targeted in India, the pastor said.
Surrounding the police van carrying the three evangelists, the mob demanded that they be handed over to them or they would set fire to the police van, he said.
"The atmosphere got very tensed," Pastor Singh said. "It was dangerous."
Police managed to bring the Christians to the Khajuwala police station for questioning. Officers treated them with respect and consideration, the pastor said.
"While we were there, the sitting Member of Legislative Assembly [MLA], Dr. Vishwanath Meghwal, who belongs to the BJP [Hindu extremist Bharatiya Janata Party], kept calling the police inspector and kept pressuring him to question us thoroughly," Pastor Singh said. "The policeman, exasperated by the frequent calls of the MLA, finally asked him to come to the police station and satisfy himself by interrogating us."
Kaku Singh accused the three Christians, all members of the Brethren Assembly, of trying to lure him and Lal to convert to Christianity.
The next day, May 23, after the Christians had secured bail and were walking out of the police station, they were arrested again, this time based on a separate complaint dated May 20 and submitted by Lal, who had called the Christians out of Kaku Singh's home. His FIR alleges that the Christians offered him 100,000 rupees (US$1,450) and 50,000 rupees (US$730) to Kaku Singh, and they were re-arrested under Section 295A of the Indian Penal Code for alleged "Deliberate and malicious acts, intended to outrage religious feelings of any class by insulting its religion."
Since being bailed out, two court hearings have passed, one on June 5 and another on June 30, though no formal charges have been filed. Church leaders believe the accusations are rooted only in the desire to harass the Christians.
T.J. Joseph, senior leader of the Brethren Mission, said legal proceedings could harass the evangelists for years.
"Though they have been bailed out, they have to travel long distances for every court date of theirs," Joseph told Morning Star News.
The hostile tone of the National Democratic Alliance government, led by the Hindu nationalist BJP, against non-Hindus, has emboldened Hindu extremists in several parts of the country to attack Christians since Prime Minister Narendra Modi took power in May 2014, religious rights advocates say.