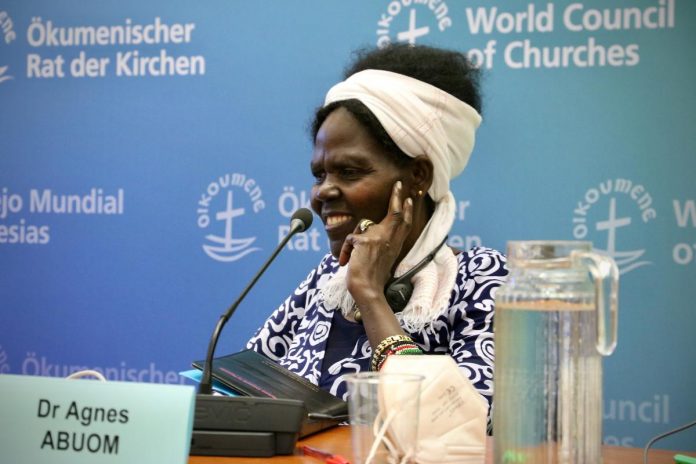 In her opening remarks at the World Council of Churches (WCC) central committee meeting on 9 February, Dr Agnes Abuom shared landmarks from the past eight years, acknowledged the losses during COVID-19, and celebrated the hope ahead for the WCC 11th Assembly in Karlsruhe, Germany.
"In terms of the ecumenical movement. I would like to say that the ecumenical movement— particularly the World Council of Churches and its member churches—what we've seen between Busan, as we move to Karlsruhe, is a widening and a broadening of an ecumenical dialogue," said Abuom, WCC central committee moderator. "We have deepened our bilateral dialogues, which are intercommunion, but we have also broadened the number of groups that we relate to, for instance, the Pentecostal movement, the evangelical movement."
Abuom celebrated, overall, a positive spirit despite the challenges that COVID-19 still brings. "The motto of Busan—moving together on a Pilgrimage of Justice and Peace—captures what I have just described, and that is we are committed to move together," she said. "We moved together as member churches."
The WCC has also moved together with other communions, she noted. "But more important, we have moved together with human communities, social movements in addressing justice issues," she said. "The Pilgrimage of Justice and Peace has offered us a framework of relating."
Through strong communication, the WCC has been able to keep together, work together, and pray together, she added. "We were able to harness stories of hope, stories of resilience, stories of patience, stories of innovation," she said. "And as we seek to meet now and move to the 11th assembly, I dare say that indeed, the churches have proved their resilience."
Abuom mentioned many WCC programmes, among them the Thursdays in Black campaign which has gathered momentum during the pandemic. "It has proved that, together, men and women, we can overcome the challenges, the obstacles, the issues that generate unwanted and ugly violence,"she said.
Abuom also reflected that the WCC's governance was, of course, impacted by the pandemic. "But thank God most people understood the need for us to continue our work online," she said. "We have taken decisions online and, for me, this points towards a very positive direction."
Abuom said she has seen a spirit of coherence, teamwork, collegiality, and support. "So, looking back to Busan, the theme for us now is so relevant because the pandemic has divided people," she said. "The pandemic has exacerbated some of the conflicts that were there—and hence the theme 'Christ's love moves the world to reconciliation and unity' is divine."
Abuom also invited other leaders from the WCC central committee, as well as Bishop Petra Bosse-Huber, moderator of the WCC programme committee and head of the Department for Ecumenical Relations and Ministries Abroad of the Protestant Church in Germany, to contribute their reflections on the WCC's journey from the 10th assembly to the 11th assembly.
Bosse-Huber, at the opening of the central committee meeting, is representing also the local host of the WCC 11th Assembly.
Bishop Mary Ann Swenson, WCC central committee vice moderator, also recounted many aspects of the WCC Pilgrimage of Justice and Peace since the WCC 10th Assembly in Busan.
"But then came an outbreak of a worldwide pandemic, and we turned our attention to the issues of health and wellbeing: how to assist people of the world to be safe and healthy," she said. "Still, Christ's love is what it is all about for us: our fellowship in the World Council of Churches and Christ's love moving us to live and act in love, as we give thanks looking back to what we have done, and looking forward to a future that we truly can bring recondition and unity, leading everyone so that there is abundant life for all of God's children in every place."
Bishop Petra Bosse-Huber recalled that the previous WCC assembly in Europe was the 4th assembly in Uppsala in 1968, which had issued a public declaration to work for justice and peace throughout the world.
"I hope the 11th WCC assembly, 54 years later in Karlsruhe dares to walk the path of justice and peace towards true reconciliation and visible unity," she said. "Europe needs your presence as a visible sign of the one world we all look forward to".
"I hope the assembly will send a wake-up call to the whole world, especially in a situation in which cohesion and closeness are being put to the test by the COVID-19 pandemic," said Bishop Petra Bosse-Huber. "Only together can we meet the challenges of this time."