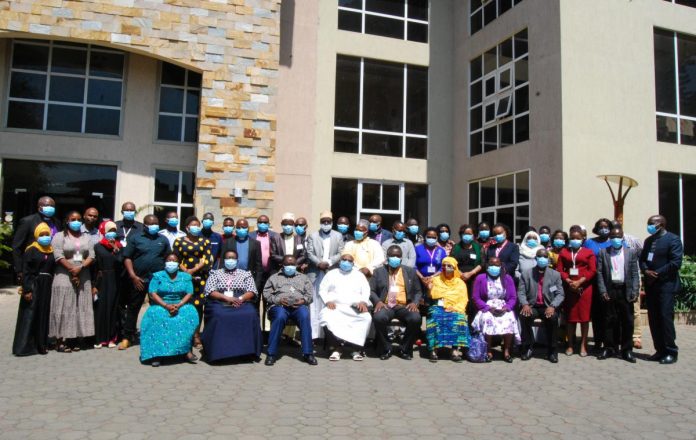 Religious leaders in Tanzania, after attending a workshop on HIV, stigma, treatment adherence and faith healing, released a communique that urges further empowering of religious leaders with skills and information to combat HIV.
The communique is the fruit of a UNAIDS-PEPFAR faith-based initiative workshop, "Harnessing the Power of Partnerships," which ran from 27-30 September.
The World Council of Churches (WCC) Ecumenical HIV and AIDS Initiatives and Advocacy programme helped coordinate the workshop, paving the way for participants to hear from expert speakers as well as share their own experiences and barriers to treatment adherence. Religious norms and practices were shared from Muslim, Christian and traditional perspectives.
In the communique, the religious leaders committed themselves to take up the task of fighting stigma, as well as advocating for testing and treatment adherence. "We would like to call on the government to emphasize on the integrity among health workers to adhere to confidentiality," reads the communique. "We commit ourselves to take the task of fighting stigma, advocating on testing and treatment adherence."
Religious leaders also pledged to continue sharing and providing positive messages to the communities at regional, district and national levels, and encouraging and supporting them through scriptures in the quest to stop using discriminatory languages. They also committed to work with young people, especially those living with HIV.
Religious leaders also committed to show compassion, love, and peace to the people living with HIV, giving them equal opportunities in the communities and involving them in decision making.
Rev. Pauline Wanjiru Njiru, WCC Ecumenical HIV and AIDS Initiatives and Advocacy programme Eastern Africa regional coordinator, said: "Kidole kimoja hakiwezi kuua chawa" (one finger cannot kill lice; it needs be two)," calling on the religious leaders to work and walk together to combat HIV, stigma and discrimination by 2030.
Rev Dr Nyambura Njoroge, WCC programme executive for the Ecumenical HIV and AIDS Initiatives and Advocacy programme, said: "WCC remains resolute in upholding the dignity, freedom, humanity and wellbeing of all by tirelessly preventing and responding to HIV stigma, discrimination, sexual and gender based violence and all inequalities and injustices."
Small group discussions also focused on transformative masculinities and femininities, and present strategies for holistic healing, including adopting a bio-psycho-social-spiritual approach.
Stigma and discrimination among people living with HIV remains one of the biggest barriers preventing people living with HIV from accessing healthcare.
The new "Power of Partnerships" initiative is a two-year effort that aims to leverage global and country leadership by faith leaders and organisations to advocate for and deliver sustainable HIV responses, as well as build on the progress and results achieved by the previous 2016- 2019 initiatives.