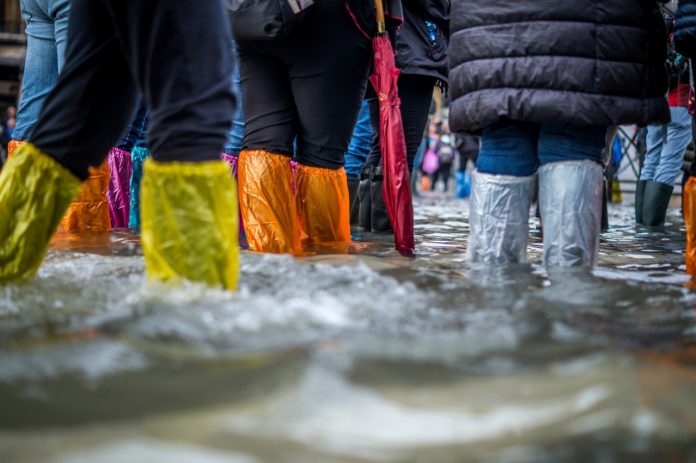 Days after sudden floods claimed lives and destroyed buildings at the Mekane Yesus Seminary in Addis Ababa, worldwide calls for solidarity and support have continued to register.
The floods on 17 August submerged buildings, swept away roads and displaced families in the theological institution of the Ethiopian Evangelical Church Mekane Yesus.
"A catastrophic flood served the message of evil, with extraordinary heartbreaking outcome," said Rev. Yonas Yigezun Dibisa, president of the Ethiopia Evangelical Church Mekane Yesus.
In an official request for support, Dibisa said eight lives were lost including three children and five adults. Apart from the devastating human cost, 14 national and three expatriate families, with a total of 98 people, have been displaced. The seminary has also temporarily suspended learning for more than 100 students.
Ethiopian Evangelical Church Mekane Yesus officials estimate that nearly U.S $2.5 million will be needed to rehabilitate and relocate families affected by the flood, and carry out flood protection work. Part of the money will be used to rehabilitate and renovate the damaged facilities – including 21 buildings badly damaged, the internal roads and other facilities.
"Therefore, we kindly request you to stand by and support us by all means you could. We appreciate any kind and any amount of support, financial, material, prayer…" said Dibisa.
Officials at the seminary said a large part of the institution was badly damaged, including staff residences for both international and national missionaries. The missionaries lost all their personal belongings, including their travel documents.
"This is a catastrophic, heartbreaking and unprecedented disaster that has resulted in the loss of lives, destruction and displacement of our people," said Rev. Dr Bruk Ayele Asale, president of the Mekane Yesus Seminary. "We are in an emergency."
Images of displaced people sitting on rooftops, against a background of submerged buildings have since emerged. Adanech Abebe, deputy mayor of Addis Ababa, has urged the people residing in the area to take extra protection against the floods, while warning of more rains in the coming days.
"We extend our heartfelt condolences to our loved ones, families and friends who lost their lives in the floods," said the deputy mayor after visiting the area and announcing support for people affected by the floods.
The World Council of Churches (WCC) and the Lutheran World Federation expressed sadness at the loss of lives and the damage to buildings at the seminary.
Marianne Ejdersten, WCC director of communication, expressed the WCC's sense of prayerful solidarity. She spoke on behalf of Rev. Prof. Dr Ioan Sauca, WCC acting general secretary, who is currently on vacation.
"We stand in solidarity with you, and we pray for the victims and their families, the rescue team, the students and the faculty," she said, "and we seek God's mercy, love and grace that we may be empowered with strength to continue on our joint pilgrimage."
Eva Christina Nilsson, director of the Department for Theology, Mission and Justice of the Lutheran World Federation, sent a letter to the Ethiopian church and the seminary. "We want to assure you of our solidarity and prayers as you respond to pain and suffering from this disaster…" she wrote.
Founded in 1960, the historic and prestigious theological institution has been providing training for pastors of the 10 million Lutherans in Ethiopia.
WCC, oikoumene.org