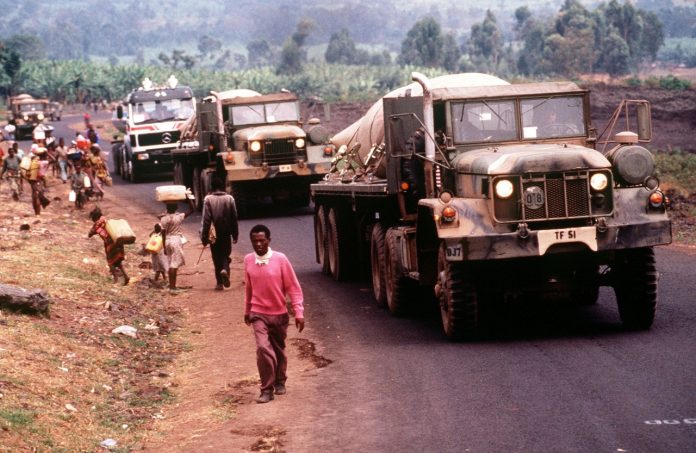 On the International Day of Reflection on the Rwanda Genocide, CSW and Human Rights Concern Eritrea are urging greater international action to end the ongoing violence in Ethiopia's Tigray region, where credible information continues to emerge indicating that atrocity crimes may be underway.
In 1994 an estimated 800,000 people, overwhelmingly members of the Tutsi ethnic group were systematically killed over a 100-day period by members of the Rwandan armed forces and allied Hutu militia, including some who had taken refuge in churches. Additionally, around half a million women and children were sexually violated, mutilated, or murdered in what would later be deemed a campaign of genocidal rape . The genocide was state organised, state driven, and occurred despite warnings from the head of a small United Nations (UN) force sent to the area in 1993 that Hutu armed groups were stockpiling weapons.
On 22 June 1994 the UN mandated France, which had previously trained the Rwandan armed forces, to deploy a peacekeeping mission which eventually fulfilled its humanitarian mission, but did not act to ensure justice by arresting officials implicated in the genocide, ostensibly because this was beyond its mandate. The massacres stopped in July 1994, when the Rwanda Patriotic Forces (RPF) led by Rwanda's current president, Paul Kagame, took control of the country.
The situation in Tigray is now in its 155th day. Despite a communications blackout instituted on 4 November when the fighting began, and ongoing restrictions on reporting, information continues to emerge of severe human rights violations reflecting those which occurred during the Rwanda Genocide. These include the often door-to-door massacres of Tigrayan male civilians by members of the Ethiopian and Eritrean armies and allied Amhara militia; massacres in and around churches during annual feast days; indications of systematic mass rape being used not only as a weapon of war but also as a possible component of genocide; the use of starvation as a weapon of war; reports of the ethnic cleansing of Tigrayans from areas bordering the Amhara region; and the ethnic profiling, arrests and sackings of Tigrayans in the capital and elsewhere. 
Having initially denied the presence of Eritrean troops in the area, and following international pressure occasioned by mounting evidence of gross human rights violations, Ethiopian Prime Minister Abiy Ahmad announced the withdrawal of Eritrean troops from Tigray. However, this announcement came amidst reports of roundups of underage children for military service and of an increased Eritrean military presence both in the restive Oromo region and on the border with Sudan.  Eritrean soldiers are also reported to have been given Ethiopian army attire and Tigray identity papers.
Elizabeth Chyrum, Director of Human Rights Concern-Eritrea said: "Facts on the ground provide a clear illustration that the Eritrean government has no intention of withdrawing its forces from Tigray, neither does the Ethiopian Prime Minister have any intention of following through with his stated undertakings. The day after Prime Minister Abiy's public statement, Eritrea sent 27 convoys full of Eritrean soldiers to Adwa and 13 to Adigrat. Eritrean soldiers have also been deployed in the Edaga-Hamus, and Mugulat areas. Many are Eritrean minors, sent to the frontlines to die in a war they can barely comprehend. This war risks destabilising the entire region and could have been avoided had the Security Council acted on the recommendations of the 2016 report of the Commission of Inquiry by determining the human rights situation in Eritrea a threat to peace and security, and referring it to the International Criminal Court."
On 25 March, the Office of the UN High Commissioner for Human Rights and the Ethiopian Human Rights Commission (EHRC) announced they would conduct a joint investigation into the human rights violations and abuses committed by all parties in Tigray  "with a view to a credible accountability process." However, doubts were immediately raised regarding the efficacy in this investigation due to the ECHR's role in advancing a contested narrative with regard to events in Mai Kadra town in November, and the organisation's potential vulnerability to coercion by a significant party to the conflict. 
Dr Khataza Gondwe, Head of Advocacy and Team Leader for Africa and Middle East at CSW, said: "By all appearances, the strong verbal warnings by the US and the EU in particular have merely met with vocal assurances and dissembling. On a day set aside to reflect on the unfolding of the Rwanda Genocide, we urge members of the Security Council to set aside vested interests and enforce peace and security for the sake of Tigray's civilians by mandating a hybrid African Union-UN force to verify the withdrawal of Eritrean, Ethiopian and Amhara forces from Tigray, to enforce a ceasefire, and to secure unimpeded access to the entire region for local and international aid agencies." 
CSW, csw.org.uk