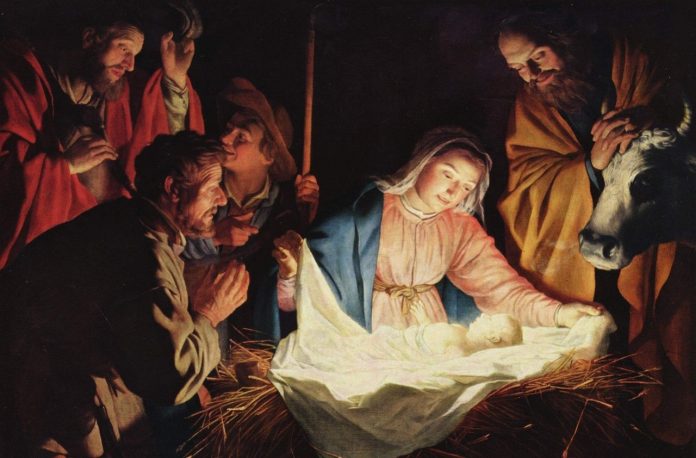 There is an ancient legend about Mary, Joseph, Jesus, and a spider.
After Jesus was born, the Holy Family fled into Egypt, while baby boys were being slaughtered by order of King Herod. The legend says that one night the family stopped to sleep in a cave. There was a spider in that cave, the story goes, who knew the infant Jesus was a special child.
According to the legend, the spider felt called to do something unexpected— something that would save Mary, Joseph, and Jesus from soldiers sent by King Herod on a terrible mission.
The legend of that spider — "The Spider Who Saved Christmas" — became well-known in some parts of the world. In fact, some people say that tinsel is placed on Christmas trees to remember the web of that spider. The legend is now told in a new children's book, released this month by children's author and television host Raymond Arroyo.
"The Spider Who Saved Christmas," Arroyo told CNA "fills an important gap in the Christmas story, one we don't often consider."
"I discovered this Legend in a footnote of a Bible commentary," Arroyo said, and "was intrigued."
"My telling of the legend is really all about motherhood, sacrifice, family, and overcoming fear to recognize the hope that is often all around us. I expanded the spare tale, created some characters and got to spend some time with the Holy Family. It actually made me appreciate them and their struggle in a new way," the author said.
Arroyo is well-known as a television host on the EWTN network and on Fox News. He told CNA that "in my heart, I have always been a story teller. I've told stories on television, through music, and with the written word. A well told story is often more true than assembled facts, and they often stay with audiences longer."
"The Spider Who Saved Christmas" is not Arroyo's first book for children. The author has also written three installments in a series of adventure stories, and is working on a fourth.
"I started writing for younger audiences because of my own children," Arroyo said, adding that he intends to write more illustrated books based upon legends of times past.
"I think these old stories have survived largely because they contain a bit of wisdom that we need for living. I've always thought that every good story is a guide for life. The series will likely contain forgotten, or discarded stories that I think need a bit of attention. They won't all be origin stories. But they will give a wide audience an opportunity to look at figures they thought they knew, or consider stories they thought they understood in a different light," he said.
"I've always loved the first books I read. I don't really consider them children's literature, but great literature. 'Treasure Island,' 'Peter Pan,' 'Charlotte's Web,' can be enjoyed by children, but the deeper themes and the truth contained in them are quite adult."
"When I wrote my Will Wilder series, I decided to write for both young audiences as well as their parents and guardians. I love books that you can return to later in life and find a different story. I also love sharing these stories with young audiences. They hold a book closer than adults. So though I will likely write for adults again, I'll never stop writing what the world condescendingly calls 'children's literature.' It's actually better termed 'human formation literature.'"
Arroyo told CNA he appreciates the "challenge of writing for young audiences. They won't tolerate the artifice, deceptions, humorlessness that adults will. Kids are actually quite clear-eyed. They expect truth, understanding, and fun. I try to bring all that to them, even when writing about a spider named Nephila."