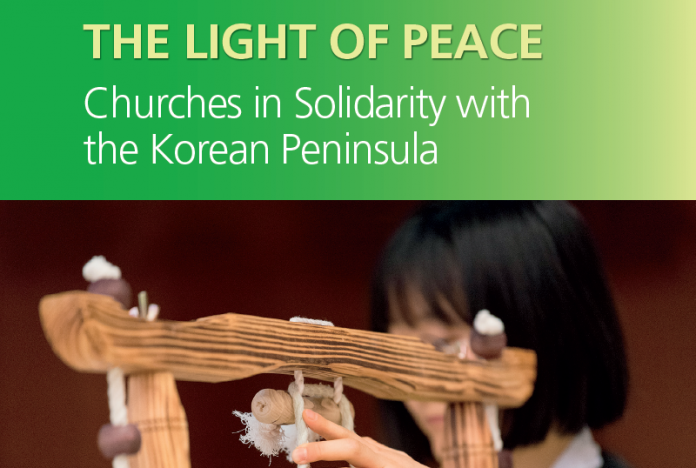 On 14 August, the World Council of Churches (WCC) will publish The Light of Peace: Churches in Solidarity with the Korean Peninsula, a collection of resources WCC member churches can use to recognize 70 years of unresolved conflict on the Korean Peninsula during 2020.
The content is drawn from a variety of contributors, each with their own experience of, or expertise in, the Korean journey.
In the preface, Rev. Dr Sang Chang, WCC Asia president, reflects that it is time for the Korean Peninsula to embrace the life of reconciliation and unification. "This book traces the 70 years of modern Korean history, offering historical and geopolitical background on the division of Korea, as well as the spiritual and theological meanings of the global ecumenical initiatives for the peace and reunification on the Korean Peninsula," writes Chang. "Each chapter will foster an awareness of the pain and suffering caused by the 70 years of Korean War, enlivened by personal stories, interviews, and prayers, beginning with a spiritual reflection that serves as a theological introduction to the chapter."
Rev. Dr Hong-Jung Lee, general secretary of the National Council of Churches in Korea, gave thanks for the journey depicted in the publication and for each interpretation included.
"History, memory, and narrative are all interconnected with distinctive dimensions, involving a context-bound hermeneutical journey of the processes and events that have occurred for a people over an extended period of time," said Lee. "As peacemakers, we remember and interpret the period as a period of enhancing the people's capacity for healing, reconciliation, and peaceful co-existence."
Lee asked for continued prayers to arrive at a final peaceful settlement on the Korean Peninsula. "We are trying to develop a people's hermeneutics of peace so that we may testify God's sovereignty of history: we confess that God will recreate a healed and reconciled Korean Peninsula with the fullness of life for all."
In the introduction, Rev. Prof. Dr Ioan Sauca, WCC interim general secretary, urges Christians to take bold new steps for peace. "It is time to find ways of taking real practical steps toward removing the permanent threat of war, toward peaceful coexistence on the Korean Peninsula, and ultimately toward reunification of the long-divided Korean people," he writes.
From 1 March to 15 August 2020, the WCC, together with the National Council of Churches in Korea, has been observing a Global Prayer Campaign, "We Pray, Peace Now, End the War." As part of the campaign, the WCC has been sharing prayers and stories commemorating 70 years since the start of the Korean War, inviting churches worldwide to join in prayers for Korea.
WCC, oikoumene.org