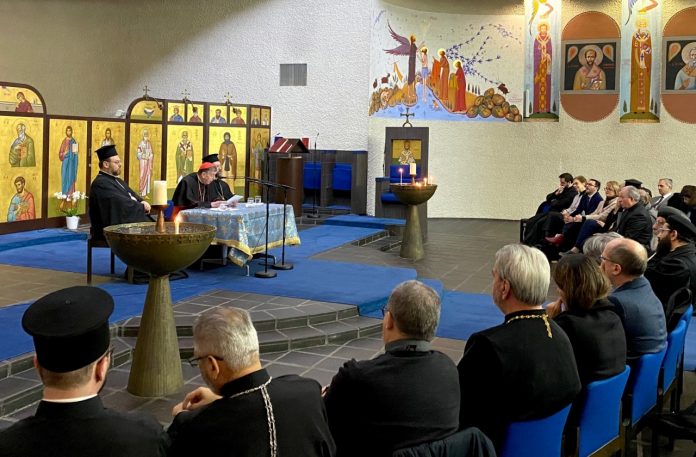 Cardinal Kurt Koch, president of the Pontifical Council for Promoting Christian Unity, gave a public lecture at the Orthodox Center of the Ecumenical Patriarchate in Chambésy on 16 December.
Entitled "Towards the unity of the Church in East and West: Paths to overcome the divisions between the Roman Catholic Church, the Oriental Orthodox Churches and the Orthodox Church," the lecture drew many people interested in ecumenism.
Koch reminded the audience that, fifty years ago, the historic meeting between the Ecumenical Patriarch Athenagoras and Pope Paul VI in Jerusalem in 1964 expressed the reciprocal desire to restore love between the two churches.
"Cardinal Koch provided a clear, realistic and hopeful overview of the growth in fellowship between Eastern Orthodox and Roman Catholics during the past fifty years," said Rev. Dr Odair Pedroso Mateus, who heads the World Council of Churches (WCC) Faith and Order Commission. "Openness to ecumenical encounter and dialogue as exchange of gifts may lead these two traditions so attached to the origins of Christianity to reach a fundamental consensus on the synodality of the church and the importance of a universal ministry of unity."
Fr Prof. Dr Lawrence Iwuamadi, academic dean at the WCC Ecumenical Institute in Bossey, said: "His Eminence Cardinal Kurt Koch's presentation showed what is already achieved and the progress that is going on in the dialogues between the Roman Catholic Church and the Orthodox churches. Without ignoring the challenges that are there, I think that an important takeaway is the tone of hope in his paper."
WCC, oikoumene.org