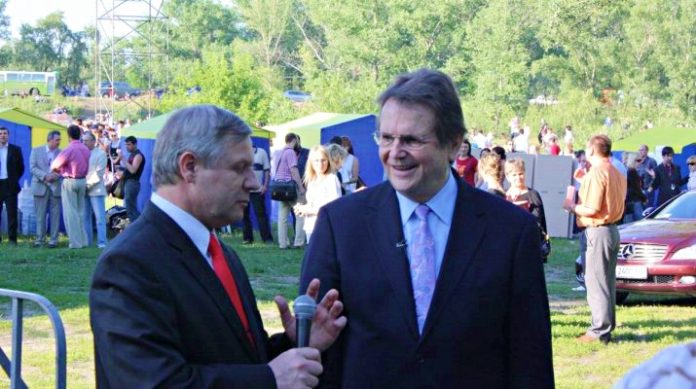 I was born in Ukraine in the late fifties, in a large family (eight children). My parents and ancestors were christians, missionaries from America brought the Gospel message in the twenties. It was tough time for believers. Everyone suffered, and we paid the price. We could only dream to preach in stadiums and squares, on radio and television. But God had His own plan of salvation for the post-Soviet space.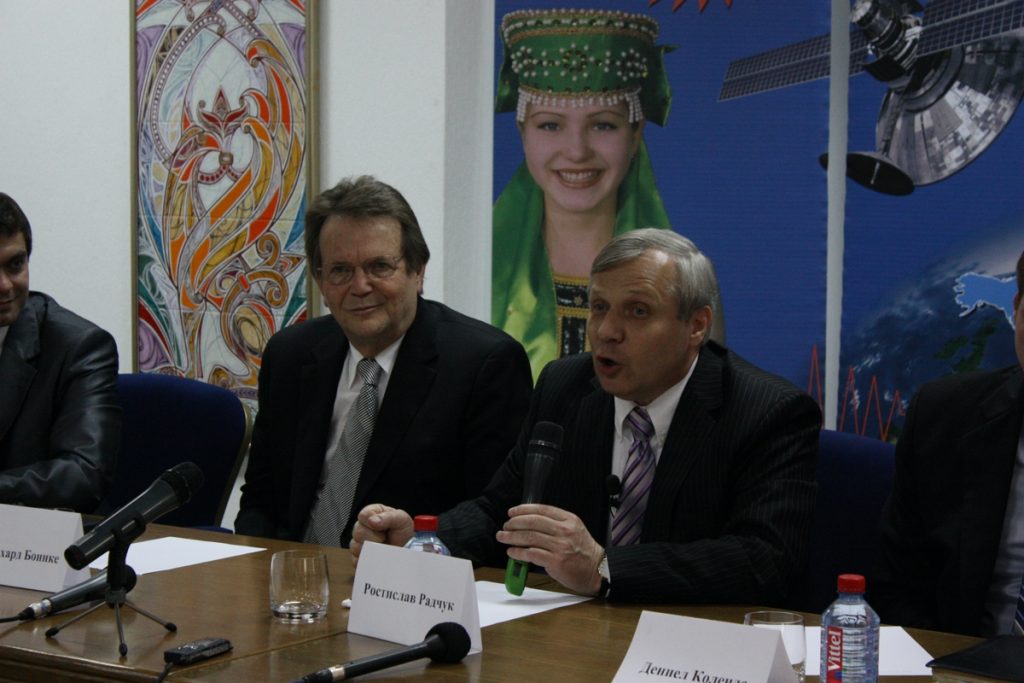 It is said, ironically or by coincidence, but it was heaven's plan when local power-wielding leaders drove all Evangelical believers to pray at the Oleviste Church in Tallinn, Estonia. The unity of the spirit of believers has always borne fruit in the spiritual awakening. At the end of the seventies, the Lord visited Estonia with the Holy Spirit, awakening began and miracles of healing were performed. The Lord greatly used Alexander Popov, Udo Viewo, Reina Uuemis, Janis Ozolinkevich, Ulo Niinemagi and other ministers.
I will never forget my visit to Oleviste Church at the end of 1977. I saw clearly the power of God in action. Brothers from Finland together with the ministers from Tallinn prayed for me and I experienced the incredible power of the spirit of God. And we with brothers Popov and Udo began to travel a lot to Ukraine, Armenia, Asia, and the far East. But that was later.
While I was visiting church in Tallinn, Arnold Turku came up to me and showed me a booklet with pictures where Reinhard Bonnke preaches to tens of thousands of people in Africa in a tent. When I picked up this booklet, tears "streamed" from my eyes. I began to pray with tears: "Dear Lord, I want to preach to thousands and tens of thousands, like pastor Bonnke. Help me to become a "Ukrainian" Bonnke."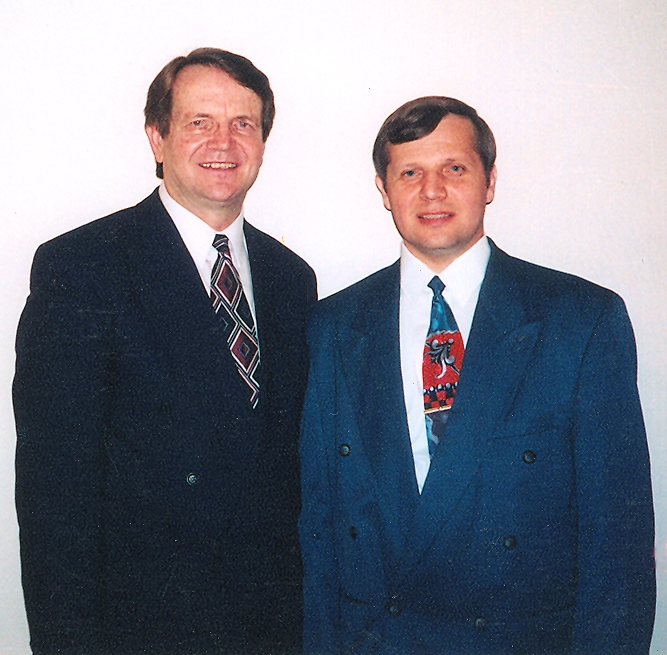 Time passed, and then came the long-awaited freedom. Stadiums and borders were opened. "Big" country began to celebrate the Millennium of the baptism of Kievan Rus, evangelization campaigns have begun. The first service was held by pastor Peter Serdichenko in Mayaki, Odessa region. And the next Sunday I held a microphone and spoke to 20,000 people in the city of Rivne. More than 500 people came forward to accept the rescue. It was the beginning of a Great Commission: to preach the gospel to all people. In 30 years of international service, the Lord has helped me visit 99 countries around the world. Sometimes there were 300 evangelizations a year, I had the opportunity to serve to tens of thousands of people in one service and sometimes to more than 130,000 people.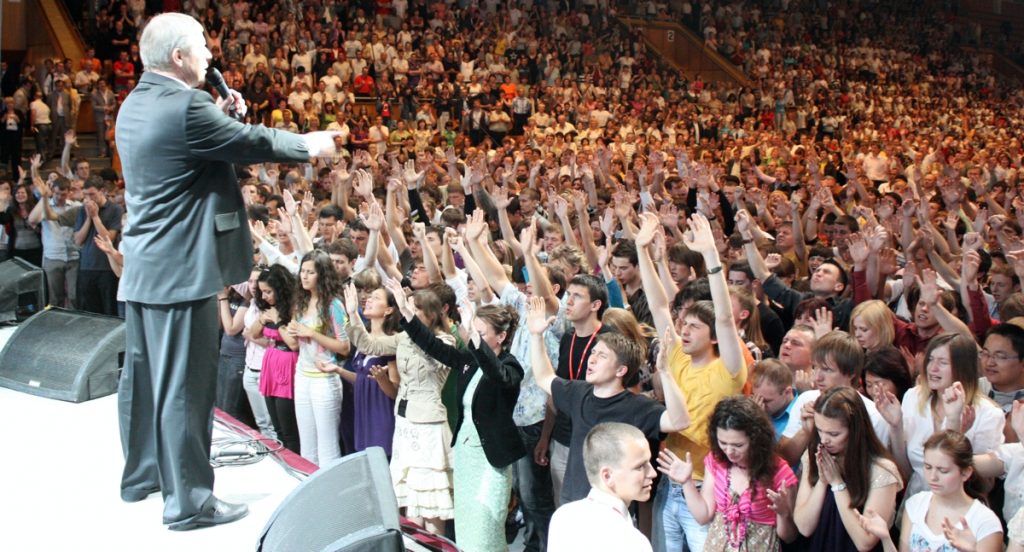 It was my first trip to Hamburg, Germany. The first acquaintance, handshake and prayer of the German Evangelist Reinhard Bonnke for the Ukrainian Evangelist Slavik Radchuk. God has brought us closer together. As Director of the Department of missions and evangelization in Ukraine at the Union of churches of brother Mykola Melnyk, and having received the approval of the senior Bishop for the former Union Roman Bilas, I invited brother Reinhard to hold a crusade in Kiev in 1992.

More than 30 thousand people gathered at the Dynamo stadium in Kiev. When brother Bonnke preached, hundreds of people came forward to ask God to become their Savior. The next day, a Ukrainian newspaper published an article about a boy who «at yesterday's service received healing through the prayer of Bonnke and his eyes opened – he began to see!»
There have been many wonderful services over the past decades. God joined our ministries, and we conducted many Evangelistic campaigns together: in Africa, Scandinavia, Germany, Ukraine, and America.
At United States, we held two-day services. At each of the Crusades I preached first, and then Reinhard Bonnke. Each service was attended by 12 to 18 thousand people. I will not forget the Millennium crusade in Legos, Nigeria, in 2000, where brother Reinhard Bonnke preached to 1 million 600 thousand people in one place.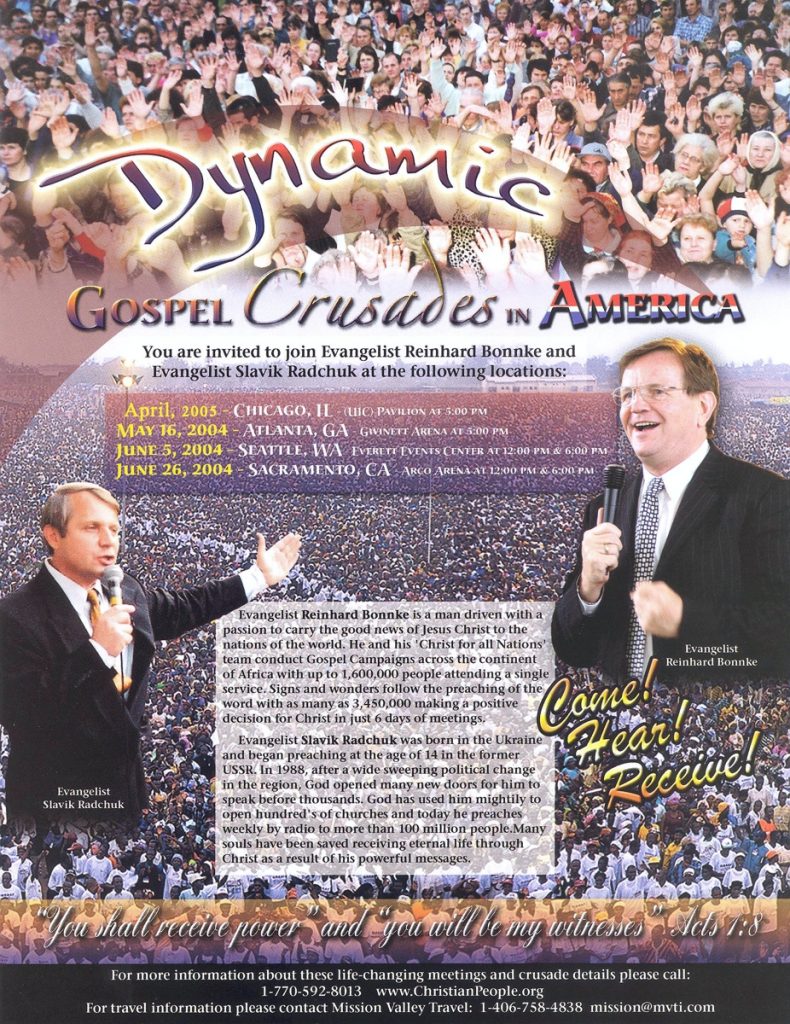 The Lord performed many miracles there. In 1993, when brother Reinhard was conducting the second Evangelization campaign in Odessa, he called me forward and said: "Slavik, the Lord gives you a revelation that He lights you with the fire of the Holy Spirit to preach the gospel and save people."
The last time Reinhard Bonnke and his Deputy Daniel Kolenda came to Ukraine was in 2011. There was a fiery conference for more than 5 thousand leaders and two days of Evangelization, where about 20 thousand people gathered. Thanks to brother Sergey Velbovets, Ruslan Kukharchuk, Svetlana Kucherenko and many pastors from Kiev and all over Ukraine for their help in organizing these services.
Today we want to remember a strong minister of the XX-XXI centuries.
Through his ministry, more than 70 million people came to Christ and filled out questionnaires about accepting salvation and the Lord in their hearts.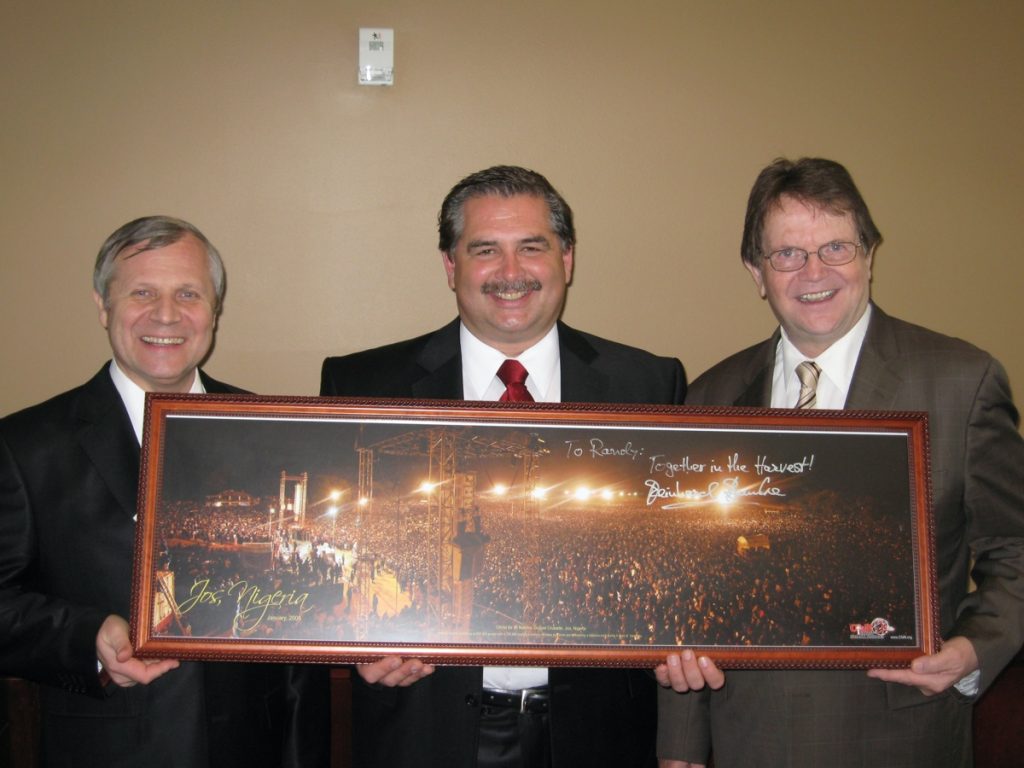 One of the strongest evangelists of recent times, brother Billy Graham, said that Bonnke is "the No. 1 Evangelist of the international level." He spoke very well of his employee. Brother Billy Graham is from the Baptist fellowship, and brother Bonnke is from the Pentecostal fellowship, and that didn't stop them from having good ministry relationships and good contacts as evangelists.
We thank the Lord that He has allowed such people to live on earth, to become heroes of the faith and to be our mentors, through whom we have received much for our ministry, learned to conduct Evangelistic campaigns and preach the gospel.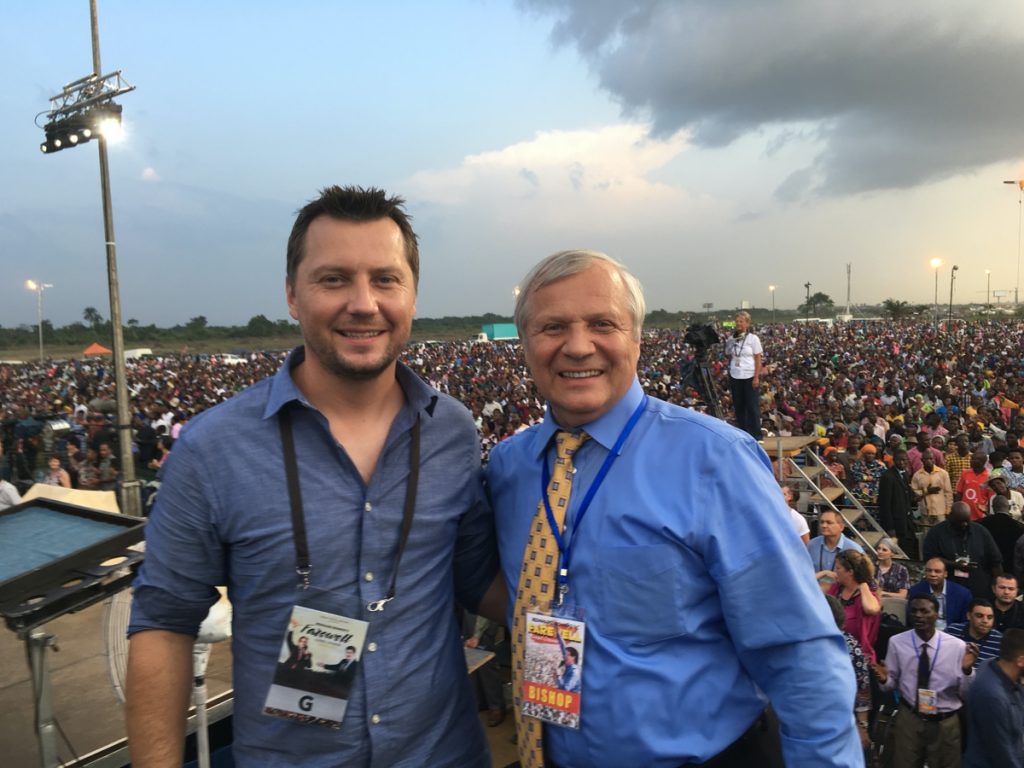 We want to glorify our Lord for allowing brother Reinhard Bonnke to stand through many hardships and trials, seeing how many people from his ministry have passed into eternity. It was especially difficult for him on the African continent, when angry people attacked his campaigns, trying to destroy them; how loyal people burned in cars, and how many revolts were against him. In some countries doors were sometimes closed for him, but brother Reinhard always said:
"When some doors are closed to me, I will not sit in front of them and cry till it's open, because there are a hundred new doors that are open for service."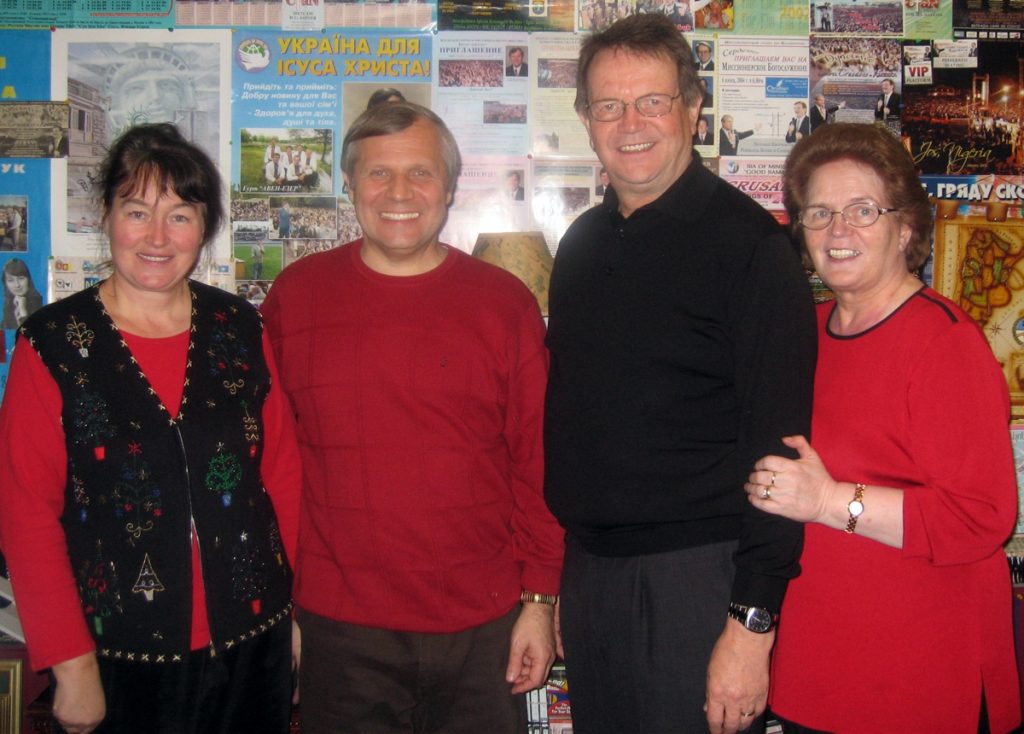 For all his "spiritual value" he had a very humble heart, sensitive and loving. He and his wife, Anna, loved our large family of eight children, often came to our house for dinner, and we loved him very much. It is a pity that such world-class leaders are leaving us. Let's pray that the Lord will complete the mission of preaching the gospel on the African continent through the Evangelist Daniel Kolenda, who was chosen for this great service and we were at the last crusade in Nigeria, where brother Reinhard, in front of hundreds of thousands of people, put his hands on brother Kolenda, prayed for him, surrendering him to the grace of God. This was our last crusade with Reinhard Bonnke.
May God be praised in everything.
With memories of the international Evangelist Slavik Radchuk