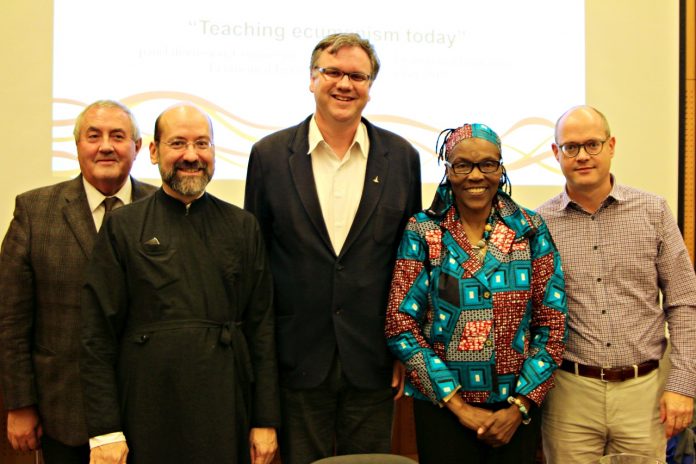 As the World Council of Churches (WCC) Commission on Ecumenical Education and Formation held its biannual meeting at the Ecumenical Institute Bossey outside Geneva, Switzerland, space was given for a discussion on current concerns and trends in the area of teaching ecumenism in theological institutions today.
The panel, "Teaching Ecumenism Today," brought together experienced theology professors from Kenya, Switzerland and Brazil, on 29 October.
Reflecting on the importance of ecumenism in theological education and the understanding of ecumenism itself, Prof. Christophe Chalamet, from the faculty of theology of the University of Geneva, Switzerland, stated that "ecumenism is not simply an option in the academic curriculum, but a necessity".
"It is no longer possible to be an Orthodox theologian who simply studies Orthodox theology, a Protestant theologian who simply reads Protestant theology, a Roman-Catholic theologian who exclusively reads Catholic theology, a charismatic or Pentecostal theologian who merely reads literature from his own tradition", he added. "Ecumenism is both the exchange of gifts, including doctrinal and spiritual gifts, across Christian traditions, and the common quest for the unity of all Christians. The study of theology today must have an eye towards this goal. Theological education is ecumenical, or it is not theological education", said Chalamet.
Dr Esther Mombo. Photo: Marcelo Schneider/WCCDr Esther Mombo, from the theology department of St Paul's University in Limuru, Kenya, shared how ecumenical reflection and theological work on issues that affect the majority of the churches "made us see issues as something that affect all of humanity, not only our denominations".
Mombo, who also serves as vice-moderator of the commission, sees ecumenism as "a wing in theological education that helps all our churches to prepare theologians and ministers to serve in a context marked by the presence of a wide variety of Christian expressions".
The panel also focused on how the ecumenical dimension of theology is effectively applied in theological teaching and research in academic institutions worldwide.
"Quite often, we are all trying to answer the same questions. By teaching together classes with colleagues of other traditions, I learned that ecumenism is both about giving testimony of your own tradition and building bridges", said Archbishop Job of Telmessos, from the Institute of Postgraduate Studies of Orthodox Theology in Chambésy, Switzerland.
Archbishop Job of Telmessos. Photo: Marcelo Schneider/WCC
The commission has been the WCC's primary advisory body for the area of education, ecumenical formation and faith nurture, which was identified as a central priority by the WCC 9th Assembly in 2006. Since 2014, the commission has been involved in the creation and implementation of the Pan African Women's Ecumenical Empowerment Network and the Network of Institutions of Higher Ecumenical Theological Education (NIHETE).
"NIHETE is a space where those teaching ecumenism share and grow each other; a space for creativity and innovation of teaching theology ecumenically, and a space where challenges can be shared and examined together", said Mombo.
The co-moderator of the commission and moderator of the panel, Prof. Dr Rudolf von Sinner, affirmed that "as we face new questions and a need for new answers, a fresh look at theology and ecumenism can be nourished and tested through interaction of teachers from different contexts." Von Sinner, a Lutheran, teaches at the Pontifical Catholic University of Paraná, in Curitiba, Brazil.