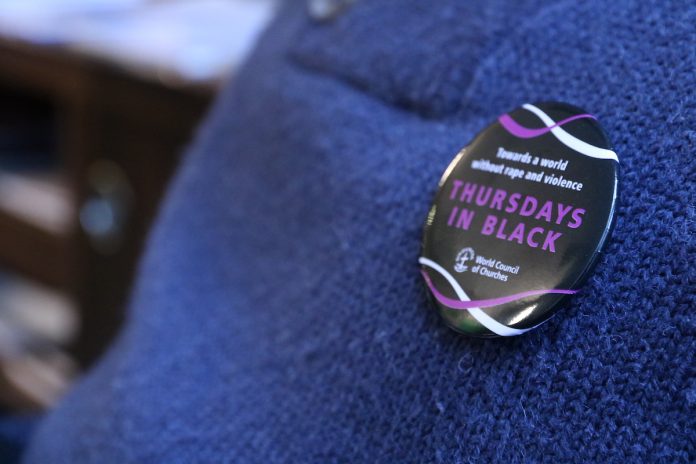 Young people in Uganda are on fire for change that will free the world from both HIV and sexual and gender-based violence. Spreading sparks of knowledge and enthusiasm, they have been visiting schools to inform and inspire even more young people.
"Their energy and their zeal is certainly being put to positive use," said Rev. Pauline Wanjiru Njiru, East Africa region coordinator for World Council of Churches Ecumenical HIV and AIDS Advocacy and Initiatives.
As they met at Makerere University, the youth leaders asked each other: "What's our progress? What are our challenges? And what are the opportunities?"
They are determined, said Njiru, to continue strengthening the ecumenical push to end the suffering caused by HIV and by sexual and gender-based violence.
"They are the game-changers," said Njiru.
Already, the students have plans to officially launch the Thursdays in Black global campaign for a world free from rape and violence at Kyambogo University in November 2019.
"They are in dire need of information, education and communication materials, including T-shirts, brochures, Thursdays in Black pins and fliers to aid them in their peer trainings," said Njiru. "This team is not deterred by the hard time they face from some university leaders when seeking platforms to address students."
Overcoming the odds
One student described spending a whole day asking one student leader after another for permission to participate in an orientation program.
"These young people are best suited to seek out fellow young people living with HIV, accompany them, and empower their parents," said Njiru. The goal is to end HIV stigma and improve HIV treatment adherence among the young people and children.
"This, however, is susceptible to resistance from many parents of children living with HIV who are not yet ready for disclosure," explained student Hillary Nuwamanya. "If the child knows their status and then discloses it to their peers, they will indeed be disclosing the status of the mother. We therefore have to mind our approach to such cases and the effective way of packaging our messages."
Student Brian Muyunga, said that their strategy with the university movement is to mentor students who will carry on their work when they leave campus. "Each one of us should ensure that we have disciples in each class behind us."
This, Brian said, "would ensure the sustainability and continuity of the movement that would transform the lives of university students."
WCC, oikoumene.org