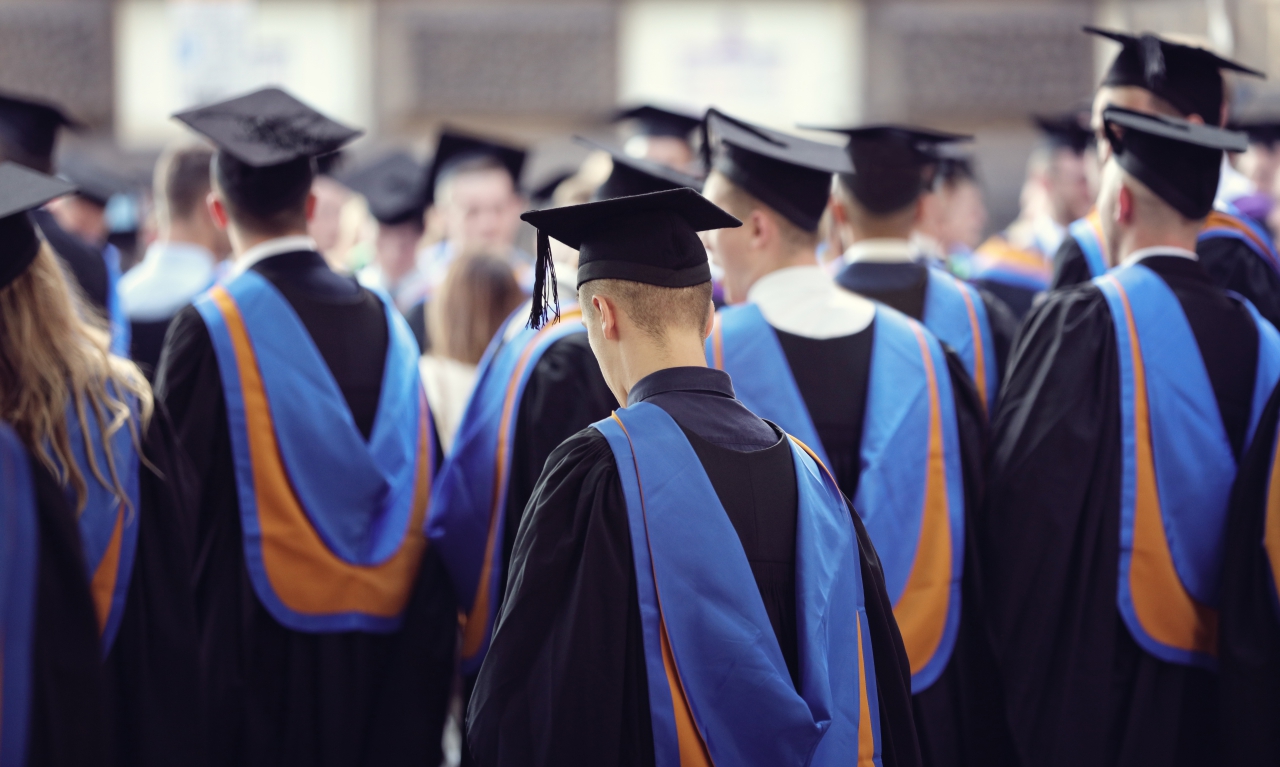 Oral Roberts University cut the ribbon on its new apartment-style housing in a guest-filled celebration today. The ribbon-cutting not only officially opened the new residence hall but also signified the completion of the University's five-year, $50 million fundraising campaign, the largest and most successful comprehensive campaign in ORU's history.
In honor of the event, ORU welcomed Oklahoma Governor Kevin Stitt and Indonesian pastor Niko Njotorahardjo (pronounced "NEE-ko nyoh-tuh-ruh-HAR-joh"), for whom the new structure—the first new housing on ORU's campus since 1976—is named.
"We have raised over $50 million dollars in the last few years," said ORU President Dr. William M. Wilson in remarks delivered at the ceremony. "Because of this campaign, we've completed a number of improvements, funded several of you [students] and your scholarships, we've opened an award-winning Global Learning Center, we've completed the ONEOK Sports Complex, we've opened a new intramural field, and today we're celebrating the opening of Niko Njotorahardjo Hall at ORU!"
The nearly $10-million-dollar residence facility has separate structures, one for men and one for women, with a beautiful lobby connecting the two. Each suite includes a kitchen, washer and dryer, plus living and dining areas. The rooms include unique recessed sleeping areas that give students their own space. Niko Hall, which also features a dorm-style top floor, houses 240 students.
"This fall, we will open $28 million worth of improvements on this campus, and none of it—none of it—is under debt," Wilson added. "And not one tuition dollar has been spent to build any of it!"
"You have your whole lives in front of you," Stitt told the assembled ORU student body. "You have so much opportunity. I'm so envious. This is an amazing place here, and I can't think of a better way to dedicate [this] building than for it to be used for the glory of God by all the future students who live [here]."
ORU is grateful for a generous donation from Pastor Niko Njotorahardjo, who also spoke at the ceremony and at the University's chapel service prior to the ribbon-cutting. "Pastor Niko," as he is known, is the Founder and Senior Pastor of Gereja Bethel Indonesia church in Jakarta, Indonesia, which has grown from 400 members in 1988 to more than 300,000 today.
"We pray now for ORU and for [Dr. Wilson], for all the professors, for the state of Oklahoma, and for all the students here," Pastor Niko said through a translator as he prayed over the new building. "We pray for abundant blessing, and for the Holy Spirit to use them."
A litany of dedication was also led by students from five different continents, representing the diverse and multicultural student population residing on ORU's campus, including in Niko Hall.

About Oral Roberts University
Oral Roberts University (ORU) is a world-renowned Christian university located in Tulsa, Oklahoma. Founded in 1963, ORU serves students from 50 states and 114 countries, representing over 51 denominations. ORU offers 77 undergraduate majors, 65 undergraduate minors, 14 master's programs and three doctoral degrees, plus NCAA Division I athletics. For more information on ORU, visit http://www.oru.edu/.