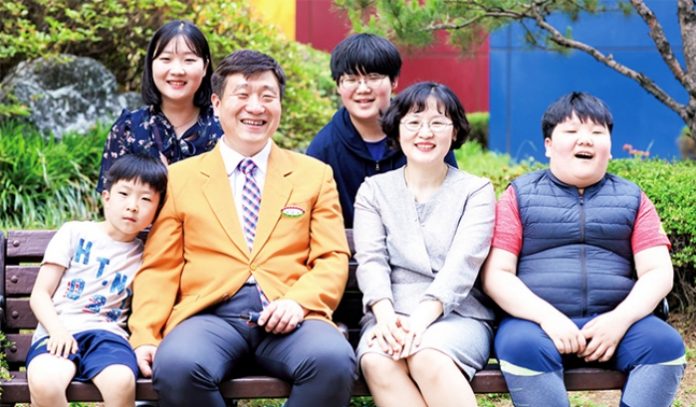 In 2008, I had postpartum stroke after I gave birth to the 3rd child. I had chills and severe pain all over the body. And in the summer of 2010, I had the 4th baby, and I couldn't recover well. The symptoms got worse. I felt cold even in summer and in winter it was even worse.
As I felt weaker, I had to go to bed immediately after I got off work, and as I was stressed out, I began to eat and then sleep and gained a lot of weight. In 2012, the symptoms got better as I began to attend our church, but I wasn't completely healed.
And in 2017, I wanted to find a breakthrough in my faith life. Fortunately special healing meetings were held in Manmin Prayer Center, so I attended. The Prayer Center director Mrs. Lee advised me to offer a 7-week vowed Daniel Prayer Meeting for my healing. However, I couldn't keep my vow. I gained 5kg and ended weighing 75kg with 158cm height.
Furthermore, in spring of 2018, I had a problem at work. I am a teacher for kids with special needs, and I made a mistake. In the process of explaining what happened, some misunderstanding was caused and I couldn't go to work. I was very burdened by the incident and it was the beginning of my depression.
I felt victimized and ashamed for being misunderstood the way I was misunderstood. I was nervous and I couldn't sleep. The medical exam showed depression and acute stress disorder. Only then did I begin to seek God.
Attending the Manmin Prayer Center meetings again, I realized my self-righteousness, arrogance, and not understanding others. I remembered all my past wrongdoings and repented of them with tears. This time I kept my 7-week vowed Daniel Prayer Meetings, too.
As I recovered my spirituality, I was already overcoming my fatigue. I had the strength to control my appetite, too. I attended morning sessions and afternoon prayer meetings of the Prayer Center and also the Daniel Prayer Meetings at night. I couldn't sleep as much as before but I was still OK. I lost 17kg while attending Prayer Center meetings for 8 months.
In the winter of 2018, I didn't really feel cold at all. I was healed of my depression and stress disorder through the word of God and prayer, and I could go back to work. I am living a happy life. Hallelujah!
I give thanks and glory to God who has let everything go well with me even as my soul prospered. I give thanks to the Lord who has saved me. I also give thanks to my senior pastor for guiding me to the way of blessings through the word of life.
Heejung Oh (age 44), Seul, South Korea, Manmin Central Church