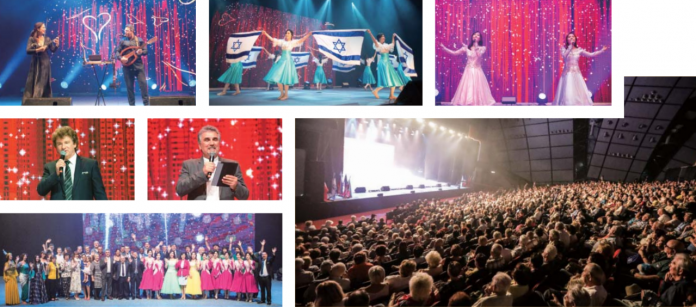 The 'Crystal Forum', an Israeli pastors' organization and 'Helping Hand Coalition' together held the 2019 Crystal Music Festival Israel at Haifa International Convention Center on June 8th. It drew about 1,200 attendants. 
This event was held at the time of the Pentecost. The attendants were mainly Messianic Jews from all over Israel and others from Russia, Ukraine, Latvia, D.R. Congo, and Ghana. It was also live-broadcast on YouTube. 
Vice Mayor of Haifa and Belarussian Ambassador to Israel Andre Sadovsky gave greeting messages. Pastor Soojin Lee of our church sent a video greeting saying thanks for the ministry of Crystal Forum and the Helping Hand Coalition, and also for giving glory to God through the music festival every year. 
Dr. Andre Gasiorowski, the president of Helping Hand Coalition, and Pastor Daniel Matiash of King of Glory Church gave welcoming addresses. Then, there were performances of a famous gospel singer in Israel, Joshua Aaron, and soloists from various churches, dancing teams, and other teams from King of Glory Church, Nazareth Living Spirit Church and others also performed. 
Manmin Central church sent the Power Worship Dance Team, Soohyeon Jung, and On-you Lee. They performed Israeli traditional dances and sang in Hebrew, Russian, and English. 
Some of the attendees said they felt like it was heaven on earth. After the event Dr. Andre Gasiorowski thanked Manmin church for the performance teams. He also said that Israeli pastors are always praying for Manmin Church, and for the ministry of Manmin to be even greater. 
Performing teams of Manmin church have been invited to this musical event every year since 2012 and they've been giving glory to God the Creator and Jesus Christ with inspirational performances. 
The Crystal Forum, the organizer of this event for the past 10 years, is an organization of Israeli pastors who were encouraged and strengthened by the ministry of Manmin Central church. Since the 2009 Israel United Crusade they've been holding pastors' conferences, handkerchief healing meetings, youth camps and couples seminars. Also, in cooperation with the Helping Hand Coalition, they are bringing about revival of Protestantism in Israel. 
Pastor Jiyoung Lee, chairperson of Performing Arts Committee led a meeting in King of Glory Church, Haifa the morning of June 8. She asked that the church members be loved by God while showing the evidence of their love for Him, which is to keep His commandments.
Manmin Central Church, manmin.org