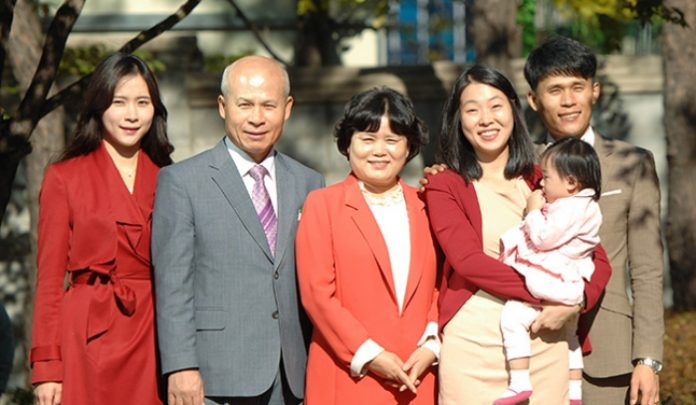 From five years ago, I could not hear well. I felt so bad and uncomfortable when I talked to others. I had a check-up, which showed that my hearing ability failed because I had worked as a telephone operator for twenty years. In the past, I was healed of blindness through prayer so I made up my mind to be healed by faith.
When I was twenty two years old, I was passing by younger siblings who were playing games. Suddenly a stick flew through the air and hit me in my left eye. It damaged the retina. I lost eyesight in the eye and could not even see light. While I was relying on the other eye, it became affected with oculopathy and I was losing eyesight quickly. In this desperate situation, I attended the third Special Revival Meeting held in 1995 and was healed of blindness of my left eye and of the weakened eyesight of the other eye.
I wanted to receive healing of hearing loss by the power of God. In September 2012, I attended Manmin Prayer Center's Divine Healing Meeting. President Mrs. Boknim Lee advised me to offer up 100-day vowed prayer in Daniel Prayer Meeting, attend the service of Prayer Center, and write a journal of thanksgiving. In doing so, I found out that my thanks had not come from the heart although I had said I was thankful. I repented of it and started to look for reasons for which I give thanks in my daily life.
Keeping the journal, I began to give thanks just for being saved and entering Heaven. I came to find the love of God in any kind of situation. My hearing ability did not immediately recover, but I was sure that God would answer my prayers when the prayers met the justice to receive the answers. I continued to rely on God.
I received prayer every worship service and offered up prayer. In early 2016, I realized that I felt less uncomfortable in hearing and I had problems caused by the hearing problem less frequently than before.
In early August 2016, I participated in Manmin Summer Retreat 2016 with a longing heart. I laid my hands on my ears and received Senior Pastor's prayer with faith. After all the programs of the retreat were finished, I was in a car. Right then an amazing thing happened. My left ear opened suddenly to the sound of the engine, and then the same happened to my right ear.
It sounded so noisy around me. I was surprised not knowing what to say. My husband was next to me and realized it and said with joy, "You've been healed!" One day I fell asleep and woke up because of the sound of someone dropping her cell phone. My ear could hear well enough to hear the sound of it. Hallelujah!
My hearing ability became better and better over time, so now I can hear my family talking in the living room although I am in the bed room. I am working as a sub-district leader, my husband, Elder Taebong Kwon, as a district leader, and my daughter, Sister Ahkang Kwon, is a member of Power Worship Dance Team, and my son Brother Ilkang Kwon and his wife lead believing lives together. We are all very happy. I give all thanks and glory to God.
Myeongsuk Park, age 60, Seul, South Korea, Manmin Central Church