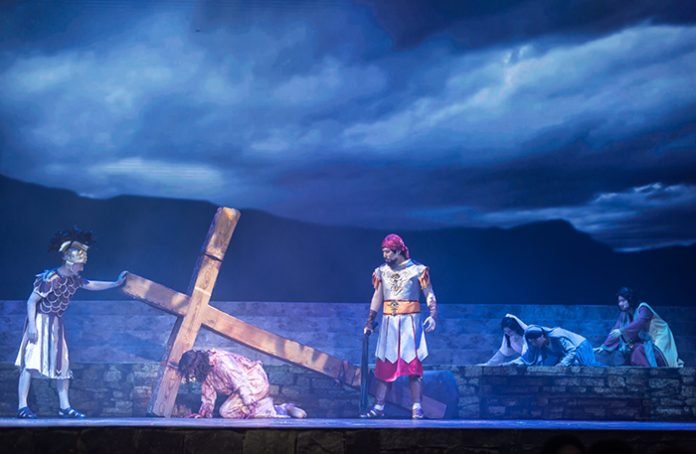 In the Friday all-night service on Apr. 19, 'Unforgettable Love', a special Easter performance was presented in the main sanctuary of Manmin Central Church in Seul, South Korea.
The performance, which was live-broadcast on GCN TV and Internet (www.gcntv.org), began with the Nissi Orchestra and choir's song 'I Stand Amazed in the Presence'.
The reenacted scenes of Jesus's ministry, the Passion, resurrection, and ascension, along with the lives of the believers of the early church, made it possible for the spectators to feel like they were in Israel 2,000 years ago.
The performers were members of the Power Worship Dance Team, Sound of Light Chorus, Crystal Singers, and the Heavenly Voice Chorus together with other members. The music was played by the Nissi Orchestra, the united choir and Hallelujah Band.
A total of 220 individuals took part in the performance as the staff in choreography, stage, music, video, props, costumes, and make-up, including the professionals in lighting and special effects.
Pastor Shlomy Abramov from Israel said, "The performance was amazing. It delivered the power of God and message of resurrection very well. The performers were not just acting, but they looked like they were actually living the scenes.
The Performing Arts Committee of Manmin Central Church is serving the church members with their performances not just for Easter but also the Church Anniversary, Christmas, and many other events.
The producer of the performance Hyojin Choi said, "God poured down even greater grace on us this year. All the performers and staff were united as one, and the performance itself was also done in the Holy Spirit. I am thankful that church members said they engraved in their heart the faith of resurrection once again."
Manmin Central Church, manmin.org