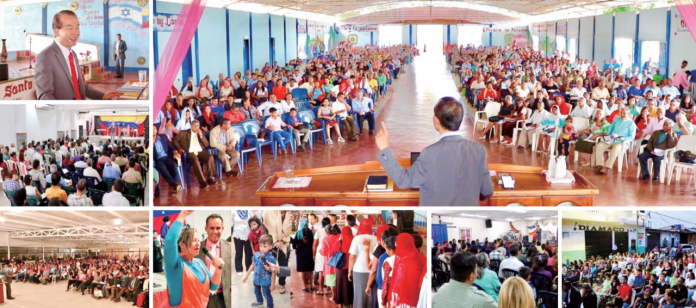 For 11 days beginning March 12, Pastor David Jang of Colombia Manmin Church led a total of 9 gospel meetings including pastors' conference and 'handkerchief crusade'.
'Manmin Holiness Seminar'
Manmin Holiness Seminars were held 3 times: in Ciudad Guayana on March 12 with 140 attendants; in Ciudad Bolivar on the 13th with 650 attendants; and in San Felipe on the 19th with 120 attendants each.
Pastor David Jang delivered "The Message of the Cross," which was first preached by our senior pastor Rev. Jaerock Lee. It delves into the providence of salvation through Jesus Christ in detail. Pastor Jang explained why God placed the tree of knowledge and why Jesus Christ is our only Savior.
Handkerchief Crusades
Pastor Jang also led 2 handkerchief crusades with the handkerchief on which Rev. Jaerock Lee had prayed (Acts 19:11-12): the first one in Barcelona, Anzoátegui State on March 16, and the other in Panamericano on the 21st. He preached about why Jesus Christ is our only Savior and then prayed with the handkerchief. 
Eyesight was recovered; malaria, heart disease, asthma, herniated discs and many other diseases were healed. Josue González (Age 5) was enabled to walk for the first time.
United Vigil And More Preaching 
Pastor Jang also led a united vigil from Friday night on March 15th until 6 AM the next day. It was attended by 650 people. Pastor Jang preached about how we should pray based on Jesus' example in Luke 22:39-40. 
He delivered a message on the Parable of 10 Minas in Victoria Church on March 14, and on 'Holiness' and 'Sell Your Cloak and Buy a Sword' in New Jerusalem Church on the 15th and the 17th. On the 20th and the 22nd, he had a pastor's meeting in the capital city Caracas. On the 12th and 21st he visited Manmin local sanctuaries in Ciudad Guayana and Panamericano. 

This missionary trip in Venezuela began with Victor Giménez experiencing the power of God through Rev. Jaerock Lee's messages on the Internet. In July and September 2018, great signs were manifested when Pastor Jang delivered messages and prayed with the handkerchief in local churches, which led to his 3rd missionary trip. 
116 churches registered as associative churches of Manmin.