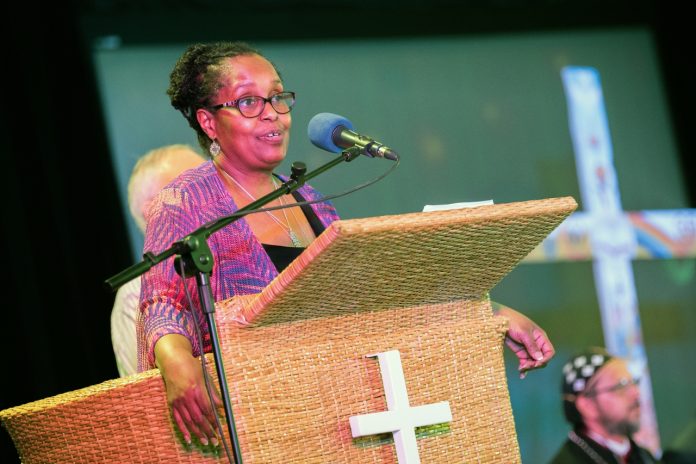 Rev. Robina Winbush, a World Council of Churches (WCC) Central and Executive Committee member known for her fierce advocacy for justice, died suddenly on 12 March.
WCC staff gathered on 13 March in a midday prayer to remember Winbush's legacy, comfort each other, and pray for her family and friends all around the world mourning her passing.
The prayer service focused on a "the healing of nations," a theme Winbush preached on at the closing worship of the Porto Alegre Assembly in 2006 and a strong vision that undergirded her ministry.
With words of welcome, WCC general secretary Rev. Dr Olav Fykse Tveit gave thanks for the gift that Winbush was to all.
"Rev. Robina Winbush was a strong woman and colleague, and she contributed so much with her many gifts to her church, her confessional family, the ecumenical movement and the WCC. She died as a pilgrim of justice and peace."
Prof. Isabel Apawo Phiri, WCC deputy general secretary, said Winbush held up the dignity of every human being with a passion for racial and gender justice. "I saw the commitment she had for the ecumenical movement," said Phiri, noting that Winbush particularly wanted more young people participating in WCC activities.
Phiri remembered Winbush as an active member of the Central and Executive Committees who cared for the programmatic work and the well-being of the WCC staff. "Most often she would greet you and say, 'Don't tell me about your work, tell me how you are.' Let's continue to lift her in prayer, especially her family, her colleagues, and her friends as we mourn," said Phiri.
In a reflection, Doug Chial, WCC executive staff and member of the Presbyterian Church (USA), who worked with Winbush ecumenically for 20 years, said she was a colleague, a friend and a mentor.
"Robina will be remembered for many things," he said. "She was a prophetic ecumenist. Her passion for justice and unity was rooted in her deep faith in Jesus Christ."
Winbush intentionally nurtured a new church, added Chial. "Robina constantly made room at the table for whoever wasn't there – she made spaces safe, wide and deep for all."
Winbush was an Associate Stated Clerk and director of Ecumenical Relations in the Presbyterian Church (USA). She died while returning from a 10-day visit to the Middle East.
Dr Agnes Abuom, moderator of the WCC Central Committee commented from Nairobi, Kenya; "Winbush's passing is a great loss not only to the WCC but to ecumenical and interfaith groups across the world."
"She was an extraordinary ecumenist," said Abuom. "Her faith and sense of dedication reflected a deep commitment and calling to a pilgrimage of justice and peace, not only within her own denomination, but to the global fellowship."
A native of Columbus, Ohio, Winbush received her education from Kent State and Harvard universities as well as Union Theological Seminary. She began her ministry at the Presbyterian Church more than 30 years ago when the church opened its offices in Louisville, Kentucky.
Winbush served at her death for the WCC as a Central and Executive Committee member, and a member of the Joint Working Group with the Roman Catholic Church. She served on many national and international denominational and ecumenical organizations in addition to the WCC, including the National Council of Churches of Christ in the USA, World Communion of Reformed Churches, and Church Women United.
At the time of her passing, Winbush was part of a delegation that had just completed a 10 day visit to the Middle East to recognize the suffering of the people in Palestine.
WCC, oikoumene.org