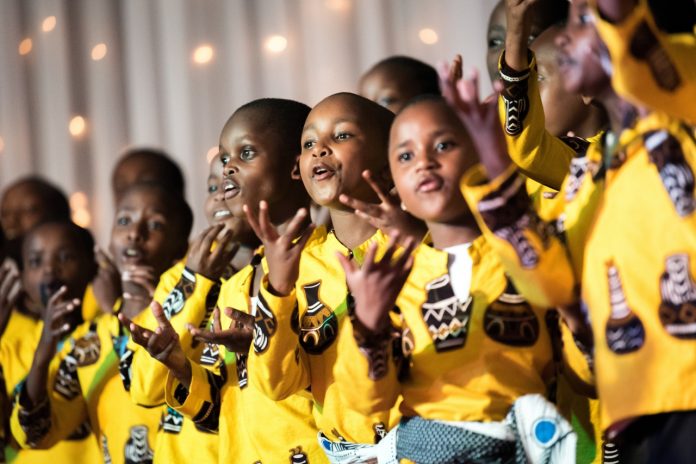 The voices of young people will ring through the Ecumenical Centre in Geneva on 21 November as part of global celebrations for World Children's Day linked to other events involving the World Council of Churches (WCC) in different places.
The day after UN Children's Day, the WCC will come together with its partner UNICEF, the United Nations Children's Fund (UNICEF) in a day of performance and discussion along with parallel events involving the ecumenical community in different parts of the world.
The Geneva day will start in the spirit of a day "for children, by children", who will share their experiences and performances followed by a keynote address by the Ecumenical Patriarch of Constantinople, Bartholomew I, who will speak on inter-generational climate justice and support for children on the move.
It is hoped that students from the Baptist Church's Philippine University's Junior High school choir will broadcast via video.
On 19-20 November, the WCC has been invited to Abu Dhabi to take part in the "Interfaith Alliance for Safer Communities 2018: Child Dignity Online", hosted by the United Arab Emirates.
This aims to encourage "a global faith-based dialogue on the challenges impacting the safety and security of our communities" with a focus on online child sexual abuse and exploitation.
The event is organized by the Interfaith Alliance for Safer Communities under the patronage of Sheikh Mohammed bin Zayed Al Nahyan, crown prince of Abu Dhabi.
Before the Geneva event, within the framework of the PEPFAR-UNAIDS Faith Initiative, the WCC-EAA (Ecumenical Advocacy Alliance) in Nairobi will share 19-20 November with young people and children.
Mobilize on HIV care in Nairobi
These events aim to mobilize faith communities to promote prevention, access to treatment and care on HIV in Kenya.
The Nairobi events, in connection with World Children's Day, will draw religious leaders, government representatives and civil society actors, sharing with young people.
On 19 November the Nairobi events will begin with a high-level breakfast with 50 faith leaders and local media present.
There will then be a workshop on paediatric HIV and paediatric tuberculosis followed by a workshop on HIV testing, including HIV and sexually transmitted diseases with a group of adolescents participating.
On 20 November in Nairobi, there will be an interfaith prayer service on the theme,  "Ending AIDS and TB in children and adolescents". There will also be voluntary HIV testing for religious leaders and others, under the "Leading by Example" campaign.
Later religious leaders together with children and adolescents will march through Nairobi to raise awareness on HIV and TB. Children writing letters linked to a recently published toolkit will also take place along with a panel discussion led by young people.
Music before the welcome in Geneva
In the Geneva event, participants will register to the sound of music followed by a welcome and introduction by WCC general secretary Rev. Dr Olav Fykse Tveit, and Philippe Cori, UNICEF deputy regional director for Europe and Central Asia.
The day will showcase promising examples of Churches' Commitments to Children and inspire further collaboration between international child rights organizations and faith-based initiatives for children.
A highlight in Geneva will be the premiere for 70 years of the WCC of "Children come on board, children come first!" This is a special episode of a performance for children and adults of "Les Parlottes des Theopopettes" in French with simultaneous English translation.
World Council of Churches, oikoumene.org