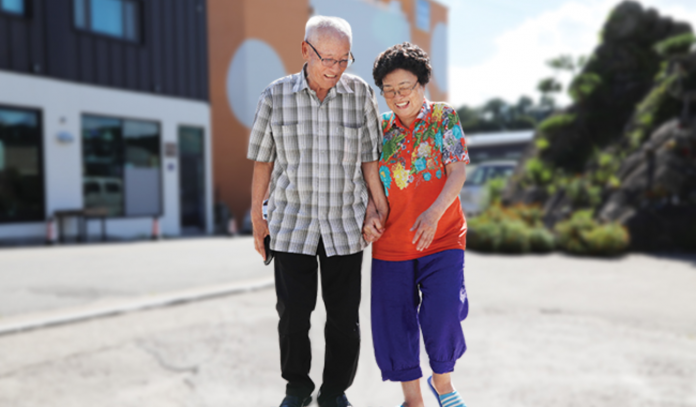 In February 2018, I missed my step while making soybean paste and fell from a series of jars that are around 3.3ft tall. I stayed on the bed in the hospital for four weeks. After being discharged, I could walk relying on the walking aid. But both of my feet were soon paralyzed not long after.
I went to hospital and they said my twelfth vertebra pressed my spinal nerve and it caused the paralysis. On May 31, I had a spine surgery but the doctor said that the surgery was not to make me walk, but just for the symptom not to get worse because the paralysis had already affected me for quite a long time. 'I could not walk anymore!' I felt like it was the end of the world.
On June 15, I was discharged but I needed a spine brace and wrist guard. I needed others' help or the walking aid to stand up. Even with the assistance of people or the aid, my feet had no strength and I just dragged them. The pressure on my spinal nerve caused my feet to burn like fever and it was hard for me to even move my feet back and forth.
On June 21, I visited my son in Icheon and went to a geriatric hospital near his place. While I stayed there, my daughter-in-law had me receive Senior Pastor Dr. Jaerock Lee's prayer for the sick three times a day. As I constantly listened to his sermon "The Message of the Cross," I was convinced that I would be able to receive healing through the power of God. Pastors and church workers visited me and prayed for me with the handkerchief of power (Acts 19:11-12).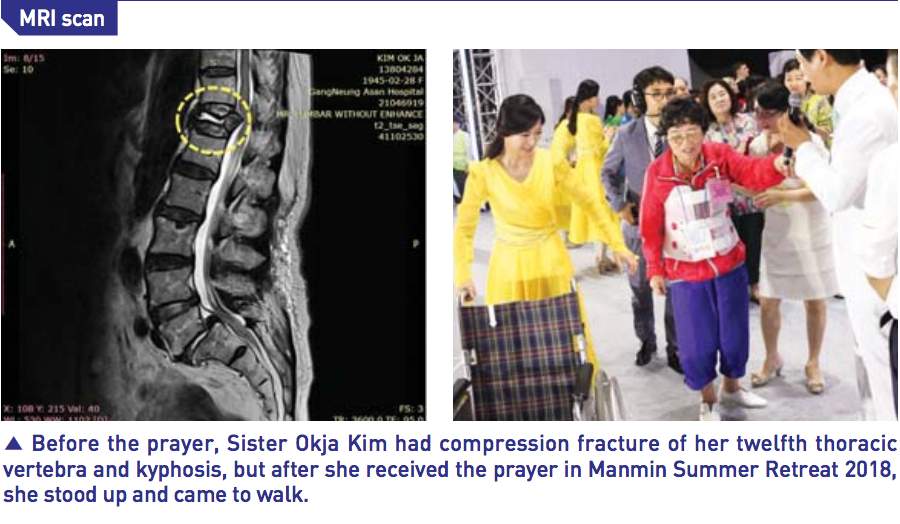 On Sundays, I attended Sunday Morning Service with the help of my son and daughter-in-law. It was amazing that I felt better and got strength in my legs when I went to church.
Meantime, my daughter-in-law said, "If you participate in the summer retreat, God will enable you to walk." She suggested going with her. On August 6, I arrived at the venue of Manmin Summer Retreat 2018 held in Muju, Jeonbuk Province. I made up my mind to hang onto God and receive healing for sure. I felt so good and refreshed in the retreat venue.
On the first night, after preaching, Rev. Soojin Lee prayed for the sick with the handkerchief on which Senior Pastor had prayed. Then, the fire of the Holy Spirit came upon me and I became hot. My legs also got strengthened. I came to believe I could walk after the prayer. I tried walking. My legs felt light! I could walk by myself to the stage! I glorified God with my testimony.
When I went to the hospital again, the doctor was so surprised when he saw me balance my body and walk. He said, "I thought you would never walk again. It is a miracle!"
I can even do house chores as well as walk on my own. It is all by the grace of God. I give all thanks and glory to the living God.
Okja Kim, age 77, Gangneung Manmin Church