On March 13, 2018, my husband and I were on a trip to Europe. We were on the train in Zermatt to enjoy the beauty of the mountains covered with snow at 3,100m above sea level. While we were in the middle of the mountains, my husband, Brother Seokgeun Im, said that he felt dizzy and he did not look quite normal either. I thought it a symptom simply caused by the high altitude. But he still looked ill back at the hotel. We first looked back upon our believing lives and prayed.
The next morning, the staff of the travel agency was surprised to see his body leaning to one side and called an ambulance. Paramedics arrived and checked my husband's condition. They quickly moved him to hospital by helicopter. Now that I didn't have anyone to talk to or receive help from I could not but commit everything to God and prayed in the foreign country.
His MRI scan showed acute cerebral infarction had stricken him. The doctor told us that immediate medical action should be taken, but we heard that the expenses would be unimaginably high. We wanted to quickly return to Korea, but the hospital said we shouldn't. We signed a note of consent that the hospital would take no responsibility for the possible danger and consequences, and left the hospital. By the help of the tour guide, we changed our itinerary.
At 5p.m. on March 16, we arrived at Incheon International Airport after the eight-hour long flight from Zurich Airport. I took my husband to the hospital right away.
The doctor said early treatment would have been crucial for his state and it was a miracle itself that my husband came to Korea alive through such a long flight. While he stayed in hospital, he could not move his right arm and leg due to paralysis and had a hard time pronouncing words.
On March 19, my parish pastor came to the hospital and prayed for him with the handkerchief of power on which Senior Pastor Dr. Jaerock Lee had prayed (Acts 19:11-12). After the prayer, he looked peaceful and recovered quickly. He again began taking steps and walking comfortably. He could easily move his hands and he regained the ability to pronounce words correctly.
Though the doctor said it would take at least six months for him to recover, he left hospital in nine days, on March 24. Moreover, he had no aftereffects at all and was normal. From April 5 he returned to work. Hallelujah!
Going through this incident he stopped drinking alcohol and said he would lead a renewed life in the sight of God. I give all thanks and glory to God who protected my husband just because he is a sheep of the shepherd and caused everything to work together for good.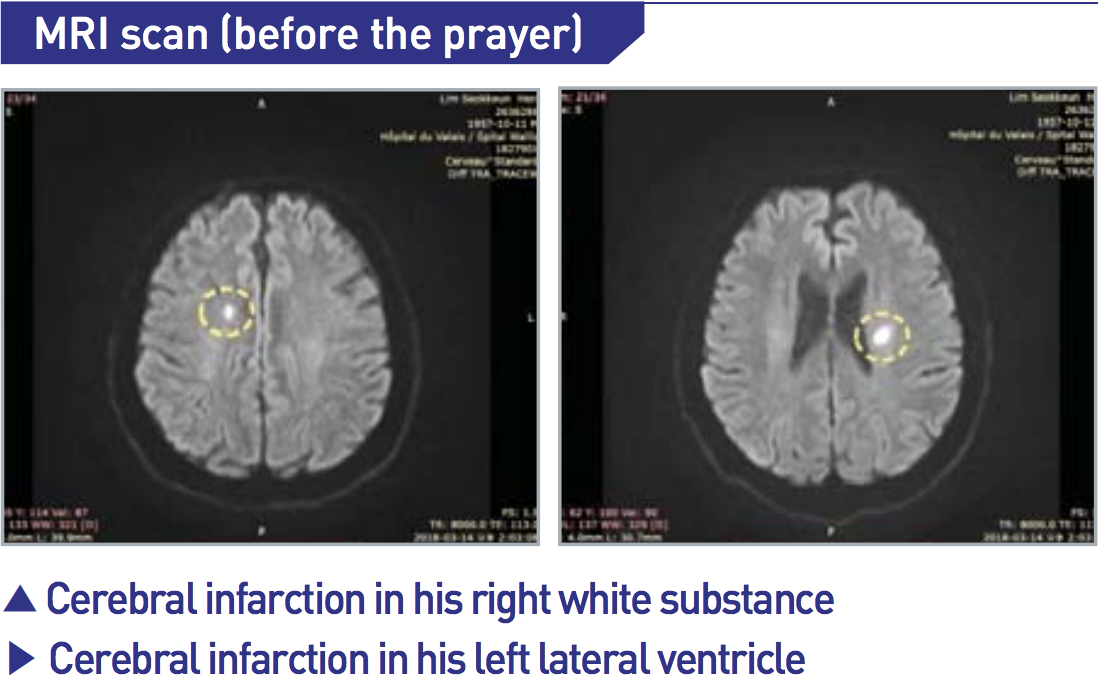 Deaconess Haesuk Lee, age 62, Parish 24, Manmin Central Church