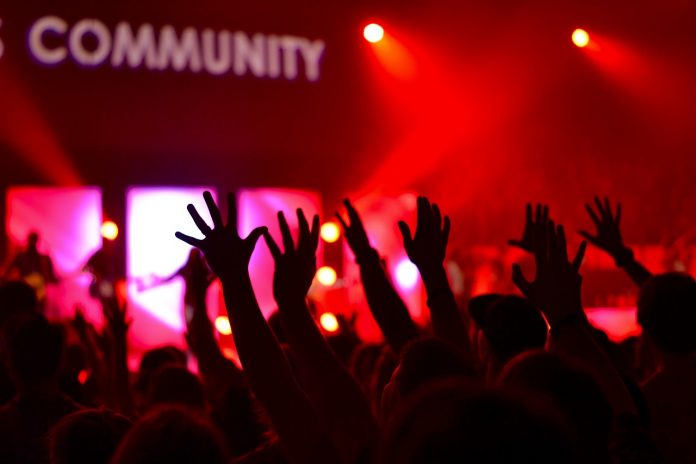 GRAND RAPIDS, Mich., Sept. 5, 2018 /Christian Newswire/ — After years of preparation and prayer, thousands of followers of Jesus and hundreds of churches throughout West Michigan are coming together for CityFest with Luis & Andrew Palau, culminating in a free, 2-day, evangelistic festival at Ah-Nab-Awen Park in downtown Grand Rapids on September 8 and 9.
Hosted by 435 churches, businesses, and nonprofits, this year-long, region-wide campaign has been focused on serving the region and proclaiming a powerful message of hope in Jesus through multiple evangelistic gatherings, revival meetings, training events, and community service initiatives. Like all Palau festivals, much care and attention has been given to church unity, community service, training in personal evangelism, and clear public proclamation of the Gospel.
"We want the city to know what we're for, not what we're against," shared Luis Palau. "We are for the brokenhearted. We are for the depressed. We are for the orphan and widow. We are for the lost, the grieving, and the hurting. But more than that, God is for them. Jesus died for them. And there is nothing more important or life-changing that we can share with them than the Good News of Jesus Christ – that He loves you, died for you, rose again for you, and wants a relationship with you. That is what we want to communicate through CityFest."
CityFest West Michigan is this week! Please join us in prayer. We have a full week of ministry planned with the partnership of hundreds of churches. Follow along here!..@cityfestwestmichigan

Posted by Luis Palau on Tuesday, September 4, 2018
Included in the campaign are multiple outreaches and gatherings throughout "festival week." Events include prison outreaches, an evangelistic luncheon for business and civic leaders, a gathering of more than 1,100 women, as well as a Latino Festival on Friday night. All this leads up to the 2-day festival at Ah-Nab-Awen Park on September 8 and 9 featuring award-winning artists TobyMac, Lecrae, and Mandisa, and other popular performers. The festival will also host an interactive family fun zone filled with inflatables, games, crafts, sports challenges, stunt demos from professional skaters and BMX and freestyle motocross riders, and multiple presentations of the Gospel.
Many notable Michigan leaders have put their names and energy behind CityFest. Doug DeVos, well-known business leader and philanthropist in Grand Rapids, and Joe Stowell, president of Cornerstone University, are the co-chairs for the campaign. Kirk Cousins, quarterback for the Minnesota Vikings and Michigan native; Richard DeVos, co-founder of Amway, owner of the Orlando Magic, and long-time friend of Luis Palau; and J.C. Huizenga, well-known manufacturer, educational reformer, and entrepreneur; are among the list of honorary committee members and supporters.
Grand Rapids mayor, Rosalynn Bliss, has also thrown her support in for the festival and surrounding service effort, recognizing the great good it has brought to the region and encouraging everyone to take part in the 2-day festival. "We are extremely excited to have CityFest right here in our city," she shared in a recent video. "I hope to see you there!"
234 women indicated a decision to follow Jesus today at a special luncheon in Grand Rapids. And this weekend – the culminating festival. I can't wait! God is working in West Michigan.

Posted by Luis Palau on Wednesday, September 5, 2018
This event marks 24 years since renowned evangelist Luis Palau's first West Michigan campaign in 1994. This time, Luis Palau returns with his son and fellow evangelist Andrew Palau. The two will both share a message of hope to a new generation of Michiganders.
With CityFest acting as a catalyst, the movement has also been providing opportunities for the churches of West Michigan to set aside differences to unite in serving the educational system, encourage racial equity, and support affordable housing issues – all to produce a pattern of love and care modeled by Jesus Christ.
Since April, One West Michigan has completed more than 100 projects including leadership luncheons to discuss justice and unity in West Michigan, projects to clean up the surrounding communities, and educational lunches to begin school and church partnerships.
In more than 100 projects, over 4,000 people have volunteered to be the hands of feet of Jesus to share their love for Christ and West Michigan.
For more information about One West Michigan, visit www.onewestmichigan.org.
Luis Palau, who was diagnosed with Stage IV Lung Cancer in January, wasn't sure if he would be able to join his son Andrew for this campaign. Yet by the grace of God and the prayers of many, Luis plans on making an appearance both days of the festival and sharing a few thoughts with the crowd. This year marks 52 years of public evangelistic campaigns for Luis, starting in Bogotá, Colombia in 1966.
To learn more about CityFest with Luis & Andrew Palau in Grand Rapids, Michigan, including a full schedule of events, visit www.cityfestwestmichigan.org.
You can learn more about the Luis Palau Association and their worldwide work at www.palau.org.
About Luis Palau: Luis Palau and his ministry have shared the Gospel with millions of people through evangelistic events and media for more than five decades. He has held evangelistic campaigns in more than 75 countries and led an estimated one million people in public confessions of faith in Jesus Christ. His radio broadcasts in both English and Spanish are heard by millions on 5,000 radio outlets in 48 countries. He has authored close to 50 books, contributed articles on issues of faith to countless publications, and counseled business leaders, political leaders, and heads of state around the world.
About Andrew Palau: For more than 24 years Andrew Palau has played a key role in the ministry of the Luis Palau Association. He has been instrumental in building the LPA model for citywide outreach as an evangelist, director, and key team leader. He has guided campaigns, led church relations efforts, trained thousands of believers in friendship evangelism, and proclaimed the Good News of Jesus Christ in person to hundreds of thousands of individuals around the world through evangelistic campaigns. Andrew's festivals have brought him and the Palau Association into partnership with thousands of churches in cities throughout Latin America, Africa, Asia, Europe, Australia, the Caribbean, and the United States of America. In addition to his father, Andrew's own weekly radio broadcasts are heard by millions of people on thousands of radio outlets around the world. He is also the author of multiple books, including Secret Life of a Fool, a retelling of his personal journey to faith in Christ, and What is Christmas?, a groundbreaking evangelistic book published in China in 2012.