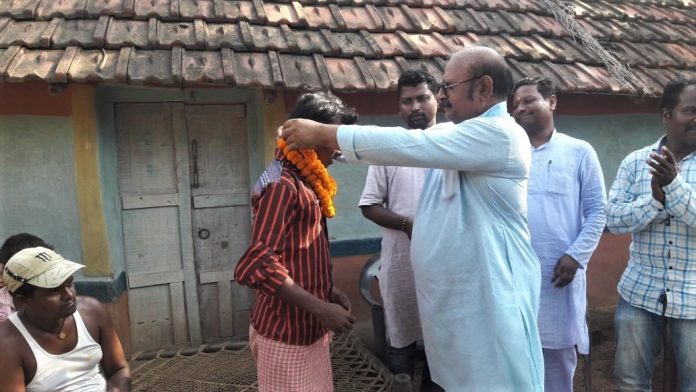 HYDERABAD, India (Morning Star News)– A pastor could face life in prison after police in eastern India falsely charged him with leading a tribal rebel movement, sources said.
Christian leaders in Khunti District, Jharkhand state suspect Hindu extremists are behind the sudden, baseless accusations against pastor Jidan Herenz in March, when he was charged with sedition for allegedly leading the rebellious pathalgadi, a movement by tribal Adivasis to fight for indigenous rights.
After police in Murhu village, Khunti District booked him under 13 sections of the Indian Penal Code (IPC), accusing him of convening unlawful assemblies, altering the appearance of Indian currency (coin), criminal conspiracy and sedition, Pastor Herenz and his family fled deep into district forests. He has since planted a church among remote tribal people there.
"It worries me, it is difficult to gather as a church, and several false cases have been booked against me," Pastor Herenz, 55, wrote to Morning Star News last month. "There is severe opposition, threats, but the ministry must continue."
Section 124(a) of the IPC prescribes life imprisonment for sedition. On Aug. 8, the Ranchi High Court granted anticipatory bail to the pastor.
"It's a miracle that I have been granted bail by the High Court," Pastor Herenz told Morning Star News. "Everybody I met after moving back to Khunti told me the allegations are very serious, and they never thought that I can be free."
Area pastor Zacharias Purthi said he was with Pastor Herenz when the charges were filed, and that the police action was clearly a plot by Hindu extremist Rashtriya Swayamsevak Sangh (RSS) members to frame him and stop the spread of Christianity.
An area Christian who spoke on condition of anonymity said RSS members have long tried to trap pastors in false cases.
"It becomes easier for them to declare India as a Hindu nation if they can stop pastors from sharing the gospel and spreading Christianity," he said. "Unless they disable the pastors from preaching and assembling as a church, they can't influence the members of the society."
Christian pastors enjoy respect in local communities as they serve the poor and reach remote areas where government officials hesitate to go, the source said.
"Pastors mingle with all classes of the society without differences, which the RSS or any Hindu body cannot since they strongly hold on to class and caste differences," he said. "RSS is now laboring hard like an army troupe, targeting pastors and pressuring the police to arrest them so they can gain control over the oppressed classes."
Pastor Purthi said Murhu police falsely accused Pastor Herenz of seeking to eliminate the police post by uniting Adivasis against officers.
"He was never involved in those matters," Pastor Purthi told Morning Star News. "As pastors, we are busy in the ministry and pastoral duties, and he or me, we never showed any interest in the local politics."
Police have tried to portray Pastor Herenz as the mastermind behind Pathalgadi, Pastor Purthi said. Placing huge stones or sign boards with the rights of Adivasis posted on them, tribal rights advocates are highly active in the district where Pastor Herenz has been ministering for the past 28 years.
He said his time in hiding brought joy.
"The six months spent in the forest sharing the gospel, and in prayer and worship, were fruitful and joyous, and the bail is a result of the Lord hearing our prayers," Pastor Herenz said. "The Lord raised a church there."
At least 50 Adivasis from the forest area have put their faith in Christ and gather every Sunday for worship, the pastor's brother, Paulus Herenz, told Morning Star News.
"It was not clear what the future holds because of these cases," he added. "Their allegations are false, but his name is on the FIR, and the police were on the lookout to arrest him."
The pastor is an Adivasi but, rather than practicing indigenous beliefs and rituals, he was raised in a Christian family, he said. He has planted nine churches in Jharkhand state.
ADF: 'Playground for Hindu Nationalists'
In Dumka District, volunteers from the Friends Missionary Prayer Band visiting a Christian family in Phulpahari village of Dumka District were held hostage by villagers who later handed them to police.
Sixteen Christians have been jailed by orders of a judge on July 7, said their defense counsel on condition of anonymity. A petition for bail was rejected by the District Sessions court, and an appeal has been filed before the Ranchi High Court.
"The Christians were held hostage under the supervision of the village head, who is a close associate of the RSS," the source said. "The complaint initially filed by the villagers was later modified so as to frame the Christians under the draconian anti-conversion law."
Shikaripara police booked the Christians under section 4 of the Jharkhand's "Freedom of Religion Act," which calls for prison terms of up to four years and a fine of 100,000 rupees (US$1,470) for forcible or fraudulent conversion.
"We have no idea how Jharkhand police understand the terms 'force,' 'fraud' and 'allurement,' and on what basis they have been filing cases under the state's anti-conversion law," said a source who requested anonymity. "These charges don't stand in the court of law, as they are false and baseless, but it is not easy to avail bail. This is a method employed by the police and RSS to harass the Christian community."
Christians in Jharkhand have been targeted in both the anti-conversion law and in denial of benefits as Adivasi "scheduled tribes" when they convert, said Sandeep Tigga, a volunteer for Alliance Defending Freedom-India.
"Converts to Christianity from Adivasi communities are told not to identify themselves as scheduled tribes and to not receive the benefits of reservations," said Tigga of ADF-India, which undertakes legal advocacy for religious freedom. "In government jobs, particularly, although Christian candidates make it meritoriously, their appointment is subject to scrutiny as they are Christians."
Christians also face discrimination in college admissions, and sedition charges are filed against Christians who raise their voices against such injustices, Tigga said.
"Jharkhand has become the playground for Hindu fundamentalist forces," he said. "This tribal state is an experimental lab/ground for them to experiment with their political propaganda. They want to bring the anti-conversion laws in other states as well."
Local police only protect Christians when there is pressure from higher officials, he said.
"There is no safety for Adivasi Christians," he said.
Such hostilities toward Christians have increased since Hindu nationalism, which seeks to purge the country of all non-Hindu faiths, gained wider acceptance after the ascent to power of Prime Minister Narendra Modi, according to ADF, which is celebrating the 70th anniversary of the U.N. Universal Declaration of Human Rights.
Article 18 of the U.N. declaration asserts that believers have the freedom to practice their faith "in teaching, practice, worship and observance," ADF notes in its campaign to obtain signatures supporting the The Geneva Statement on Human Rights at www.ImHumanRight.org.
Lost Property
In Palamu District, a Christian family has been denied entry onto their property after their renunciation of the Sarna religion upset Adivasi village heads. Sarna, also called Saranaism, is recognized as the indigenous religion of Adivasi tribes in eastern India.
"We filed a complaint with police, but they told us to solve the matter internally with the village heads," Reeta Devi, resident of Sidhwatola village, told Morning Star News.
The family has been ostracized since openly declaring their Christian faith, the mother of two said.
"The villagers pick fights over basic necessities – even access to drinking water is challenging," she said. "They decide whether to supply water to us or not after every fight. They don't like to be around us or even cross paths."
Three months ago the tribal people seized part of the Christian family's high-yielding land, she said.
"We have been very patient and never abused or fought back when they attacked us physically," Devi said.
India ranked 11th on Christian support organization Open Doors' 2018 World Watch List of countries where Christians experience the most persecution.