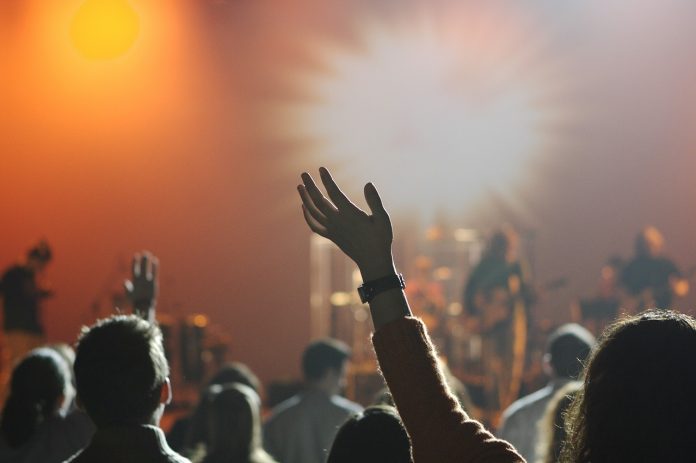 BOGOTÁ, Colombia /Christian Newswire/ — Fifty two years after renowned evangelist Luis Palau's first major campaign in the heart of Colombia's capital city of Bogotá, the Palau Association returns to deliver the same message of hope to a new generation of Colombians.
This region-wide effort, led by Luis' son Andrew Palau, has brought together more than 850 churches and trained more than 11,000 local followers of Christ – all focused on a week-long campaign set to saturate the city and surrounding region with the Gospel. Included in the effort are outreaches for business and civic leaders, women, and prisoners.
The week culminated with three days of festival events in different locations throughout the capital city. The first two days, August 17-18, were held at Plaza de Bolívar, the same location as the original Luis Palau event in 1966. The final night, August 19, was held at the Parque el Tunal. All events included performances by top Christian musicians, testimonies from actors and top leaders, and a clear message of hope and faith in Jesus Christ from Andrew Palau.
The goal, just like all Palau Festivals, was to shake the nation with the Gospel and help launch the Church into a powerful new season of evangelism and outreach.
Luis Palau, who was diagnosed with Stage IV Lung Cancer in January, was hoping to join his son for this historic campaign, but unfortunately shared in a video earlier today that he, his team, and his doctors all agreed it is an extra danger to his health to attend.
"Bogotá is going through a cold state right now. It's 9,000 feet high, and not good for someone whose immune system is weak," he stated in the video shared on Facebook. "Pat, my wife, is going to greet the crowd and explain with real sorrow why I couldn't come," he continues. "We're waiting on the reports every day. We'll rejoice in the harvest, we'll praise the Lord for the victories, the reminiscing, and all the joy that they will have. The Lord is there – that's what really counts."
This massive, region-wide campaign has been in the works for many months. Andrew Palau, who was born in Colombia during the first campaign in 1966, has been an integral part of this campaign from the very beginning. At a pastor's conference Andrew spoke at earlier this year, the excitement of the local church was evident when 10,000 pastors united for the launch of this campaign.
"Expectations are sky high and God is clearly going before us and working," Andrew Palau shared as he prepared to leave for Bogotá earlier this week. "Now we get the opportunity and joy to deliver the life-changing message of God's love. I love our part!"
With an ongoing vision to train up the next generation of evangelists in Colombia, the campaign also included a gathering on August 20 for hundreds of evangelists. The event equiped, encouraged, and inspired them further in their ministries and callings. This is part of the Palau Association's multi-year campaign to build a network of more than 10,000 younger and up-and-coming evangelists around the globe. 
The crusade in 1966 not only marked a powerful shift in the trajectory of Colombia, whose evangelical community experienced exponential growth following the campaign, but also set a model for citywide impact that the Palau Association has used to reach millions of people throughout the world for more than fifty-five years. To learn more about the historical campaign and the significance, visit www.palau.org/bogota.
Additionally, the Palau Association is partnering with Bibles for The World to provide Bibles at the festival in Bogotá. Bibles for the World has partnered with the Palau Association for four years, providing Scripture at major festivals around the world.
"We've been to Burkina Faso and Malawi and Côte d'Ivoire in these last four years, along with Haiti and Jamaica and the Dominican Republic. We've been so blessed by this partnership, working with the Palau organization and being able to provide Scriptures," John Pudaite of Bibles for The World said. "You'll find that the people of Colombia will turn out for this — those who need to hear the Word and need to hear the message of salvation — so we're just looking forward to a very wonderful time."
The Bogotá festivals will also be broadcast throughout Latin America by the television network Enlace.
About Luis Palau: Luis Palau and his ministry have shared the Gospel with millions of people through evangelistic events and media over the past 55 years. He has held evangelistic campaigns in more than 75 countries and led an estimated 1 million people in public confessions of faith in Jesus Christ. His radio broadcasts in both English and Spanish are heard by millions on 5,000 radio outlets in 48 countries. He has authored close to 50 books, contributed articles on issues of faith to countless publications, and counseled business leaders, political leaders, and heads of state around the world.
About Andrew Palau: For more than 24 years Andrew Palau has played a key role in the ministry of the Luis Palau Association. He has been instrumental in building the LPA model for citywide outreach as an evangelist, director, and key team leader. He has guided campaigns, led church relations efforts, trained thousands of believers in friendship evangelism, and proclaimed the Good News of Jesus Christ in person to hundreds of thousands of individuals around the world through evangelistic campaigns. Andrew's festivals have brought him and the Palau Association in partnership with thousands of churches in cities throughout Latin America, Africa, Asia, Europe, Australia, the Caribbean, and the United States of America. In addition to his father, Andrew's own weekly radio broadcasts are heard by millions of people on thousands of radio outlets around the world. He is also the author of multiple books, including Secret Life of a Fool, a retelling of his personal journey to faith in Christ, and What is Christmas?, a groundbreaking evangelistic book published in China in 2012.