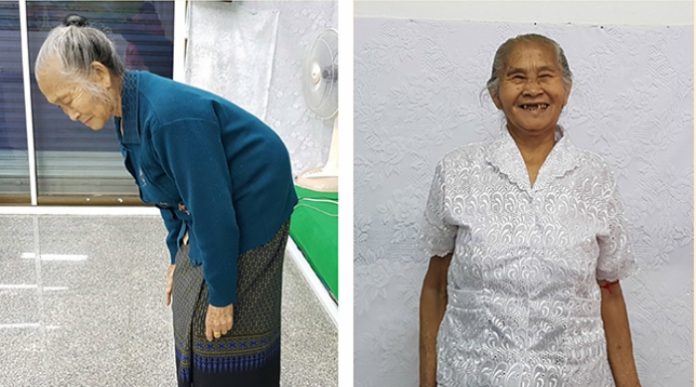 I suffered postpartum stroke after I gave birth to my child, and since then my health condition consistently was failing. What's worse, my back was bent forwards 45 degrees at the age of 30. A young woman in her thirties walked crooked with her back bent; it was me. I felt embarrassed around people. Neither could I walk fast nor do anything standing or something difficult. I always relied on others' help.
I wanted to live as other people lived. I received treatment in many hospitals, but nothing worked. With the passage of time, I gave it up. I still wanted to become normal, however, when I saw people standing straight.
In late November 2016, I was guided to Chiang Rai Manmin Church by my friend. It was my very first time to visit a church because my ancestors and family had served as Buddhists. But I felt warm and comfortable as if I was at home rather than feeling strange. During the praise and worship service, especially, peace and joy I had never felt were given to me.
My friend testified that she had been healed of her backache and stomachache by the handkerchief prayer of power (Acts 19:11-12). She also said that my back would be straightened if, with faith, I received the prayer of the handkerchief on which Dr. Jaerock Lee, Senior Pastor of Manmin Central Church had prayed.
On December 11, 2017, I was given faith and asked Pastor Jaewon Lee of Chiang Rai Manmin Church to pray for me with the handkerchief. To my surprise, my back was straightened a little right after the prayer. I felt so amazed! I received the prayer a few more times afterwards. Then, my back got strengthened and finally it was perfectly straightened!
My back had remained bent for 51 years, but it was straightened at the age of 80. It felt like a dream. I give all thanks and glory to God!