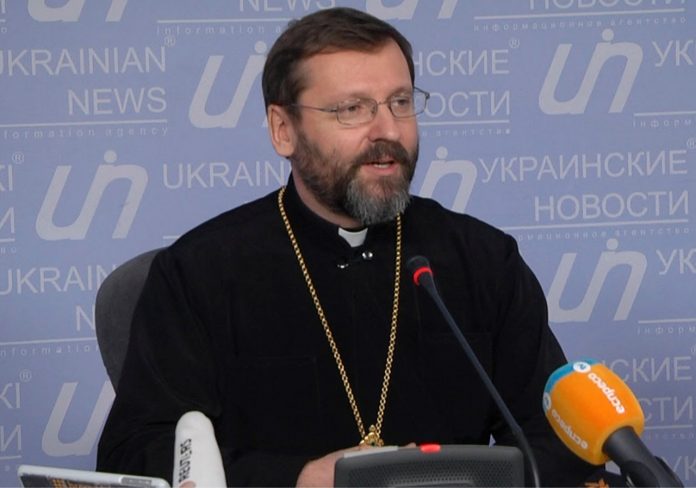 On August 7, the Patriarch of the Ukrainian Greek-Catholic Church delivered a speech to the participants of the 136th Convention of the Knights of Columbus which involves representatives from different countries of the world.
The Hierarch urged the international community not to leave Ukraine alone with the enemy and reminded of Ukrainian political prisoners held in Russian prisons.
It is reported by the Department of Information of the UGCC.
"Although we do not have the exact number, we know that about one hundred prisoners, including political prisoners, who are still held in Russian prisons and are denied fair and transparent trial. The most famous of these prisoners, Ukrainian film director Oleh Sentsov, has been starving for almost 80 days, demanding from the Russian authorities the release of all illegally imprisoned political prisoners," said the head of the UGCC.
The head of the UGCC said that Sentsov, an outright opponent of Russia's capture of the Crimean peninsula, is serving 20 years of imprisonment. He was sentenced for allegedly planning terrorist acts. Oleh denies the allegations and is supported by most of the global community.
In addition, Patriarch Sviatoslav expressed regret that the war in Ukraine becomes "quiet and forgotten".
"The war, in fact, has already caused the greatest humanitarian crisis on the European continent after the end of the Second World War. And yet, it is a quiet and forgotten war. Since this is a "frozen conflict", nobody speaks out about the war in Ukraine any longer. The attention of the media was shifted, as is often the case, to other conflict zones in the world," he stated.
"We call on the international community not to ignore Ukraine and not to leave us alone with our aggressor, a country that ignores international order and does not respect all international treaties guaranteeing the inviolability of modern state borders," Patriarch Sviatoslav said. The Head of the UGCC said that many experts today called the war in Ukraine a "hybrid war", that is, the war, which uses not only traditional weapons on the battlefield, but also uses all means of destruction, including economic and information warfare. "Due to information technology, modern wars are not limited to specific territories, they are not limited to one continent, without any consequences for those who would seem to be far away. Everyone in the Western world today feels the consequences of this information war, which aims at the truth, spreading 'fake news'" and shaping public opinion up to its bad intentions. Unfortunately, even your country or other developed Western European countries are not secure from these attacks. Please remember: this is not only our war – this is the war for all mankind," said His Beatitude Sviatoslav.
RISU, risu.org.ua