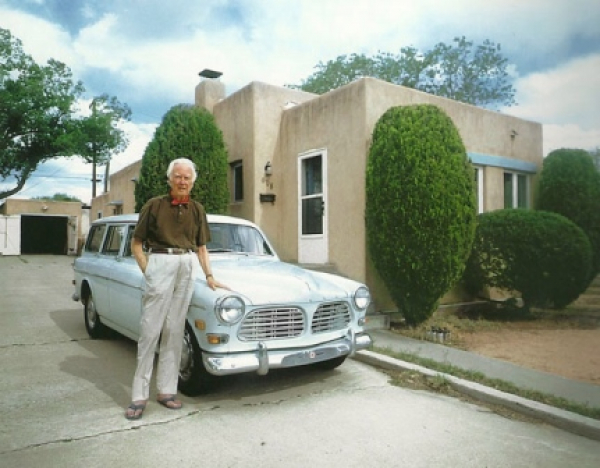 By Brian Nixon, Special to ASSIST News Service
SANTA FE, NEW MEXICO (ANS – June 24, 2018) — Artist Frederick Hammersley made his journey from California to New Mexico in 1968, lured by the University of New Mexico to teach art at the college. As a leading west coast abstract painter, Hammersley made a name for himself as one of the original Four Abstract Classists, painters who used hard edges, bold colors, and geometrical patterns within their work. Fifty years after Hammersley's journey, an exhibit of his art made its way from California to New Mexico to highlight his geometrical style.
When I first learned that the exhibition To Paint without Thinking was traveling to New Mexico from the Huntington Library, Art Collections, and Botanical Gardens in California, I was thrilled. As one of my favorite modern artists, Frederick Hammersley (1919-2009) has been an artistic inspiration for years [1]. Prior to seeing To Paint without Thinking in Santa Fe, on display at the New Mexico Museum of Art through September 9, I made an appointment with the Frederick Hammersley Foundation to tour Hammersley's home-studio, located in Albuquerque, New Mexico [2]. And though it was the museum show I longed to see, it was the house that captivated me.
Administrative Director, Nancy Zastudil, greeted me at the door. She provided a tour of the home and offered insight into the Hammersley's life. Foregoing a detailed description of my tour, here are ten things that caught my attention during my time at the Hammersley house:
The humble three-bedroom home, bought for $18,000 in 1968, acted as both his living quarters and studio.
Hammersley worked in a small room (perhaps what was originally the dining room off the kitchen) adjacent to a north window. One of the paintings he was working on when he died in 2009 was on the easel, brushes and paints largely kept as he left them.
One room serves as art storage, keeping both the artist's and some of his father's art. Hammersley's father was an amateur painter; his self-portrait leaned against a wall in one storage area.
Hammersley's kitchen was painted with clouds, something Zastudil told me he painted himself.
The bathroom was wallpapered with a black-and-white checkerboard pattern; again, a Hammersley original.
There were several of Hammersley's paintings, photographs, and prints on the walls. The lithographs prints were much smaller than I had imagined (3×3 inches). To learn the lithographs we completed in 1949/1950 was a revelation. With a Pop sensibility, they were a decade ahead of the Pop phenomena coming out of New York in the 1960s.
The books on the shelf were of interest to me, ranging from classics to the Bible.
Some of the family photos on a wall outside what used to be his bedroom showed Hammersley with an elephant, telling me his family might have traveled oversees.
The front entryway was red tiled, with simple furniture and a wooden bamboo chair in the corner, a walking cane hanging from the back. The same hand that painted great modern masterpieces is the same hand that used a walking cane later in life. Sadly, Hammersley fell at aged 90, dying due to complications from his fall.
Many of the oil paints used by Hammersley (Winsor & Newton), were the same brand used by fellow New Mexico artist, Georgia O'Keeffe. As I studied Hammersley's painting boxes, several unique items caught my attention:  a golf ball, a pocketknife, matches, and a comb, among the normal tools of the profession.
Much more could be written concerning Hammersley's home, but space is limited; it was, however, as a recent conference highlighting Hammersley's work stated, a wonder cabinet [4], full of interesting facets of a person dedicated to art.
But now to the exhibition.
As I walked into the To Paint without Thinking exhibition at the New Mexico Museum of Art I immediately encountered two abstract lithographs: Covenant, 1963 and Insight out, 1968.  Both were in the shape of what one would think of as the stones the 10 Commandments were etched. Around the corner from Covenant, 1963 was the piece Adam & Eve, #2 1970, one of the first "Geometric" paintings Hammersley painted in New Mexico. With Adam and Eve, #2 much of Hammersley's unique contributions to painting are found: an intriguing title, confident colors, geometrical shapes, and amazing edges (all done by hand). Hammersley's work is unmistakable: precise, systematic, with intrepid colors and impeccable technique.
To Paint without Thinking showcases Hammersley's Hard-edge paintings and computer drawings. Missing are his "Hunch," "Organic," and representational paintings, in addition to his photographs. But To Paint without Thinking wasn't as much about the scope of his work than the methodology of his work, the technical process. With the display of his notebooks one gained a greater appreciation of his procedural methodology. The notebooks highlight his meticulous routine; detailed notes chronicle all aspects of his painting practice, from the colors used to the application of paint to the various ideas for titles, many of which were puns or thought-provoking phrases. Hammersley approached painting much like an ornithologist studies birds: attention to detail, color, movement, and sound (the naming of his art), all written in notebooks as a field guide to his work.
In information provided by the museum the paper states, "In his notebooks, Frederick Hammersley would make multiple small variations on a single idea before arriving at the final composition for a painting." Hammersley filled numerous notebooks detailing his dutiful procedure; a couple examples of his notebooks were under a display case at the exhibit. Its no wonder scientists at the Getty Conservation Institute have taken an interest in his paintings [5].
Also of great interest is his computer art. As one of a handful of artists that incorporated the computer as an artistic device during the infancy of computer technology, Hammersley was, once again, on the cutting edge of the artistic world, foreshadowing the barrage of computer art and social-media related creativity that was to come.  Hammersley created hundreds of computer drawings. And though not the first to use the computer for art, Hammersley's use of the computer corresponded with his arrival in New Mexico in 1968.  Hammersley used an IBM mainframe computer at the University of New Mexico and the program Art 1, developed by Richard Williams, to produce his drawings [6]. As a side note, Albuquerque was at the forefront of the computer revolution in the 1960s and 1970s.  Paul Allen and Bill Gates made great strides with Microsoft in Albuquerque, and one of the first personal computers ever made, Altair 8800, was based in Albuquerque.
Beyond the fact that Hammersley was a cutting-edge creative, To Paint without Thinking showcases what he did best: paint. With over 30 of his abstract works on display, To Paint without Thinking tantalizes the viewer with colors, shapes, and immaculate technique.  And though Hammersley claimed he could "paint without thinking" in his new style (abstract as opposed to realism), his work elicits the opposite effect, causing one to think and ask questions:  Why the title he chose for the work? Why the particular colors? Why the emphasis on pattern, shape, and line?
In 1986, Hammersley provided a clue to these questions in a lecture entitled "The Painter Uses But Seven Tools." In the talk Hammersley states, "The one thing you cannot do without is shape. Shape is the vehicle which carries the tools." The seven tools Hammersley mentioned were line, shape, value, color, form, pattern, and texture.
Knowing shape is a core principle of Hammersley's work helps one appreciate his art, providing a map of understanding. And once one has thought through his work, a response is in store.  I heard some people at the exhibition say that his work was "spiritual."  Others called it "intellectual," or "stark." For me the response is one of respect, admiration, and amazement. In my mind, Hammersley is an artist that deserves the recent attention he's getting, a master of line, color, form, and shape, but also a chronicler of an artist's process, a glimpse into the intricate mind of a brilliant painter.
For more information on the To Paint without Thinking click here: http://nmartmuseum.org/art/current-exhibitions-2017/
For information about the Frederick Hammersley Foundation, click here: http://hammersleyfoundation.org/
[Picture:Frederick Hammersley at his home in Albuquerque]