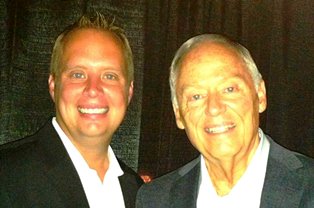 By Steve Rees, Special to ASSIST News Service
LOS ANGELES, CA (ANS – July 10, 2018) — As tens of thousands of volunteers from at least 900 churches prepare this week to span the globe performing no-strings-attached of service ranging from writing letters to prisoners to delivering free groceries to home-bound widows, Pastor Matthew Barnett is rallying the troops to another "servolution."
From his home in California and at a planned stop in Colorado on Friday, Barnett is speaking from his heart about SERVEday 2018 on Saturday, July 14.
He characterizes the day as an opportunity to rally around something special and meet an "overwhelming need to get out of ourselves."
So far, SERVEday 2018 has garnered help from 903 churches in 25 countries at 63 locations.
"Everything I've ever done – be it a prayer walk or one act of service – touched my heart and opened up a door to me to serve more and more," Barnett said.
Co-founder of the Los Angeles Dream Center and pastor of Angeles Temple, Barnett wants the global army of volunteers on SERVEday 2018 to realize its potential to transform communities and change lives with acts of service – small or large – as he did over 20 years ago by setting up his first ministry office on a sidewalk with nothing more than a desk, phone and sign advertising free bags of groceries.
"I just want them to get excited about serving," Barnett said. "To understand that serving is the best way to build relationships.
"The destination is not having a building; it's just about loving what you have, going with what God's put in your hands and serving with a free heart and open spirit," said Barnett, who will speak late in the week alongside Jesus Culture at a worship event designed to inspire Colorado pastors, ministry leaders and volunteers in advance of SERVEday 2018.
Barnett will tell a packed house at the Budweiser Events Center in Loveland, Colo. Friday night that "serving is a condition of the heart." He will fly back to California that night to visit a public-housing development in the Boyle Heights neighborhood of Los Angeles – an outreach near and dear to his heart – and a few of the 25 other projects Dream Center volunteers will conduct across the city on Saturday.
"I just want people to understand that the happiest they will ever be in life and – the happiest they will always be in their lives – is when they're out serving people," Barnett said.
Last year's "servolution" spanned six continents, 26 international locations and 19 countries and, at 6:30 a.m. (PST), #SERVEday was trending on Twitter as volunteers in New Orleans, Savannah, Chillicothe, Rio de Janiero, Birmingham, Austin, Mozambique, Italy, Russia, Australia, Europe and Asia renovated public parks, bought new tennis shoes and haircuts for kids, and offered free lemonade and jewelry. among other projects.
"I thought how amazing is this that the church is trending (on Twitter) in a climate of bad political news and events around the nation," Barnett said of SERVEday social media buzz even before some volunteers on the West Coast were out of bed.
A little bit like Christmas, SERVEday is special and nostalgic because it ignites passion and a sense of awe when the church extends itself beyond the walls of a building.
"I think the church needs a nostalgic day where it can rally, look and say 'wow, something amazing is happening. The Body of Christ is growing in a different kind of way; it's growing outward.'
"(SERVEday) magnifies the work that we're doing. It makes the people in a little, west Texas town, for example, understand that they're part of a nationwide movement. That's pretty cool," said Barnett.
He isn't alone in awe or excitement over SERVEday. That it mobilizes the church to fill an arena with people who, as his father Tommy Barnett and others famously say, "find a need and fill it; find a hurt and heal it," is amazing to him and others.
"What is truly remarkable for me is that I don't think I've ever seen a time in our generation where churches are able to mobilize this big of a crowd," Barnett said of the thousands expected to turn out to hear him and worship at the Budweiser Events Center.
Barnett credits his good friend, Pastor Jonathan Wiggins, for mobilizing SERVEday volunteers in northern Colorado and bringing Jesus Culture to the Budweiser Events Center.
Ironically, the venue's name conjures images of beer and Clydesdale horses in Budweiser's television commercials but, on Friday, the arena will be transformed as greatly as SERVEday volunteers hope to impact their communities in northern Colorado.
Out of the ordinary for the Budweiser Events Center staff, they won't be drawing cold brews when a band – named Jesus Culture no less – takes the stage with Barnett.
"Not only are we going to be worshiping Jesus, but we're going to be celebrating what God is doing in this region (with SERVEday)," front woman Kim Walker-Smith said of Jesus Culture's support of Barnett and other pastors and spiritual leaders involved in the movement.
SERVEday was the inspiration of Church of the Highlands (COTH) Lead Pastor Chris Hodges in 2008. Through the "Servolution" movement – adapted from Dino Rizzo's book by the same title – COTH partners with the Dream Center Network, the Association of Related Churches (ARC) and other ministries, taking church life outside the walls of buildings.
ARC helps plant a new congregation every six days.
SERVEday has a website, https://serveday.com/ , and its mission statement is summed up by Jesus' words as recorded in Mark 10:45, "For even the Son of Man came not to be served but to serve others and give His life as a ransom for many."
About the writer: Steve Rees lives in Longmont, Colorado and loves the Rocky Mountains. When he's not exploring the outdoors, he loves to write stories that glorify his Lord and Savior Jesus, Christ. He can be contacted by e-mail at steverees@peoplepc.com.