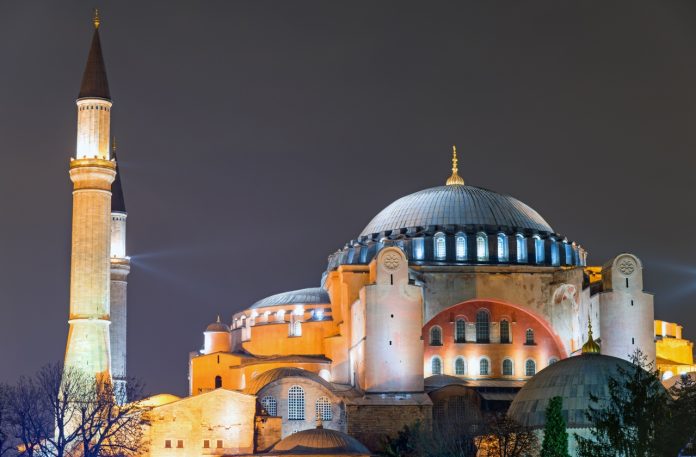 The feast of St Andrew, the first-called apostle, founder of the Church of Constantinople according to the tradition, is honored as the Thronal Feast of the Ecumenical Patriarchate. At this occasion, a solemn celebration took place at the Patriarchal Church of St George at Phanar, Istanbul, on 30 November.
His All Holiness Patriarch Bartholomew presided over the divine liturgy. Hierarchs of the Ecumenical Patriarchate, the Patriarchate of Jerusalem, the Church of Cyprus, the Church of Greece and the Church of Bulgaria concelebrated with the Patriarch.
Rev. Prof. Dr Ioan Sauca, World Council of Churches (WCC) acting general secretary, visiting officially the Ecumenical Patriarchate, was also invited by Patriarch Bartholomew to concelebrate as a priest of the Romanian Orthodox Church.
As every year, an official delegation of the Roman Catholic Church, led by H.E. Cardinal Kurt Koch, president of the Pontifical Council for Promoting Christian Unity, participated in the feast of the patron saint of the Church of Constantinople, and presented Pope Francis's personal message.
After the divine liturgy, Sauca had a private audience with Patriarch Bartholomew.
The Ecumenical Patriarch expressed his profound joy in receiving an Orthodox priest and professor leading for the first time the WCC as acting general secretary and congratulated wholeheartedly Sauca for his successful and fruitful leadership, particularly in difficult times because of the pandemic.
Once again, Patriarch Bartholomew had the occasion to reiterate the Ecumenical Patriarchate's commitment to Christian unity and active participation in the work of the WCC. He wanted to be informed about the latest developments in the life of the WCC, particularly the preparations for WCC 11th Assembly, to be held next year in Karlsruhe, Germany.
Sauca expressed, on behalf of the WCC, deep gratitude for the continuous support of the Ecumenical Patriarchate and His All Holiness Patriarch Bartholomew personally to the ecumenical movement in general and the WCC in particular and for inviting him to concelebrate with the hierarchs of the Ecumenical Patriarchate and other Orthodox churches.
"The theme of the next assembly of the WCC," he said, " 'Christ's love moves the world to reconciliation and unity,' resonated for me today in a very meaningful way as we gathered together around the altar, representing our many Orthodox sister Churches.
"I pray that by reflecting together on the theme of the WCC 11th Assembly, as we prepare for our participation next year in Karlsruhe, we continue our common journey towards even greater reconciliation and unity among ourselves as Orthodox, with other Christians and with the whole of creation."