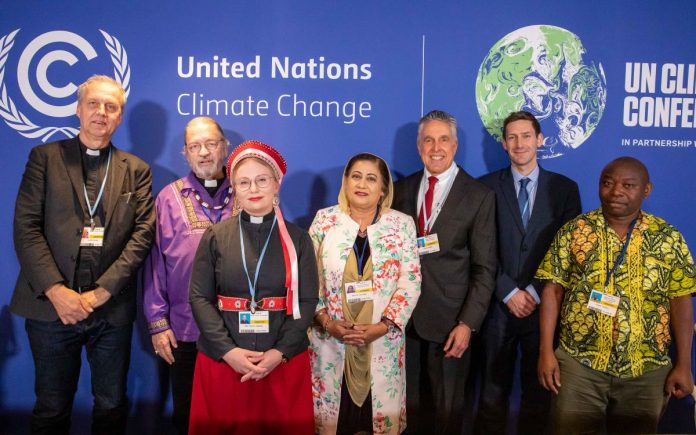 At a side event during COP26, indigenous voices rang on the theme "Making Peace with Nature: Heeding the Call of Indigenous Peoples." Held on 3 November, the virtual event drew enthusiastic supporters who waited outside the door of the meeting room in a show of solidarity.
Archbishop Mark MacDonald, National Anglican Indigenous Bishop in Canada, and World Council of Churches (WCC) president for North America, reflected that the larger culture has lost its understanding of its relationship to nature. "A fifth of the land is under the protocols of indigenous peoples, 80% of biodiversity is under the oversight of indigenous peoples," he said. "The rights and life of indigenous peoples are so intimate and integral to the future of the planet."
There is no livable future for this planet that does not address the rights of indigenous peoples, MacDonald added. "We are braided together with each other and with creation."
Rev. Mari Valjakka, pastor of Sámi at the Evangelical Lutheran Church of Finland and moderator of the WCC Indigenous Peoples Reference Group, said she believes indigenous perspectives are crucial not only for addressing the burgeoning climate emergency but also for navigating the way forward to a hopeful post-COVID-19, post-growth and post-fossil fuel future.
"We need to remind our political leaders that all of us—but especially Sámi and other indigenous peoples, living in the Arctic or Pacific, Amazons or Asia—already suffer from the impacts of climate change on the frontline," she said. "And therefore, we need to be treated as active subjects and not just passive objects in the decision making."
Rev. Rachel Taber-Hamilton, from the Shackan First Nation, Episcopal Church, said that, unless we listen closely to the theologies of indigenous peoples, we will not survive. "In indigenous theologies, there is a relationship with place and with each other and with animals, which frames all creation as profoundly sacred," she said. "We need to create a new story…of reclamation…and rebirth."
Visit the WCC COP26 landing page​​​​​​​
The side-event was brought together by the World Council of Churches, Anglican Communion, Episcopal Church and Religions for Peace.