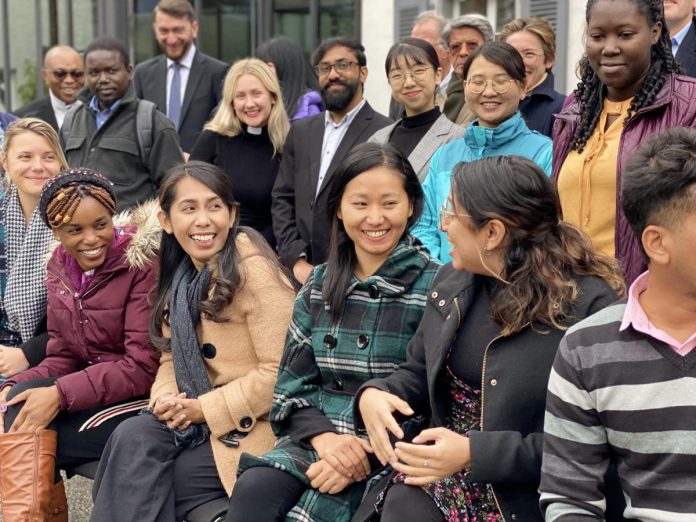 "Dies Academicus," is a special annual gathering at the World Council of Churches (WCC) Bossey Ecumenical institute. This academic year's installment took place on 4 November. The current cohort of  33 students from 20 countries listened to a panel of four speakers who shared reflections  on the theme, "Is racism a faith question?" The panel reaffirmed the WCC 4th Assembly held in Uppsala, which declared racism as sin.
Further exploring the theme, students collected poetic texts, prose, news pieces, and lyrics, which they put up as an exhibition entitled "Talking about racism and other forms of discrimination…."
In his opening address, WCC acting general secretary Rev. Prof. Dr Ioan Sauca reflected on the urgency and importance of the question as he urged, "This Dies Academicus is an invitation to listen, first of all to listen to the experiences of racism and racial discrimination," he said. "In the ecumenical movement the process of understanding starts with listening, and this is particularly true in relation to this topic."
Sauca urged the students to dig out the best of their theological traditions to confront the mentalities and practices that perpetrate racial discrimination. "I wish you open ears and hearts to hear, a clear mind to discern, and courage and wisdom as you reflect on what your contribution in this area will look like," he said.
In the closing keynote session, Rev. Dr Peter Cruchley, secretary for Mission Development at the Council for World Mission, presented a case study on the Legacies of Slavery project on which his organization has embarked. The legacies project is the Council for World Mission's attempt to examine, come to terms with, and repent of its historical complicity to the slave trade as a form of systemic injustice. The attitudes that informed this legacy continue to shape the collective imagination manifest in racialized global economic and social structures. In that regard, Cruchley spoke of racism as "a faith question-construction-compulsion" and urged the need to transcend the social construction by "root(ing) into the wider issues of racism and confront global phenomena of Afro-phobia."