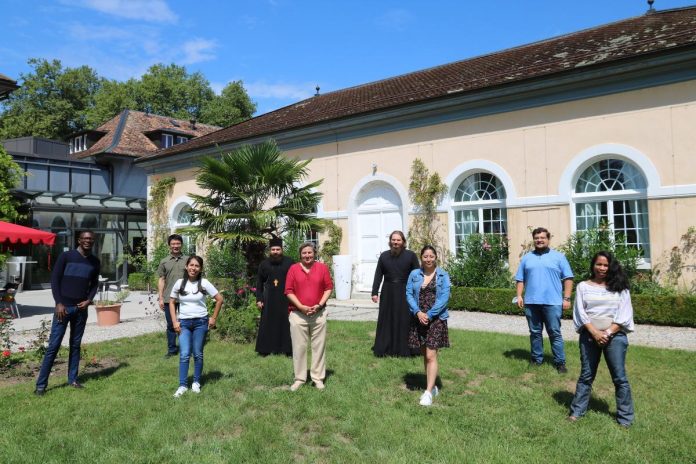 "It's more than just an English course." Created specifically for the Ecumenical Institute of Bossey students, the English course is designed to reinforce students' vocabulary, grammar and writing skills, arming them with the tools necessary to pursue not only their studies at Bossey but also participate in the ecumenical movement.
The one-month course is also designed to help them succeed in their upcoming post-graduate ecumenical studies.
The 2021 class included eight students from different regions around the world. "The things that I got from this English course are more than I would have imagined," says Rev. Agnes Souisa from the Protestant Church in the Moluccas, Republic of Indonesia."It's not only about vocabulary, grammar and so on, but the perspective we get from our friends."
The course challenges students to communicate their points of view through regular debate sessions.
Father Giorgi Saria from the Apostolic Autocephalous Orthodox Church of Georgia spoke about the importance of the English course in order to help him delve more in his studies and ecumenism, stating, "I need to learn more than I currently know. In Georgia we do not have as many relations with other churches as I have experienced here. This programme will help me to learn English and learn more, it will help me to understand more."
With the help of English teacher Victoria Godfrey, currently in her second year teaching the programme, students are pushed to not only improve speech but also writing techniques. "She pushes us and helps us to improve ourselves in many ways," stated Souisa.
For Victoria, some of her motivations for teaching this course is the eagerness and motivation of the students to learn. She also highlighted the diversity among the students. Participants are from all over the world, including the teacher herself who is Swiss with English and Iranian origins. Despite the diverse international backgrounds, everyone is brought together under one umbrella of Christianity.
"Here I have met friends from different countries; I been able to learn a little bit about their cultures and their churches. I think I will learn more and more in the future," highlighted Rongliang Bian from the China Christian Council. "I think it's very important to have an international view and ideas because we come from different cultures and backgrounds. I have been able to learn that here."
Upon completion of the programme, students are able to confidently pursue their ecumenical studies either at the Institute and abroad as they continue in their ecumenical journey. Students are also equipped with the tools to take a more global and international view towards the ecumenical movement.
WCC, oikoumene.org