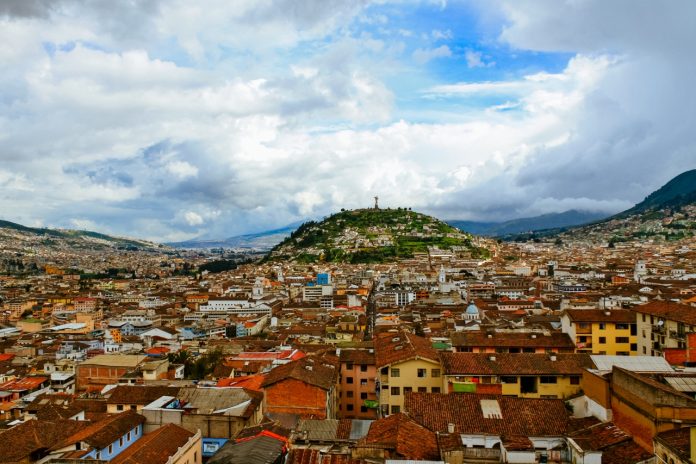 The Vatican announced Saturday that Pope Francis had designated the Archdiocese of Quito in Ecuador the host of the 2024 International Eucharistic Congress.
The conference, in its 53rd edition, will also take place during the 150th anniversary of the consecration of Ecuador to the Sacred Heart of Jesus.
"This great ecclesial meeting will manifest the fruitfulness of the Eucharist for evangelization and the renewal of faith in the Latin American continent," the Vatican said in its announcement March 20.
The city of Quito sits in the foothills of the Andes Mountains at an altitude of 9,350 feet. It is the capital city of Ecuador and the most populous, with over 3 million people in the metro area.
According to 2017 statistics, Catholics, at over 2.4 million, make up 85% of the population in the Archdiocese of Quito.
The archdiocese shared the news of its designation as the seat of the 2024 Eucharistic Congress on Facebook, writing that "we assume this great responsibility with joy and are committing everyone to work."
Ecuador will host the Eucharistic Congress for the first time since it began 140 years ago. The international conference was last held in South America in 1968, in Bogotá, Colombia.
Pope Francis visited Quito during a July 2015 apostolic visit to Ecuador, Bolivia, and Paraguay.
The next Eucharistic Congress is set to take place in Budapest, Hungary, in September — after it was postponed by one year due the coronavirus pandemic.
Pope Francis said recently he plans to visit Hungary for the Eucharistic conference's closing Mass on Sept. 12 in Budapest's Heroes' Square.
In December 2019, Pope Francis asked for prayers for the conference's success.
"For more than a century, the Eucharistic congresses have been reminding us that the Eucharist is at the center of the Church's life," he said.
"We pray that the Eucharistic event in Budapest may foster processes of renewal in Christian communities," he continued, "so that the salvation of which the Eucharist is the source may also be translated into a Eucharistic culture capable of inspiring men and women of good will in the fields of charity, peace, family, care of creation."
The International Eucharistic Congress first took place in France in 1881 with the goal to increase devotion to the Eucharist and bring awareness to the large number of Catholics in the country.
It has continued to be held every few years in a different city, and has crossed the globe, taking place in Jerusalem, Nairobi, Melbourne, Korea, the U.S., and throughout Europe.
The last congress was held in Cebu, Philippines in 2016. There were 12,000 participants at the congress, though millions took part in associated Masses. Hungary last hosted the Eucharistic Congress in 1938.
The event aims to give witness to the Real Presence of Jesus Christ in the Eucharist and to promote a better understanding of the liturgy and the Eucharist in the life of the Church. The congress is now typically held every four years.