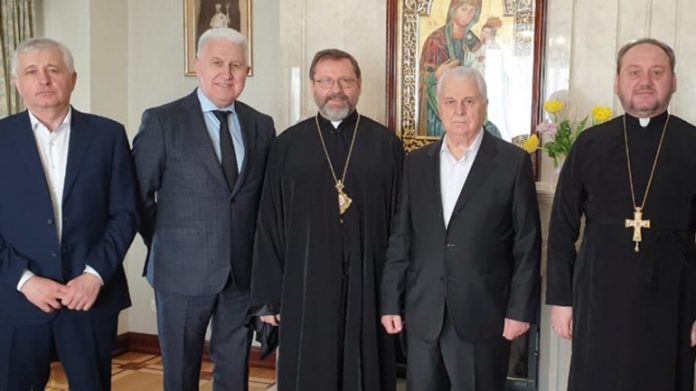 On February 25, 2021, a working meeting with the first President of Ukraine Leonid Kravchuk and representatives of the National Forum "Transformation of Ukraine" (NFTU) took place at the residence of the Father and Head of the UGCC His Beatitude Sviatoslav.
As a result of a lengthy discussion of the current situation in Ukraine, it was agreed to move to a new stage and update the activities of NFTU in more appropriate to today's challenges forms.
In particular, it was agreed to start a national round table as a form of promoting the consolidation of efforts of all state and patriotic forces. The purpose of such a roundtable should be the final formation of Ukrainian statehood throughout its territory, as well as awareness of all citizens of the indisputable value of the Ukrainian State as an eternal dream of the Ukrainian nation.
The meeting was attended by: L. Kravchuk, the first President of Ukraine; His Beatitude Sviatoslav, Father and Head of the UGCC, Chairman of the All-Ukrainian Council of Churches and Religious Organizations; M. Panochko, Senior Bishop of the Ukrainian Church of Christians of the Evangelical Faith; Mykhailo Hariy, coordinator of NFTU, and mitred archpriest Oleksa Petriv, coordinator of the Spiritual Council of the forum.
At the end of the meeting, His Beatitude Sviatoslav presented each participant of the meeting with the book "Apocrypha: Four Conversations about Lesia Ukrainka," which was published on the 150th anniversary of the great poetess.
RISU, risu.ua