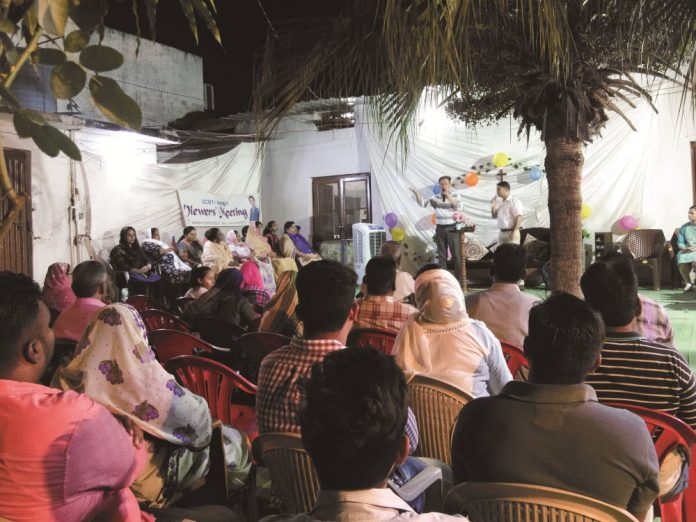 From September 30th to October 4th, Pastor John Kim (Deli Manmin Church, India) went on a mission trip on behalf of GCNTV HINDI viewers. He conducted seminars and visited viewers in the cities of Madhya Pradesh in India.
GCNTV HINDI is a You-tube Channel for Hindi speaking viewers in India. It primarily broadcasts south korean church's major sermons. Thanks to this channel, the number of viewers including local pastors is increasing, family or local churches are being formed, and healing works are continually taking place.
In the city of Ratlam, a pastor received God's grace while watching GCNTV HINDI. The viewers in the city of Indor started a Manmin branch church and asked for a seminar along with those who were healed in the city of Sagar.
Ankush Nelson was now healthy when Pastor John Kim visited him. He had regained consciousness after receiving handkerchief prayer through Youtube last August. Due to a car accident, he was unconscious with the left side of his body left paralyzed. However, when his wife helped him receive the prayer for the sick, which was broadcast live from the site of Manmin Summer Retreat, he amazingly regained consciousness. Later he could feel throughout the left side of his body. His wife also received the blessing of getting a job.
A seminar was held in the city of Sagar, and about 70 people attended. Monica was healed of a lung disease while attending a divine healing meeting through GCNTV HINDI. Litha, who otherwise would have lived with life-long disability, was also healed. There were others too who experienced the power of God while they attended the seminar.
When Pastor John Kim preached the word of God and then prayed with the handkerchief of God's power evil spirits left, people with paralysis, cancer, other diseases were healed and God was glorified.
Manmin Central Church, manmin.org