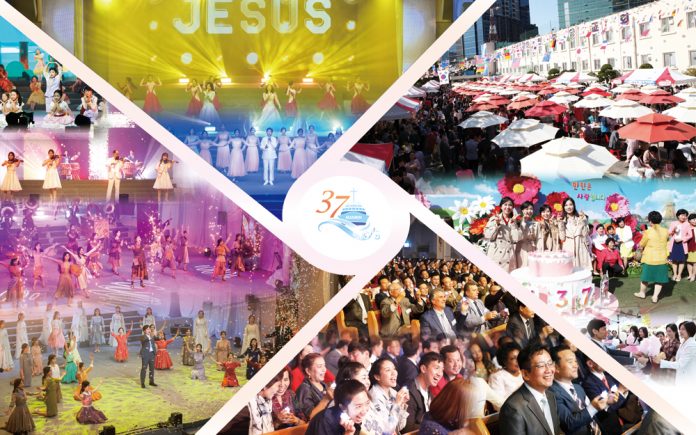 On the 13th day of October, 2019, Manmin Central Church offered up its 37th anniversary service and celebration performance to God.
Guests from 18 countries along with various guests from the local Christian community visited and joined together to celebrate the anniversary in Seul, South Korea. People from many countries such as Russia, Honduras, and Indonesia also sent their congratulatory messages.
The service and celebration performance were broadcast live by GCN, which covers around 170 countries, and also via the Internet. Simultaneous interpretation service was also provided in nine languages: English, Chinese, Japanese, Russian, French, Spanish, Mongolian, Vietnamese, and Thai.
Pastor Hyun-Kwon Choo (Chairperson, Senior Council) delivered a message under the title "The Secrets of Being United in the Lord" based on Philippians 2:1-5 and Colossians 3:12-14, and gave glory and thanks to God remembering the 37 years of Manmin Ministry of faith.
Following the service the celebration performance unfolded with the theme of "Amazing Grace ? God's Grace toward Manmin."
The performance showed how Manmin Central Church began in 1982 with 13 members including 4 children and has grown to become a worldwide church; how it has kept the faith while overcoming trials and afflictions; and how it has been offering up the fragrance of thanks and love to God the Father.
The performance was arranged and conducted by a total of approximately 200 members from the Performing Arts Committee, Nissi Orchestra and the United Choir. They collaborated with outsourced staff to deliver a high-quality Christian performance.
Indarjeet Chandokhe (65, female) from London Manmin Church of the UK said, "I've never seen such a beautiful performance as this. Everything about Manmin Church has touched my heart. Manmin members look so happy and full of grace. I've never met such people in my life."
Pastor Prasert Thepjak (70, male) from Banke Church of Thailand said, "The 37th anniversary service touched my heart, and the performance was very emotional. Manmin members have very impressively fine manners. I've learned a great deal from Manmin Central Church. I'd like to work together with Manmin to help my church grow."
Various foods were served in the front yard of the church, and a 'Photo Booth' was set up where people could take pictures.
Manmin Central Church, manmin.org