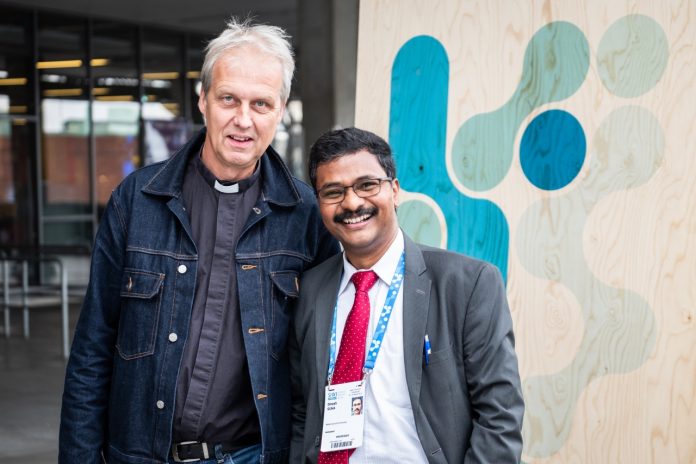 At a well-attended showcase in Stockholm, Sweden, yesterday afternoon, the Ecumenical Water Network took a step further towards achieving United Nations Sustainable Development Goal 6 by bringing together faith actors with key people from the Water, Sanitation and Hygiene sector.
The showcase, a part of the World Water Week and held in Stockholm each year, built upon a trend of closer cooperation between the Water, Sanitation and Hygiene sector and faith-based organizations, where the World Council of Churches (WCC) has assumed a leading role through its Ecumenical Water Network.
Dinesh Suna, programme executive and coordinator of the WCC Ecumenical Water Network, is pleased with the outcome of the showcase:
"It gave us the opportunity to further explore case studies of scalable faith-development models and engage in a fruitful dialogue with partners and other participants. The value of cooperation between actors from different sectors was recognized and came across well", he says.
Concrete evidence of that is United Nations Educational, Scientific and Cultural Organization's official approach yesterday to include input from faith communities in its 2021 World Water Development Report under the theme "Valuing Water".
"This is a welcome breakthrough and a clear recognition of how important socio-cultural and spiritual values of water are from a faith perspective", Suna explains.
The weight of such perspectives were further underlined by the official launch of the Environment, Water and Climate Action work-stream, of which Suna has been elected as a WCC-representative to co-lead, together with a United Nations representative, one government representative and representatives from three other faith-based organizations, namely World Evangelical Alliance, Global One and Tearfund UK.
"Along with Stockholm International Water Institute, the WCC has played a vital role in setting up this new group. I am delighted to have been chosen as one of its co-leads", Suna comments.
Basically, the Environment, Water and Climate Action work-stream is a working group under the International Partnership on Religion and Sustainable Development. In addition to Sustainable Development Goal 6, it will also cover goals 13, 14 and 15, dealing with ecology and biosphere.
"Faith communities have been working on these Sustainable Development Goals for along time. This new group will bolster our combined impact in the respective goals, and also build the faith communities' credibility of engagements in them", Suna continues.
This year's WCC event at World Water Week gathered a record attendance of close to 100 people. As the Ecumenical Water Network programme coordinator, Suna was accompanied by WCC's senior advisor for care and creation, sustainability and climate justice, Rev. Henrik Grape, who gave a short convocation where he set the spiritual tone of the showcase and reminded the audience that God's creation is not for sale.
WCC, oikoumene.org