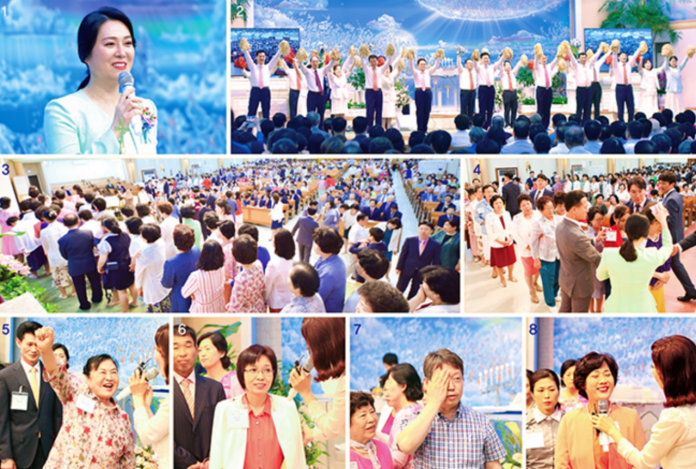 A special prayer meeting was held in Daejeon Manmin Church by the Central Region Council of the United Holiness Church of Jesus Christ at 7:30 PM June 20, with speaker Pastor Soojin Lee. This event was live-broadcast on YouTube.
The attendees came from Daejeon, Gongju, Sarang, Seosan, Sokcho, Asan, Cheonan, Cheongju, Chuncheon, Choonju Manmin churches and pastors and members from other churches as well.
It was presided by Pastor Taeshik Gil. Pastor Jaeyoung Park offered the representative prayer. Pastors, elders, and leaders of Central Region Council presented a special song to give glory to God.
The speaker Pastor Soojin Lee urged the attendees to believe in the promise of God and please Him, so that they could receive answers. Then they prayed for repentance and fullness of the Spirit, before the prayer for the sick.
Pastor Soojin Lee prayed with the handkerchief on which Rev. Jaerock Lee prayed (Acts 19:11-12). Many believers were healed and gave glory to God. Hwancheol Choi of Gumi Manmin Church said, "Due to left pupil paralysis things were foggy, but I can see clearly now."
Seonyei Lim from Suwon testified, "I had difficulty hearing and Meniere disease in the left ear. I had ringing noise and pain, but after prayer all symptoms are gone."
Hwaseon Ryu was healed of rotator cuff tear, Eunhee Kim was healed of frozen shoulder, and many others gave their testimonies.
Pastor Taeshik Gil said, "I reaffirmed my determination to become a powerful servant that embraces many souls with love. The Central Region Council will be united as one and become greater strength to the main church in fullness of the Spirit."
Manmin Central Church, manmin.org