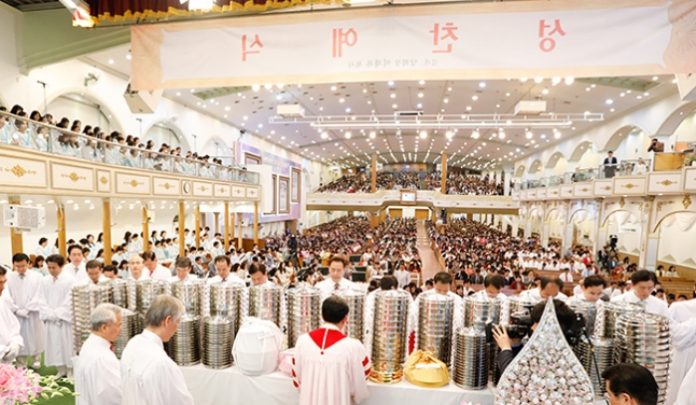 For Easter, Manmin Central Church in Seul, South Korea, held the 2019 Easter Sunday Morning Service on Apr. 21, which was broadcasted worldwide on GCN TV (www.gcntv.org).
Before the sermon of the evening Easter service the whole congregation sang 2 special praise songs to give thanks and glory to Lord Who died for people and let us partake in the resurrection.
After the evening service on Easter church also had Holy Communion to share the bread and wine that represent the flesh and blood of the Lord (John 6:53-55).
The believers spent their time in a more focused godly manner during Passion Week and were reading the 4 Gospels that write about the ministry, crucifixion, and resurrection of the Lord. They remembered the Lord who prayed until His sweat became like drops of blood falling to the ground at Gethsemane as they were praying in the Daniel Prayer Meeting.
Manmin Prayer Center had special morning prayer meetings during Passion Week. Many church members attending the meetings to bring to mind an increased awareness of the Lord's love.
On Friday, April 19, church members fasted at least 1 meal to remember the crucifixion of the Lord once again. In the Friday all-night service, the special Easter Performance was held in the main sanctuary under the title 'Unforgettable Love'. 
On April 18 and 19th, to spread the Lord's love on the cross, the Women's Mission shared the Easter eggs with the local government offices and nursing centers.
Manmin Central Church, manmin.org