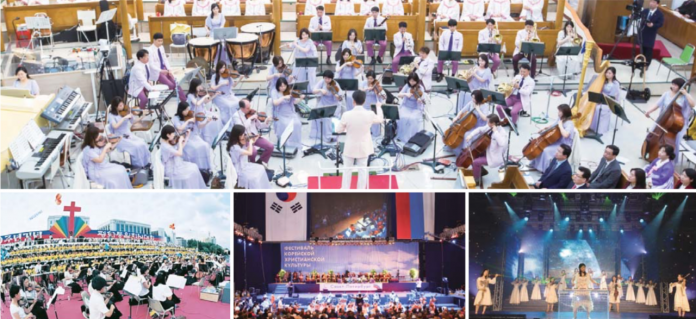 In the evening service of the Sunday March 3, Nissi Orchestra gave glory to God with their special performance, celebrating their 27th anniversary.
Contribution to Development of Christian Culture
Nissi Orchestra was organized on March 1, 1992, in order to honor Psalms 150:3-5, which says, "Praise Him with trumpet sound; Praise Him with harp and lyre. Praise Him with timbrel and dancing; praise Him with stringed instruments and pipe. Praise Him with loud cymbals; praise Him with resounding cymbals."
They performed in the 1992 World Holy Spirit Revival Crusade, 1995 Peaceful Re-Unification Jubilee Crusade for the 50th Anniversary of Korean Independence, many National Breakfast Prayer meetings, Korea-Russia United Concert, Korea-Japan Exhibit Soccer Match opening for 2002 World Cup, and 'Happy Concerts'. The list is extensive and the number of their performances mounts up to more than 100.
They also performed in Nagoya, Japan; Manila, Philippines; and St. Petersburg, Russia for the crusades. 
Giving Glory to God with Inspirational Performance 
Nissi Orchestra adds God's grace to every worship service with their performance along with the choir. They also have organized a Brass Ensemble, the 'Miracle' electric string team, and Violin Duet that also present special performances from time to time. 
Some of the Orchestra members have become faithful after they experienced God the Healer. Young Heon Son (clarinet) was healed of parotid tumor, Minkyeong Lee (percussions) healed of uterine cyst and her fetus's Down Syndrome, Miyoung Ahn (violin) of calcified tendinitis, Jung Ah Lee's (viola) daughter of pyogenic abscess in hip joint, and Eunjeong Kim (French horn) of a broken toe—all healed by the prayer of the Senior Pastor. 
Manmin Central Church, manmin.org